Foundry's Nuke 14.0 debuts with a new USD 3D system as well as the classic 3D system users are familiar with.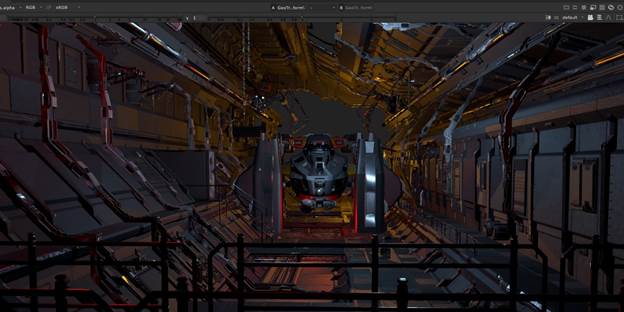 Foundry is changing things up for its popular award-winning Nuke compositing and VFX software, with the first stage of a completely revamped beta 3D architectural system built on USD. This release lays the groundwork for how artists will work with Nuke for years to come, according to Foundry.
The release offers a completely re-architected 3D system, which is being developed from the ground up, with the goal of providing greater performance at scale, while still maintaining the ease of use and familiarity of Nuke for its users. As a result, artists can benefit from working with a modernized 3D system. It is the first step, with a focus on getting the core architecture in place and with as much workflow parity as possible to the previous systems.
According to Foundry, there were a number of reasons why the company opted to base the new system on USD. For instance, the most common workflow in Nuke is the import of 3D data for use in a number of 3D workflows such as matte painting, projection, and relighting; by utilizing USD, the company can reduce the need for complex translation layers when importing 3D scene data.
As USD brings new workflows for 3D and comp, Foundry is releasing this as a beta feature along with 40-plus nodes, and will continue to build on it, shaping it across the Nuke 14 series. A forum will be set up to enable users to provide feedback. Not interested in making the change? No problem. Foundry will be releasing the new USD and classic 3D systems in parallel, so artists do not have to worry about losing access to any of the workflows they depend on. As a result, users will have access to all the nodes and workflows they are used to, but they will also be able to create new nodes for the new 3D system and work with them.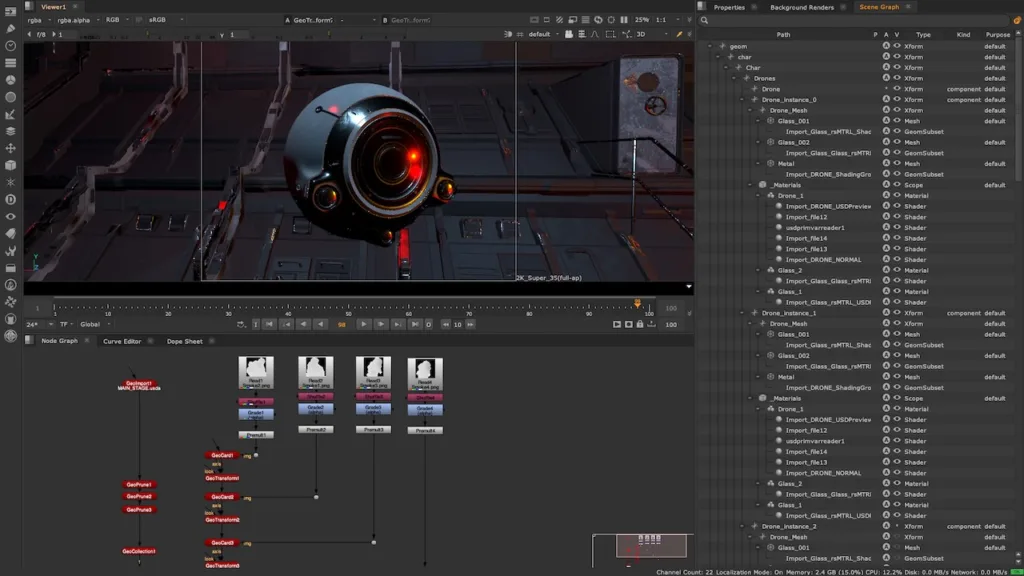 The starting point for the next evolution of Nuke, Version 14.0 also introduces a dedicated scene graph, so users can easily view, navigate, and manage large, complex 3D scenes. This advanced scene graph is also consistent with modern 3D workflows and ensures that every primitive inside the new system will have a unique ID path that will exist in a scene graph hierarchy.
The new beta 3D system also ships with 40 nodes. In addition, it offers updates to the UnrealReader to support Unreal custom render passes and support for Cattery, a free library for third-party machine learning models converted to .cat files and ready to run as Nuke nodes.
"The new 3D system is one of the biggest updates to Nuke in its history at Foundry. Nuke's 3D system was revolutionary in its time—however, as projects have grown in scale and complexity, it was no longer up to scratch. The new 3D system is the product of the best minds on both the Nuke and Katana teams applying a deep understanding of USD and production pipelines," said Juan Salazar, Foundry's director of product. "We are building the next generation of 3D workflows in compositing on this more scalable and performant base. While we are dedicated to maintaining the speed and simplicity of 3D compositing workflows, this update introduces major changes for artists, and releasing the new 3D system as a beta feature will enable us to capture critical feedback on how to make improvements in USD and 3D workflows."