Light Field Labs is readying prototypes to display holographic content.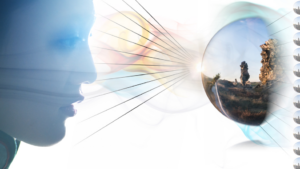 Light Field Lab, Inc. made its debut last year at NAB. The company was founded by former Lytro executives and plans to use light field technology to create life size holograms. Most recently, the company got a considerable boost from Khosla Venture and Sherpa Capital with additional participation from R7 Partners. The  company raised $7 million in funding.
In interviews, CEO Jon Karafin has said the company is ready to create prototypes of their light field display systems and will enable holographic objects to appear in space. Key to the holographic experience is that no glasses are needed and the audience can walk about holograms.
Jon Karafin said in a prepared statement, "we are building the core modules to enable a real-world Holodeck."
In an interview with Bryant Frazier of Studio Daily, Karafin described the technology as a process of capturing light and then presenting that light back to the eye, which acts as a lens. As a result, the eye is perceiving the object in the same way the camera does. Karafian said, "you don't have to rely on a headset to induce motion and re-render that position in space. It's the physical movement of the viewer, who is able to walk around the space and see with zero latency."
The start-up plans to build an end to end system which will include modular holographic video walls with hundreds of gigapixels of resolution. The company's first products will be designed for location-based entertainment venues but the company has said they hope to enable something like a holographic TV. Karafin has said they can create a flat panel holographic display that could be hung on the wall.
The company's founders include Jon Karafin who has worked with Lytro, RealD, and Digital Domain; Brendan Bevensee and Ed Ibe who were engineers at Lytro and both have experience in optics and 3D.
What do we think?
This is coming, we don't know who will actually pull it off, we don't know when, but it will happen. Holographic images are the logical end point for VR, and light field technology, because no one wants to wear anything on their head unless it's absolutely necessary. For instance, we can see that industrial AR will continue to need a headset in order to be portable, but someday, it might be possible to use a mobile phone as the projector for a hologram. We absolutely believe in this future.
This year's NAB could get pretty interesting.