NAB Show concluded last week in Las Vegas. The centennial celebration of the premier event pulled a crowd of 65,000 attendees from all over the world. NAB Show also honored people, products, companies, and technologies with awards in various categories.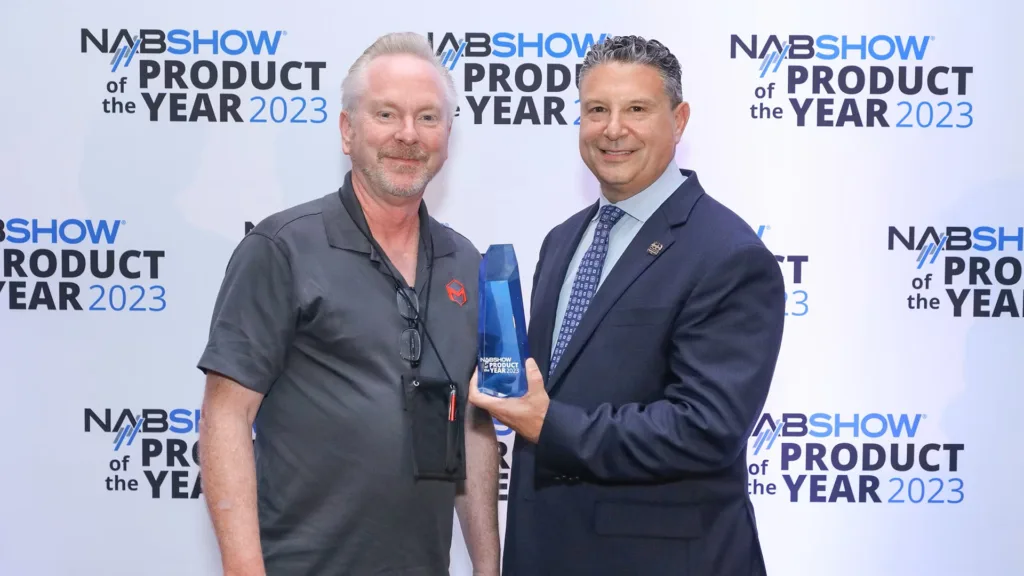 Paul Babb, chief marketing officer/COO for US operations at Maxon (left), is presented with a 2023 NAB Show Product of the Year Award. (Source: Maxon)
The winners of the fifth annual Product of the Year Awards were chosen for their promising new products and technologies showcased at the 2023 NAB Show in the Create, Connect, and Capitalize categories. Winners were selected by a panel of industry experts in 15 categories.
Maxon's Cinema 4D won its 2023 NAB Show Product of the Year Award in the Graphics, Editing, VFX, and Switchers category. Other winners in this category are MYT Works' Cinetique Camera Motion System, Ross Video's Carbonite Ultra 60, Stype's GreenKiller chroma keyer, Tarantula AI's KeyCast, Vizrt's Viz Engine 5, and Zero Density's Traxis Tracker.
Maxon—developer of software solutions for editors, filmmakers, motion designers, and VFX artists— offers Cinema 4D as stand-alone product and in the Maxon One bundle. Ahead of NAB 2023, Maxon released the Spring 2023 version of its Maxon One bundled suite that included updates across the entire product line.