Earlier this year, CoreWeave, a specialized cloud provider delivering a massive scale of GPU resources atop its infrastructure for compute-intensive workflows, acquired Conductor, a cloud-based service for automating production-scale rendering and simulation in the public cloud. At NAB 2023, CoreWeave announced an integration between the Conductor cloud-based rendering service and Epic Games' Unreal Engine 5.2. As a result, artists working in UE 5.2 will be able to submit shots within the new RenderGrid feature in the Movie Render Queue and render final outputs on the cloud using Conductor.
Because Conductor provides the ability to dynamically scale cloud-based compute resources, the new workflow removes extra steps when rendering multiple assets in Unreal Engine, making it more streamlined.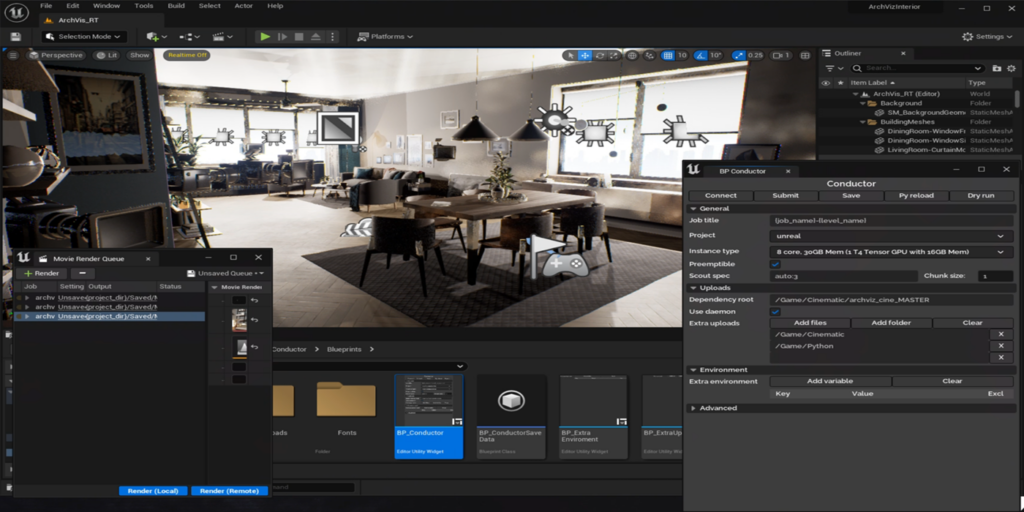 Conductor integration with Unreal Engine. (Source: CoreWeave)
"Every second counts in live broadcast, and the Conductor Unreal Engine plug-in accelerates the creation of high-quality, customized assets. It simplifies access to cloud elasticity, so artists can quickly render final-pixel deliverables at scale," said Mac Moore, head of M&E at CoreWeave. "If RenderGrid spawns 10 render scenarios, the Conductor plug-in will submit those 10 jobs simultaneously to the cloud, render those jobs in parallel, and return the resulting images to the artist." 
The importance of game engines beyond gaming is one of the topics addressed in the JPR 2023 Digital Content Creation Report.