The first update since the lockdown has a gift for solo artists.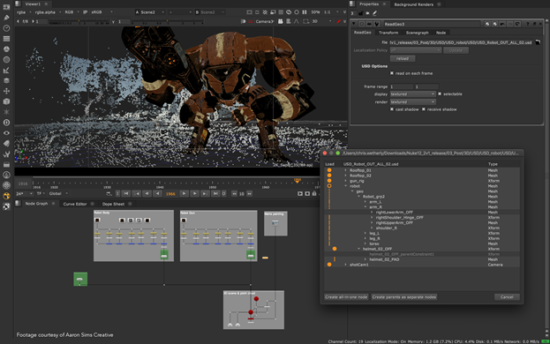 Foundry has been tinkering with its lineup of tools for special effects artists, adding on and building out, but always focusing on professionals. The company's variations on the Nuke product line include Nuke, NukeX, and Nuke Studio and Hiero, and a free non-commercial version for learning. With the introduction of the 12.2 release, Foundry adds Nuke Indie for solo artists.
To quickly describe the Nuke family: Nuke is single shot compositing and VFX, and NukeX adds advanced capabilities including 3D tracking, VR tools, vector-based clean up, etc. Foundry says the additional tools in NukeX help compositors stay in Nuke with less travel to other programs and back. While Nuke is primarily for single-shot work, Nuke Studio adds multi-shot workflows with an editorial timeline to put multiple shots together. Hiero uses the same timeline without the node-based compositing tools, enabling editorial and review work. For more, Foundry lays it out much better on their site.
Nuke Indie is designed to support solo artists who make less than $100K per year. It's attractively priced at $499 (£399, €499) annually. Nuke Indie can't be used in conjunction with other versions of Nuke or Nuke Non-Commercial, but it includes the conform, editorial, and review capabilities of Nuke Studio, which makes the solo artist using it fully capable. Nuke Indie only supports rendering content up to 4K, and it has limited API support. It does not support external plug-ins. The full list of features and restrictions of Nuke Indie can be found here.
In addition to Indie, the 12.2 version has other significant product improvements, which Foundry lists as:
USD ingest support. Nuke's ReadGeo node now supports reading geometry contained in USD data. Extensions to ReadGeo will be open sourced, allowing studios to customize the node to suit their USD workflows.
SyncReview. Multiple users can run collaborative review sessions in Nuke Studio, Hiero and HieroPlayer. While this initial implementation is being released as a beta feature, SyncReview already provides valuable functionality to teams collaborating while working remotely. Alongside SyncReview, Hiero's Python API has been extended to allow even greater customization and flexibility.
Support for RLM License roaming. Users can check-out floating licenses for use offline for up to 30 days—great for when taking Nuke on set, or for artists working remotely.
Nuke 12.2 represents Foundry's first Nuke release supporting USD and the company promises there is more to come. The first implementation is for the ReadGeo node meaning that geometry contained in USD can be brought into Nuke. Foundry says they are keeping their USD extensions open sourced to ensure access for studios using USD in their pipelines already and plan to extend access to additional USD data in Nuke. The advantage of USD is that it reduces the need for baked content. Instead the content is live and editable to teams working on a project. The company is watching closely to see how their customers use USD in Nuke as they continue development to support USD.
SyncReview is the other surprise for Nuke users and it's being introduced as a beta feature. As Foundry's Composing and Finishing product director Christy Anzelmo tells us the team saw an immediate need for this feature for people working remotely. SyncReview enables teams to sync multiple sessions of Nuke Studio, Hiero, and Hiero Player. People working in different locations can review and annotate footage collaboratively. They can share work through network storage or cloud storage like DropBox or they can work with localized files. All participants have access to live playback and viewer controls. Updates can be pushed out to all users. There are no limits on the number of users and resolution other than bandwidth and hardware. More features are coming for the official release of SyncReview.
Nuke is getting support for more formats. With Nuke 12.2, Foundry is introducing a new MOV Reader and Writer, which replaces the previous QuickTime Read and Write support and adds a new UI. They've also updated the H.264 encoding across Windows, MacOS, and Linux. Foundry also expanded support for DNxHR, added camera file format updates including updates for Red and Sony SDKs. Nuke Studio, Hiero, and Hiero player will get support for ACC encoded audio.
A particularly timely new feature coming from Foundry is the addition of license roaming, which comes into play as workers move home to do their job. The new roaming feature lets users get a temporary, 30-day license for Nuke to take off-site to the set, for instance, or these days, home. It gives users the ability to use Nuke without having to connect to a license server and is, therefore, more stable in situations where their Internet connection might not be stable.
Foundry tells us that most of the work on this release was done during lockdown by people working remotely. They're justifiably proud of what they were able to do, but also, it seems they were in touch with some of the challenges their customers are coming up against in the corona days.
What do we think?
In all compositing, finishing, special effects, generally are expensive propositions. Prices for the Nuke family range from around $5000 to $11,000 for a perpetual license and quarterly rentals are also available. Studios build their own tools or plug-ins to work with off the shelf applications such as Nuke. Foundry keeps an eye on the competitive landscape, which includes Autodesk's Flame and Smoke. Adobe's After Effects is in the mix as is Apple's Final Cut Pro, which is $299. Coming up hard is Blackmagic's Resolve, which now includes Fusion for effects and compositing. Resolve is free and the studio version is $299 for a perpetual license.
Foundry isn't compromising, but Indie does open up access for the people it's intended for, the individual creators with big visions.
On another subject, we're also keeping an eye on USD and Foundry's implementation of it. As we've noted before, the promise of USD is huge. It's the most recent step content creators have taken to build their own tools and service notice to suppliers that this is what they want. USD has the ability to accommodate all the content that comes together in a scene from all the supporting applications such as modeling, shading, animation, lighting, FX, rendering, audio, etc.
Foundry is actively researching the role of USD in traditional content creation and for new forms of content as well as implementing support in products such as Katana, Modo, and Nuke. Foundry worked with the BBC R&D team on the Enabling Interactive Storytelling (EIST) program. They're taking a step back and looking at how interactive storytelling will evolve. USD plays a role in this work as do game engines and Nvidia's Omniverse elaboration on USD.
Just as an aside, I can't help but mention how strange it is to me that so much amazing work has been done to bring content creators together in a project and on a set to interact with story components in tools like USD/Omniverse, or a game engine along with actors, green screens, and practical effects only to make everyone go home just when it started to get interesting.
Now, it seems the tools will enable people to actually phone it in.