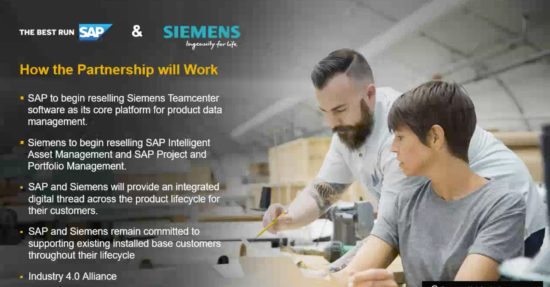 The fortunes of Siemens and SAP have been intertwined for a long time. This week, the industry giants announced a partnership that will provide their complementary software solutions for product lifecycle, supply chain and asset management to the customers. Thomas Saueressig, Head of Product Engineering and Member of the Executive Board of SAP, said, "The partnership will offer Industry 4.0-enabled business processes allowing enterprises to create a digital thread for the entire product and asset lifecycle." Industry 4.0 is there to address digital disruption in the manufacturing industry.
In a joint call with SAP and Siemens, the executives from both companies provided a glimpse of how their partnership will work from their respective ends, and they promised, there will be subsequent announcements about this partnership. As a first step in the partnership, SAP will begin selling Siemens Teamcenter software as its core platform for product data management. Siemens will begin reselling SAP Intelligent Asset Management and SAP project and Portfolio Management. Both companies said that they are committed to supporting existing installed base customers throughout their lifecycle. In addition, both companies will collaborate to develop applications from an end-to-end lifecycle perspective to help customers achieve a seamless digital thread that improves overall business performance.
It's a marriage of ERP and PLM. The key takeaway of this partnership is to give customers better tools to create and manage the digital thread to integrate all the realtime data about a product from its start-to-end lifecycle. It will make a process predictive as all the teams involved in the process will be able to completely access the work of other teams.
Siemens' development of digital twin technology is evolving as it goes ahead. In its Realize Live conference last month, Siemens announced an alliance with IBM's Maximo group for service lifecycle management. The companies are establishing a digital thread between product design, equipment manufacturers, and owner-operators. In context to Siemens–SAP partnership, the executives told us that creating a digital twin is a comprehensive job as compared to creating a digital thread. Enabling a digital thread between engineering and business goes beyond collaboration between teams involved. It requires end-to-end integration of business processes and the systems involved.
"Digital transformation will be critical for the manufacturing industries to increase productivity, flexibility and accelerate innovation, so companies must come together in new ways to enable the digital enterprise," said Klaus Helmrich, Member of the Managing Board of Siemens AG and CEO of Siemens Digital Industries.
The core of this deal is to combine PLM and ERP into a digital thread but there are plenty of aspects of the deal that are open to exploration. Keith Zobott, SAP's Global Vice President of Digital Products and Projects, reassured SAP's customers that his company does not plan to step back from their own PLM development and Siemens PLM SVP Joe Bohman said the two companies have an "outstanding partnership" where there are clear areas of collaboration and some areas of overlap. "In those areas, we'll continue to compete," he said. "As we roll forward we'll expand the partnership." The companies pointed out that as some products might overlap, the customer technologies may be quite different. Currently, both companies are concentrating on the areas of collaboration.
The companies admitted that they have been trying to figure out a way to come together for over ten years. Instead, their customers have had to build their own bridges between ERP and PLM. This time, the agreement was a "board-driven initiative," which of course gave it tremendous momentum, but the real momentum seems almost organic as companies and countries progress to industry 4.0.