The focus for Modo at Siggraph 2019 was cross-platform fluidity and cross-discipline applicability. The three speakers at Modo's Siggraph user event included designer Thomas Groppi from NEXII, rigging TD Richard Hurrey from Kitestring, and 3D artist Warren Marshall from Warren Marshall Biz. Each speaker highlighted new features in Modo that improve visualization workflows and push the use of Modo into new territory.
Modo is also taking care of some old business with an update of Modo's renderer. Modo has been famous for its rendering capability, but rendering has been a very active and competitive field these days, and the Modo renderer has been due for an update. Last year at Siggraph, rendering took the spotlight, and Nvidia hogged a lot of it, with its powerful new RTX processor with dedicated cores for rendering. This year, we're seeing the content creation tools come to terms with Nvidia's challenge. Foundry's head of rendering Allen Hastings, who developed Modo's renderer and that of Newtek's Lightwave, has opted to build in ray tracing for Modo using Nvidia's Optix RTX technology. Griffith says Modo's renderer is currently optimized for the CPU, but Hastings' development will bring in the GPU as well. Shane says, with physically accurate ray tracing, "each pixel carries information" enabling more efficient visualization.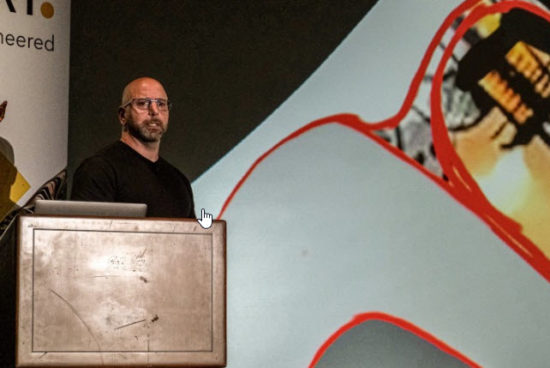 One of Modo's strongholds has been synthetic photography, the creation of photoreal images. That capability has led them to a strong new market in marketing, design, and fashion. Quietly and without much fanfare, the company has waltzed in and snatched the market from the CAD companies that assumed the market rightly belonged to them and it's sharing the market with Adobe and with the companies' in-house design tools.
The leading sport shoe designers get to their ideas via sketch using Illustrator and Photoshop. Traditionally, they have been building multiple hard prototypes and sending them back and forth to manufacturers overseas.
Bo Lupo is Nike's Director for Digital Production and at Siggraph he demonstrated how Modo has enabled his team to move away from physical prototypes. He says he likes the interactiveness of Modo. Foundry has been accommodating to the apparel industry as well as adding features for lacing and stitching. As it turns out, the workflow of shoe design more closely resembles Adobe and Foundry workflows which relies on layers and compositing.
Shoes are designed on lasts, either real or digital. Lupo says his designers can use Modo to explore the way the material and structure interacts with the last, and ultimately the foot. The development of virtual materials enables the use of digital twins to visualize. Lupo says the footwear industry generates a lot of waste, from discarded prototypes to wasted energy sending physical models to Asia.
The designs Thomas Groppi and his students create move walls, windows, roofs, and shades usually relying in mechanical controls that anyone can turn. (Source: Kinetic Architecture, University of Oregon)
Thomas Groppi works between several disciplines in his career as an instructor, visualization developer, CAD specialist, and BIM consultant to name a few of the titles associated with his work. Groppi is currently a BIM technology manager for Nexii in Vancouver and an instructor at Emily Carr University of Art and Design and the University of Oregon. He has been exploring the field of kinetic architecture and employs a variety of tools including Dassault's Catia, McNeel's Rhino, Grasshopper, and Foundry's Modo. His work also bridges 3D printing and modeling.
The designs Groppi and his students work on usually begin in CAD programs because ultimately they have to be manufacturable. Design drawings are taken from the CAD model. Parts are often made in 3D printing. They then turn to Modo to create animations to test the design and help sell the idea.
Groppi says he's been using Modo because it's easy to get to a working model. He said students can use presets to get to a usable model quickly.
In his classes, Groppi says he can get students up and running on Catia in a matter of weeks, and using Modo they can have working models of their designs.
Modo's other user sessions at Siggraph included a discussion of rigging by Rich Hurrey and the use of Modo in game design by Warren Marshall. Ease of use was a constant in the discussion but so was, the product's interface and logical approach to content creation.
In an earlier chat we had with Shane Griffith, he told us that customers have been seeking Modo out. He thinks that the new successes they have are the result of Foundry's approach to customers. For instance, when it comes to working with the shoe design companies, Shane says, "we've taken a different approach, more of a solution-based approach and we've formed a very tight connection with those brands. We're on-site with them." As part of their relationship with designers Foundry developed Colorway as a tool to manage design iterations so that the matrix of variations can be managed from design to factory.
In many cases, it seems that Foundry's customers have found them rather than the other way around.