The summertime is not generally a great time for financial reports, except for, maybe, companies selling flipflops and ice cubes, but Dassault has brought in their second quarter for the fiscal year according to plan. However, like its competitors, the company is cautious for the coming quarter. As is typical for Dassault, the company is in the middle of audacious growth plans and transitions. So far it works for them. During the company's second-quarter, Dassault announced plans to acquire Medidata for $5.8 billion which is over one and a half times the company's annual revenue. The deal is expected to close within the third or fourth quarter.
While it's a big deal to absorb, Medidata is taking Dassault further into the realm of healthcare. The company has stated that its growth for the future includes expansion into life sciences. Medidata is helping Dassault get there, and it's giving the company a thriving SaaS company. Dassault's plans for the future lie in the clouds.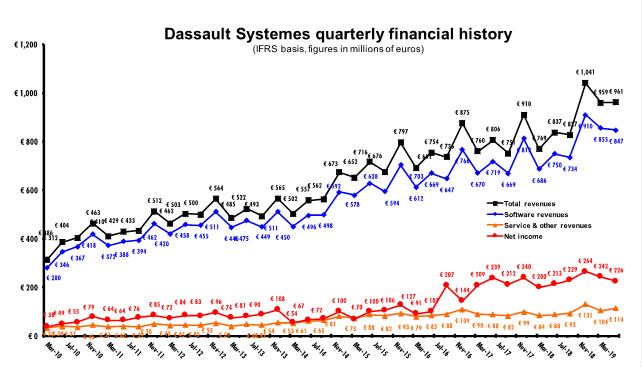 The company reported €961.4 million in revenue for their quarter ending June 2019, a 16% increase year over year. The company reported income of €255.5 for a 6% year over year increase.
Interestingly, Dassault has seen really good growth for its 3DExperience product line reporting an increase for 3DExperience of 40% for the first half of the year (in non-IFRS). Sales of Catia, which have tended to increase at low single-digit percentage points, are up 12% for the quarter and 9% for the half. SolidWorks has slowed and was only 4% for the half. In the financial call, Bernard Charlès said that the company's 3DExperience products, which is Dassault's platform approach for the enterprise, including tools for 3D design, simulation, analysis, and information, are raising all boats. More companies are going for the total package and that is helping customers make the transition from V5 for Catia to V6.
In this sense, the first half of 2019 is a major victory for Dassault's long-range plan.
On the healthcare front, Dassault said the FDA has announced plans to use the 3DExperience platform to develop a digital tool for regulatory review of cardiovascular and medical devices. Dassault says this work will help reduce the need for animal and human testing. Instead, it will allow the use of simulation to test with virtual patients—kind of a literal example of a digital twin, which is actually something Dassault has been working on for some time with its Living Heart project to enable the development of personalized human heart digital models.
The company's traditional businesses have all notched up significant wins as well. Dassault Aviation is using Dassault Systèmes for its ongoing digital transformation which launched in 2018. The companies say the platform will enable Dassault Aviation to innovate and expand its Falcon business jets among other projects. Also in Aerospace, Safran Electronics is using 3DExperience for configuration management in software electronics.
In automotive, the company's largest industry segment, Dassault has expanded its penetration in PSA (formerly Peugeot Citroën Moteurs) from V6 to 3DExperience. Bernard Charlès notes that PSA was one of the first customers to their platform. He gives credit to Dassault for helping turn the company profitable. "We were absolutely impressed to see the transformation of a money-losing company to an extremely cash-rich company," he said in the financial call. "This shows the power of innovation."
Dassault is also chalking up a win in China. The Guangzhou Automobile Group, GAC, has five R&D centers in the U.S. and China. They are moving to the 3DExperience platform with the aid of Dassault Power'By bridging technology introduced in 2018. Power'By enables customers to use CAD data created in any format with 3DExperience. Charlès says the deal has the potential to connect more than 4,500 users. At the company's 3D Live conference held this year in June, Bernard Charlès said Dassault is the only company to have the right to operate cloud services on an outside channel.
In addition, Renault Group is adding 3DExpereince on the cloud to its portfolio for its in-house innovation laboratory. They are researching mobility solutions for urban areas.
Looking ahead
Dassault is predicting total revenue growth of 10–11% for 2019. Revenue could be between €3.800 billion and €3.910 billion and EPS at €3.45–€3.50. The company says their year 2023 five-year plan is a progressive improvement of organic revenue and software growth to the high single-digits. Subscription growth for Enovia and Catia are helping the company get there.
Collaboration is probably key to Dassault's strategy for the future. The company is building a complete network for its customers with its own social communications aspects. As always, the company sounds wildly ambitious, but their financial performance in this quarter and in the half is pretty convincing.
What do we think?
At 3D Live, Charlès talked about Life Sciences and why the field is so attractive for Dassault. He notes that it is a field that is struggling to modernize and improve through digital transformation. He said, the field is even more uncoupled than other industries, but it's also particularly attractive because this is a place where IoT can save lives. It's personal.
Dassault had already been well on its way to building a life sciences business, but the Medidata acquisition gives them a big chunk of integrated business all at once. It's already in the cloud and connecting doctors, researchers, and patients. However, it's going to be interesting to see how Dassault swallows this big deal. It will take years.