$2.58 billion in sales, $552 million profit, up 40% from last quarter. Nvidia reported revenue from all platforms up for the quarter.
The company's GPU business revenue was $2.1 billion, up 4% from last quarter, but down 21% from last year.
"We achieved sequential growth across our platforms," said Jensen Huang, founder and CEO of Nvidia. "Realtime ray tracing is the most important graphics innovation in a decade. Adoption has reached a tipping point, with Nvidia RTX leading the way."
GAAP gross margin increased to 59.8% for the second quarter of the fiscal year 2020 from last quarter.
GPU business revenue was $2.1 billion, up 4% sequentially. The year-on-year decrease reflects a decline in shipments of gaming desktop GPUs for gaming platforms, partially offset by growth in gaming notebook GPUs. The sequential increase reflects growth from SOC modules for gaming platforms, gaming notebook GPUs, and GeForce RTX Super gaming GPUs. GPU revenue also includes GPUs sold into the data center.
Tegra processor business revenue, which includes automotive, SOC modules for gaming platforms, and embedded edge AI platforms came in at was $475 million, up 2% from a year ago and up 140% sequentially.
Gaming revenue was $1.31 billion, down 27% from a year ago and up 24% sequentially.
Professional Visualization revenue was $291 million, up 4% from a year earlier and up 9% sequentially. The year-on-year and sequential growth reflects strength across mobile workstation products.
Data Center revenue was $655 million, down 14% from a year ago and up 3% sequentially. The year-on-year decline reflects lower GPU accelerator (what some people call hyperscale computing) revenue. The sequential increase was due to enterprise revenue growth driven by expanding AI workloads, sad Nvidia. AI is the good news and the bad (see "what do we think?").
Automotive revenue was a record $209 million, up 30% from a year earlier and up 26% sequentially. The year-on-year and sequential growth was primarily driven by a development services agreement in the second quarter of fiscal 2020. The growth in revenue also reflected AI cockpit solutions and other autonomous vehicle development agreements.
OEM and Other revenues were $111 million, down 4% from a year ago and up 12% sequentially. The sequential increase was primarily due to growth in shipments of embedded edge AI products.
Capital Return to Shareholders: The company said its first priority for the company's cash balance is the purchase of Mellanox Technologies, Ltd. We will return to repurchasing our stock after the close of the Mellanox acquisition. The regulatory approval process for this acquisition is progressing as expected, and we continue to work toward closing the deal by the end of this calendar year. Nvidia will pay its next quarterly cash dividend of $0.16 per share on September 20, 2019, to all shareholders of record on August 29, 2019.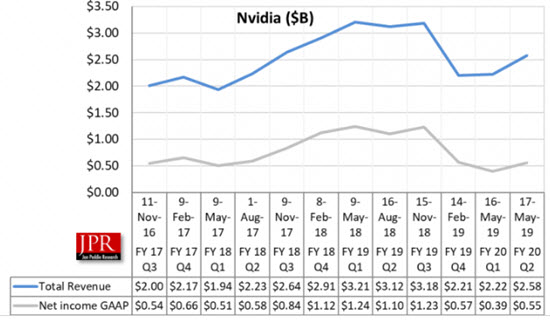 During the first quarter, Nvidia entered into an Agreement and Plan of Merger, or the Merger Agreement, with Mellanox Technologies Ltd, or Mellanox, pursuant to which Nvidia will acquire all of the issued and outstanding common shares of Mellanox for $125 per share in cash, representing a total enterprise value of approximately $6.9 billion as of the date of the Merger Agreement.
During the quarter, the company introduced its GeForce RTX 2060 Super, GeForce RTX 2070 Super and GeForce RTX 2080 Super, delivering what it claims is best-in-class gaming performance and realtime ray tracing.
It also unveiled the Nvidia Studio platform for online and studio-based creatives, with the introduction of 27 new RTX Studio laptops powered by GeForce RTX and Quadro RTX GPUs.
And it announced the launch of 25 more gaming laptops by major makers fueled by Nvidia Turing GPUs, bringing the total number of Turing laptops to more than 100.
The company says they've had good success for Nvidia RTX in a range of markets including product design, architecture, effects, and scientific visualization, with the support of more than 40 key applications, including eight introduced at Siggraph. And, it also rolled out a full range of Turing architecture-based Quadro GPUs for mobile workstations with global system providers.
For its data center platform, the company announced that Nvidia's DGX SuperPOD, which provides the AI infrastructure for the company's autonomous vehicle development program, was ranked the world's 22nd fastest supercomputer.
And Nvidia announced support for Arm CPUs, providing a new path to build highly energy-efficient, AI-enabled exascale supercomputers.
Also, during the second quarter of its fiscal year 2020, the company announced Volvo Group would be using the Nvidia Drive end-to-end autonomous driving platform to train networks in the data center, test them in simulation and deploy them in self-driving vehicles, targeting freight transport, refuse and recycling collection, public transport, construction, mining, forestry and more.
Outlook
The company's outlook for the third quarter of fiscal 2020 is as follows:
Revenue is expected to be $2.90 billion, plus or minus 2%.
GAAP and non-GAAP gross margins are expected to be 62.0% and 62.5%, respectively, plus or minus 50 basis points.
GAAP and non-GAAP operating expenses are expected to be approximately $980 million and $765 million, respectively.
GAAP and non-GAAP other income and expense are both expected to be an income of approximately $25 million.
GAAP and non-GAAP tax rates are both expected to be 10%, plus or minus 1%, excluding any discrete items. GAAP discrete items include excess tax benefits or deficiencies related to stock-based compensation, which are expected to generate variability on a quarter by quarter basis.
Capital expenditures are expected to be approximately $100 million to $120 million.
What do we think?
Gaming buoyed up Nvidia's sales enough to overcome the declines in Datacenter and Pro-Viz. Automotive made a slight contribution in the quarter in segment sales and increased in percentage of overall sales.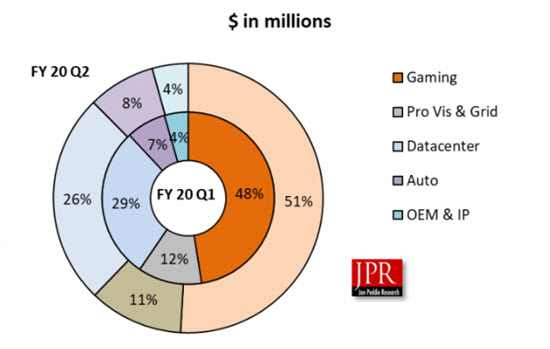 Last year was abnormal—the big merchant datacenters stocked up in anticipation of the big AI training surge. Now people have to figure out what it is they did and got with their AI training, and test (and defend) the accuracy of the results.
Nvidia's data center sales are down from last quarter, but we don't think it is a big deal. The big guys like MS, Amazon, and Google have bulked up and now they have to find customers to use that stuff, so it's a digestive period, not a foretelling of a crash or new killer competition. Yes, AMD is making some in-roads in the data center with their GPUs, but Nvidia has so many applications linked to CUDA it's going to difficult to dislodge them even if AMD gave away their GPUs.
Tegra sales were up 140% sequentially and 1.7% from a year ago, largely influenced by Nintendo's Switch sales. But they are low ASP parts and amount to less than 10% of GPUs.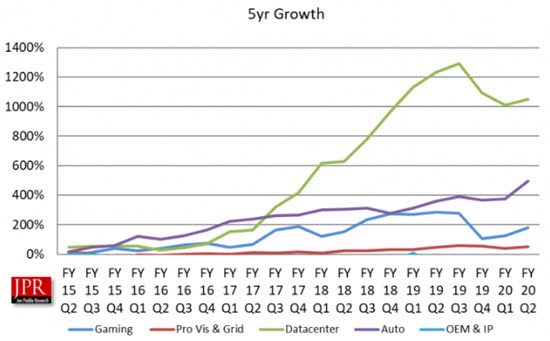 The numeric values are shown in the following table.

GPU includes GPU revenue in the datacenter, GeForce, Quadro, Tesla, and OEM. Gaming includes GeForce DT/NB, Switch, Other like GeForce Now, G-SYNC, Nvidia includes its Nintendo (Switch) business in with its gaming revenue as well.
Nvidia continues to enjoy a high P/E ratio  (35.5) and the announcement of the acquisition of Mellanox shows Nvidia's continued commitment to shift the company's business from being PC and gaming dependent to being more of a data center company, a strategy also being followed by AMD and Intel.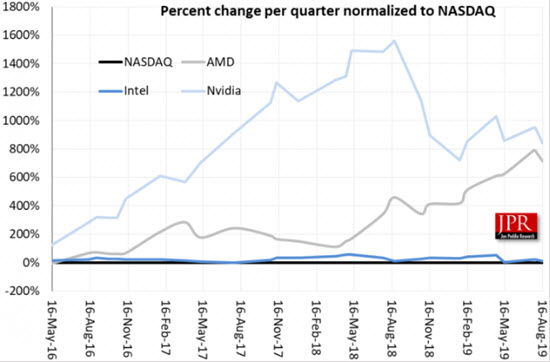 Nvidia launch of its Super versions of the RTX 2060/70/80 is a bold move to drive down the cost and increase performance. Combined with the steady increase in new, beautiful looking games, ray tracing will be the must-have feature in 2020.