Revenue for the quarter was up 20% from last quarter to $1.5 billion, GAAP profit was $35 million.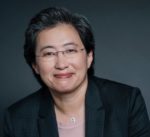 AMD reported its quarter results for calendar Q2 2019; revenues and operating income were down year-over-year as well as its graphics and compute groups revenue and profits.
"I am pleased with our financial performance and execution in the quarter as we ramped production of three leadership 7-nm product families," said Dr. Lisa Su, AMD president and CEO.  "We have reached a significant inflection point for the company as our new Ryzen, Radeon, and EPYC processors form the most competitive product portfolio in our history and are well positioned to drive significant growth in the second half of the year."
Revenue was $1.53 billion, down 13% year-over-year due to lower graphics channel sales.
Gross margin was 41%, up 11% year-over-year, primarily driven by increased Ryzen and EPYC processor sales. Gross margin was flat quarter-over-quarter. Operating income was $59 million compared to operating income of $153 million a year ago and $16 million in the prior quarter. Net income was $35 million compared to net income of $116 million a year ago and $62 million in the prior quarter.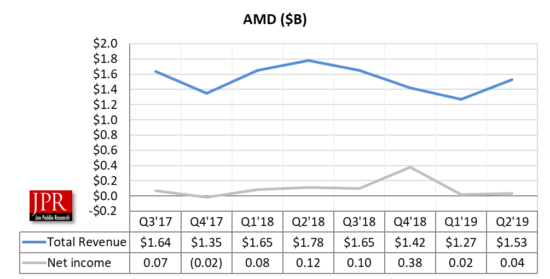 R&D expenses were $370 million (24% of revenue), up $20 million Y/Y and flat Q/Q. MG&A expenses were $189 million (17% of revenue).
Graphics group
Computing and Graphics segment revenue was $940 million, down 14% Y/Y and up 13% Q/Q. The Y/Y the decrease was primarily due to lower graphics channel sales.
Client processor average selling price (ASP) was up year-over-year driven by Ryzen processor sales. Client processor ASP was down quarter-over-quarter due to a higher mix of mobile processor sales. GPU ASP increased year-over-year primarily driven by datacenter GPU sales. GPU ASP was down slightly quarter-over-quarter due to lower data center GPU sales and higher graphics channel sales.
Operating income was $89 million, compared to $69 million a year ago and $68 million in the prior quarter. The year-over-year and quarter-over-quarter increases were primarily driven by higher EPYC processor sales.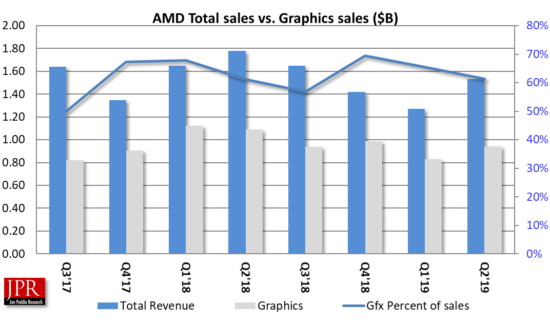 AMD launched its client and graphics processors based on new architectures and 7-nm process technology. The company says the "Zen 2" CPU core delivers up to an estimated 15% instructions per clock (IPC) uplift over the "Zen" architecture, outperforming the historical generational performance improvement industry trend.
AMD Ryzen Desktop Processors are available now with up to 12 cores and 24 threads based on the new "Zen 2" core architecture to deliver leadership performance for gamers, creators, and everyday PC users.
AMD unveiled the new X570 chipset for AMD Socket AM4, enabling the first PCIe 4.0 ready platform for consumers. Motherboard manufacturers are expected to introduce more than 50 models using the new AMD X570 chipset by year end, creating the widest selection of motherboards at launch in AMD history.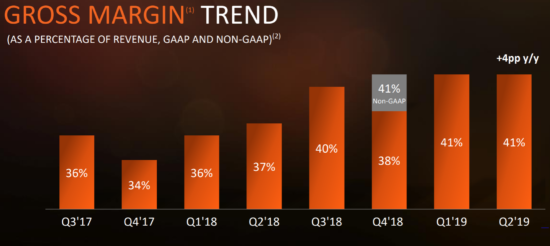 AMD announced that it is working with Cray, the U.S. Department of Energy and Oak Ridge National Laboratory to build what is expected to be the world's fastest supercomputer—Frontier. Based on future-generation high-performance custom AMD EPYC CPUs and Radeon Instinct GPUs, Frontier is expected to deliver greater than 1.5 exaflops of processing performance.
Microsoft announced that AMD will power its upcoming next-generation game console, codenamed Project Scarlett, with a custom, high-performance SoC combining the AMD Ryzen "Zen 2" CPU core and a next-generation GPU.
Samsung and AMD announced a multi-year strategic partnership through which Samsung will license AMD graphics IP to advance graphics technologies and solutions for mobile applications including smartphones.
Outlook
For the third quarter of 2019, AMD expects revenue to be approximately $1.8 billion, plus or minus $50 million, an increase of approximately 18% sequentially and approximately 9% year-over-year. The sequential and year-over-year increases are expected to be driven by Ryzen, EPYC, and Radeon product sales. AMD expects non-GAAP gross margin to be approximately 43% in the third quarter of 2019.
For full-year 2019, AMD now expects revenue to increase a mid-single-digit percent over 2018 driven by significant sales growth of new Ryzen, EPYC, and Radeon processors, partially offset by lower than expected semi-custom revenue. Revenue excluding semi-custom is expected to grow approximately 20% year-over-year. AMD expects non-GAAP gross margin to be approximately 42% for 2019.
What do we think?
For the quarter, AMD revenues of $1.53 billion are down 13% over the prior-year period.
The company announced industry veteran Rick Bergman has joined the company as executive vice president of Computing and Graphics with responsibility for the company's high-performance PC, gaming, and semi-custom businesses. Sandeep Chennakeshu has decided to leave AMD at the end of the month.
Bergman brings extensive semiconductor experience, a deep technology understanding from a platform and product perspective, and extensive general management experience. He most recently served as president and CEO of Synaptics for the past eight years. Prior to that, he spent ten years in senior executive roles at AMD and ATI.
The company added over 40 new consumer and commercial Ryzen Mobile and Ryzen Mobile PRO processors from leading OEMS year-to-date.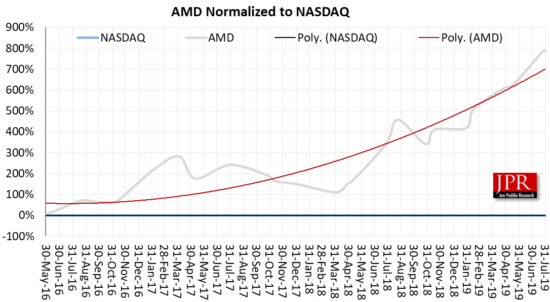 AMD's share price continues to rise because of a strong pipeline of new products. The latest earnings report suggests that the company's 2019 plans are on track.