AWS renders the two Autodesk Maya plug-ins open source after making them free a few months ago.
AWS Thinkbox recently released their plug-ins Krakatoa MY and XMesh MY to the public by turning them open source. Users who want access to the plug-ins can find the code in GitHub repositories. This is a major win for large VFX studios that use AWS products—now they can customize the plug-ins to build what they specifically need. Pre-built versions of the programs ready to be used are also available.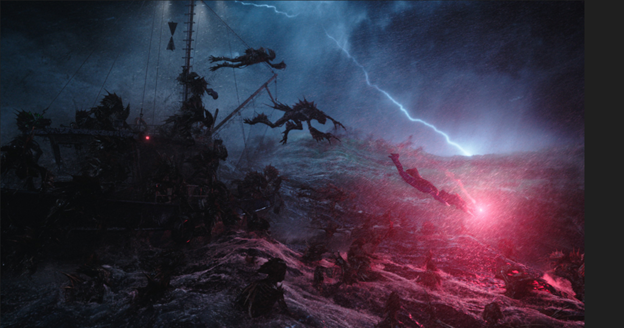 Krakatoa can process and render millions of particles, which VFX studio Scanline used for the rain particles in this Aquaman scene. (Source: DC Entertainment)
Krakatoa and XMesh are both plug-ins that are available for use with Autodesk Maya and 3ds Max, among other options. Krakatoa specifically processes and renders volumetrics, which allows VFX artists to create realistic visual phenomena like dust, smoke, or rain. Krakatoa can be integrated into Maya, 3ds Max, Cinema 4D, or used as a stand-alone renderer. XMesh accelerates file uploads for geometry asset files.
"With the AWS Thinkbox tools available as open source, we can contribute to the path forward and take control of how it evolves. XMesh has always been part of the decision-making process for migrating to the latest content creation application version. Now we can determine our own timelines and add our own special enhancements if needed. Open sourcing gives us more control over our destiny," said James Braid, Scanline's vice president of technology.
Krakatoa MY and XMesh MY are now fully open source, when previously they were just free. AWS made all the Thinkbox products free in August, including both Krakatoa and XMesh, and maintained all paid support services. Users can obtain 50,000 free floating licenses that expire in a year, but new licenses can be obtained at any time. Making them free reduced the barrier of entry for these products. Making them open source took that customization one step further.