Called Stage 15, the facility boasts a large LED stage, a dedicated department, and a sandbox lab for Amazon Studios' projects.
It's a wonderful thing to have great parents. Take Amazon Studios. They just opened a state-of-the-art mega virtual production studio in Culver City, California. Called Stage 15, the facility will be used by Amazon Studios for its Original film and series projects headed for Amazon's Prime Video streaming service. Stage 15 was set up with the help and guidance from Amazon cloud experts and uses (surprise!) AWS technology. No, there's no overnight shipping involved, but Stage 15 does use a production-in-the-cloud ecosystem and is fully connected into the AWS cloud, with direct connection from Stage 15 to AWS S3 storage to make dailies instantly available to creative teams from any location. Every shot taken on Stage 15 is sent to the AWS cloud in real time, and assets can be safely and securely distributed worldwide.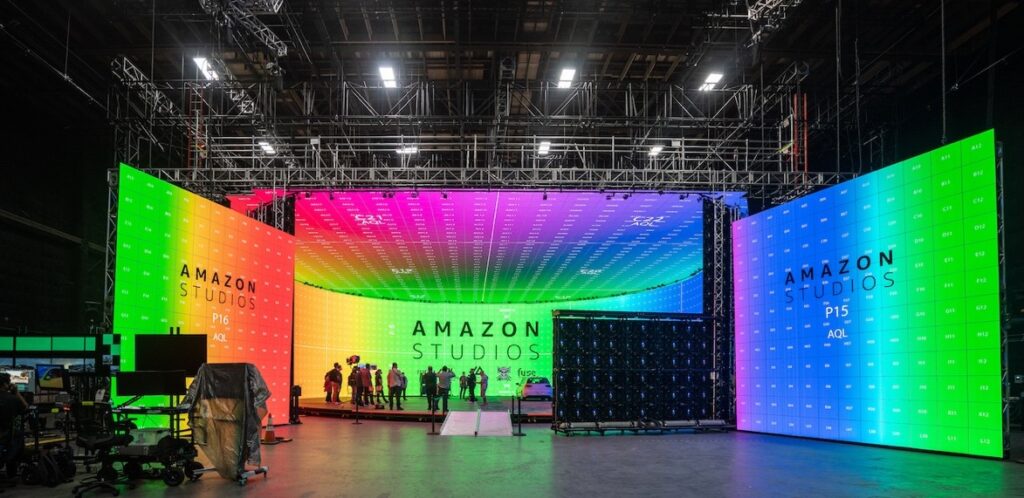 Amazon Studios just opened an impressive virtual production stage powered by AWS. (Source: Amazon Studios)
Stage 15 combines two former stages into one that accommodates a larger LED wall than is typical, enabling it to work on full-world-building projects. The entire stage spans 34,000 square feet. The LED volume itself comprises 130,700 cubic feet of interactive space. It includes a full LED ceiling with drop-out panels, while the LED wall itself is 80 feet in diameter and 26 feet tall and contains more than 3,000 LED panels (from Roe Visual) and 100 motion-capture cameras (from OptiTrack).
In addition, the studio formed the Amazon Studios Virtual Production (ASVP) department, which will oversee the usage of the stage for upcoming Amazon Studio projects.