CorelDraw is 30 years old and as Corel settles into an annual release cadence, the 2019 update brings CorelDraw to the Mac as well as Windows and introduces web access.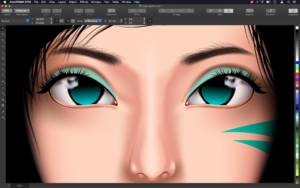 Turning 30 is a time to reassess, to think about the future and maybe have a little bit too much to drink because you're disappointed in your life so far. That's for humans. When software turns 30 the response can be mixed but first of all, celebration is almost always in order. It's hard to survive for 30 years in the digital world, but again, there's no environment that's so ageist as digital technology—that goes for people and technology.
At 30, CorelDraw is looking pretty good for its age. The software has found its niche among graphics professionals and also for professionals who may not be adept at graphics tools but have an occasional need to create content. The company has good complementary products for technical writers and artists. The company has built suites targeted to a subset of the graphics market where it has a bit of an edge with its products Corel Designer, a tool for technical illustrators and technical writers, which is available as a suite in CorelDraw Technical and CorelCAD. As Corel has continued to target the technical market, its products CorelDesigner, CorelDraw, and CorelCAD have become interoperable.
The year, Corel is making the big leap into Mac and also to mobile. This isn't the first time Corel has addressed the Mac market. It has tools that work on the Mac including AfterShot for raw processing, Painter for paint effects, ParticleShop for particle effects, PhotoBrush to extend the possibilities of the imaging tools with customizable brushes, and the CorelCAD tool for drafting and design.
Over a decade ago, the company released a Mac version of CorelDraw to accompany Painter, which already had a Mac following. At that time, CorelDraw for the Mac didn't go over with the Mac users, and Corel decided to pull back. Gerard Metrallier, Executive Vice President of global products for Corel, believes the product did not do well in the Mac market when it tried last time because the developers did not make sure it was a Mac native product. This time, he says, they're making sure to take care of all the details and they've worked directly with Apple on product development. The Mac specific tools include menus, windows and views, fields and labels, and buttons all with the familiar Mac look, feel, and behavior. The Mac version of CorelDraw supports macOS features including Mojave Dark Mode. In addition, Corel has taken some pains to support the MacBook Pro Touch Bar and Metrallier says it's more than making sure its got all the checkboxes checked. He said Apple execs were particularly pleased with the functionality Corel added to the Touch Bar.
In addition, customers who buy CorelDraw, Windows or Mac, also have access to the CorelDraw.app, a web-based version which gives users the ability to sketch out ideas and work on the Corel content wherever they are and no matter what machine.
CorelDraw is primarily a vector tool for design, illustration, and page layout, but Corel is famous for putting together a suite of tools that augment the power of Draw and make it considerably more powerful. The CorelDraw bundle include Photo-Paint, a photo editing tool and AfterShot 3 HDR for raw processing. For many users, one of the most attractive elements of the CorelDraw package is the PowerTrace tool, which enables users to convert raster drawings to vector. The package also includes Connect for access to stock content and Font Manager.
Corel is also introducing LiveSketch, which the company says is the first graphic design tool powered by a neural network. As users hand draw, their strokes can be rationalized into vector shapes as the software interprets the artists intent.
What's new?
Over a long weekend of playing with CorelDraw 2019, I found significant improvements to the program including the Objects Docker that puts access to objects, layers, and pages all on one docker that can be moved, reduced, etc. Previously, access to those components took up more screen estate and the fact that they're consolidated makes it easier to see what's going on in a document at a glance.
Corel has added the ability to add, mix, and modify effects in both vector and bitmaps through non-destructive effects. Obviously, the ability to undo is just as important as the ability to do since users can feel free to try out different combinations. In addition, once they've got a look they like they can save the look as a preset so they can be used again.
The new product has updated templates, which are accessible via the "new from templates" dialog when creating a new file. The align tools let users use the pixel grid to ensure exact placement of objects and to correct shapes. And, Corel has improved performance with new interface improvements and faster text handling, improved startup times, document load times, graphics rendering, and more.
Licensing options
CorelDraw is available as a perpetual license for a one-time payment for $499 (€699/£599.99). Registered users with any previous version can upgrade for $199 (€349/£299.99).
A subscription is available for $198 (€239.40/£199.99) per year.
As mentioned, the CorelDraw.app comes with the CorelDraw Suite 2019, but users can also upgrade to new features with a subscription.
It's available in English, German, Italian, French, Spanish, Brazilian Portuguese, Dutch, Polish, Czech, Russian, Simplified Chinese, Traditional Chinese, Turkish, and Japanese.