Corel adds professional tools for technical documentation with broad support.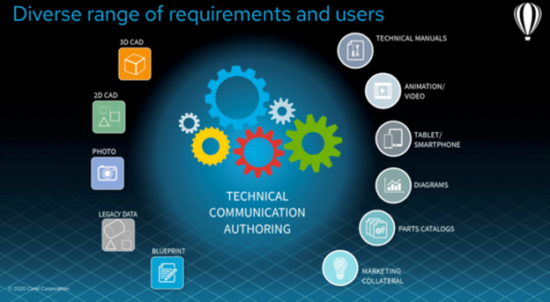 Technical Suite is the last of CorelDraw's rolling introduction, which includes CorelDraw Essentials 2020 for creative consumers, occasional users, CorelDraw Standard 2020 for office, CorelDraw Graphics Suite for professionals, and now CorelDraw Technical Suite for technical documentation. There's a version of CorelDraw for everyone.
CorelDraw Technical Suite is not for everyone. It's a Windows-based application for content creators working with technical content. It includes the Designer Module, which has an advanced set of drawing tools to create drawings as well as work with imported CAD drawings. It comes with a full complement of industry-standard symbols for architectural, electrical, general, mechanical, and tools. It also includes clipart, digital images, and vehicle wrap templates, 1000 high-resolution digital photos, over 1000 TrueType and/or OpenType fonts, 150 professionally designed templates including 40+ technical ANSI, DIN, and ISO standard templates, and over 600 fountain, vector, and bitmap fills.
Corel is making a good business out of finding specialized niches and filling them and CorelDraw Technical Suite is an especially good example. CorelDraw Technical Suite is used to create detailed parts illustrations, assembly instructions, schematics, and supports a wide range of professional design applications. The key addition of Technical Suite is the Designer module, a professional drawing tool that lives somewhere between CAD and vector content creation. In addition, the suite includes a basic version of XVL Studio, which enables CAD content import via industry-standard formats.
In addition, PowerTrace, which is part of all the CorelDraw Suites is especially useful for raster to vector operations such as converting drawings to digital content. PowerTrace has advanced in capability to surpass line tracing, it can also convert bitmap images to vector and has improved AI and GPU support enabled upsampling and artifact removal.
As it has been improved, CorelDraw Technical Suite has gotten new capabilities such as support for 3D models and isometric drawing creation and callout options. The new Wrap feature in Designer lets users wrap an object around a cylinder, which looks a whole lot cooler than it sounds in the description.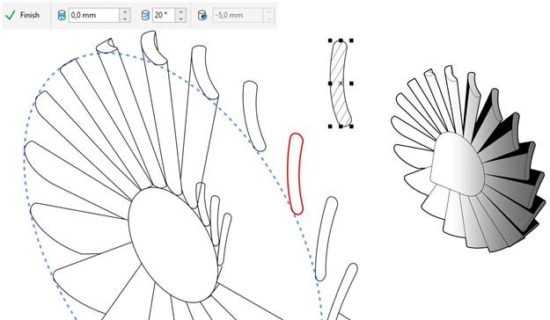 New features include:
Thick and thin lines and new styles workflow. The ability to dynamically change line thickness helps designers and artists show depth. New tools make it easier to adjust lie weights on curves, rectangles, and ellipses. People working with isometric can add two line weights at once to add depth to isometric drawings. Users can also lock the radio between outline width and halo width.
Enhanced callout handling. Corel has added new options for callouts including scaling options, and the ability to add object information to symbols. Hotspots and information can be added as callouts are drawn.
Collaboration tools. With this version of CorelDraw, the company has added collaboration tools to support review and approval. Corel has added an additional app, CorelDraw.app, to share content for review and approval. It's free with the subscription or available for an add on price.
Corel has been adding support for multiple processors and GPUs. In Corel Designer 2020 and in the last two years, it has also been upping its AI game. Corel says users will see the improvements in CorelDraw and Designer. Corel's AI implementation improves image upsampling, JPEG artifact removal, and improved performance for PowerTrace.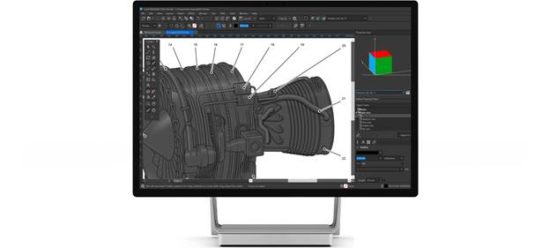 CorelDraw Technical Suite 2020 is $999 for a perpetual license and $499 for the subscription.
If needed, Corel also makes a version of XVL Studio for CorelCAD available for customers who need broad format compatibility, and who have tasks like illustrating assemblies, disassembly, manufacturing BOMs, creating animations and step-by-step processes using 3D engineering data. These are cases where Corel's complement of CAD, Designer, and CorelDraw come into play. The XVL Studio 3D CAD is $4999. And includes direct support for CATIA, Inventor, PTC Creo, SolidWorks, NX, Solid Edge, in addition to the standard formats supported by CorelDraw (CGM, PDF, SVG, DWG, DXF, EPS, TIFF, AI, PSD, JPG, and PNG.)
What's in the box?
Quite a bit.
Corel Designer 2020—Precise technical illustration
CorelDraw 2020—Vector illustration and page layout
Corel Photo-Paint 2020—Professional image editing
XVL Studio Corel Edition—3D visualization and authoring
Corel Font Manager—Font exploration and management tool
PowerTRACE—AI-powered bitmap-to-vector tracing (included as part of Corel Designer and CorelDraw applications)
CorelDraw.app—Online vector illustration and graphic design via web browser
CAPTURE—Screen capture tool
AfterShot 3 HDR—RAW photo edit
What do we think?
The field of technical illustration has gotten pretty busy lately. Canvas GFX has come on strong after it has gone out on its own with new leadership. It too has broad format support and is priced very competitively to CorelDraw Technical Suite. We've also seen Serif's Affinity Designer come out as a competitor to Illustrator and CorelDraw. It supports Isometric Drawing and has gotten new capabilities such as an Isometric Drawing panel which makes it easier for users to choose the plane they want to draw on and snap to grid, fit to plane, etc. It does not have even basic dimensioning, which holds it back on this front but it's an attractive alternative for users who don't want to subscribe to Canvas or Adobe Illustrator, and would rather pay a lower price than CorelDraw Technical Suite.
In other words, the field is very much in play.