Upgrades, acquisitions, new VFX capabilities add up to a powerhouse in the making.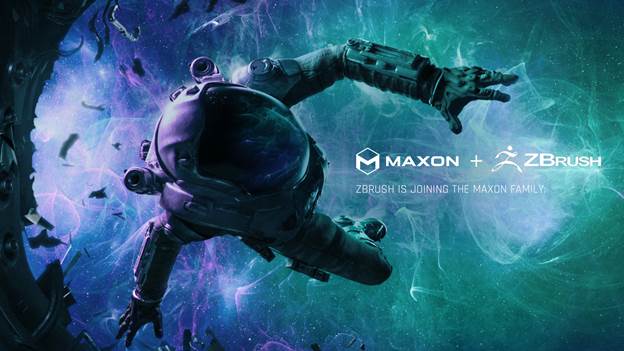 Maxon has been spewing news lately; it's hard to track but it all adds up to a strong play for more of the creatives' business. The headline is that Maxon plans to buy the assets of Pixologic, makers of the revered ZBrush sculpting tool.
Maxon's CEO David Gavran and the team have published a quick post with reassuring words for worried ZBrush loyalists. In it, they promise to continue both the company's subscription program and perpetual licensing.
From Maxon's point of view, the story is that the ZBrush team led by Ofer Alon will move to Maxon and will work with the Maxon developers to improve ZBrush. Alon writes, "this exciting new era will bring an infusion of technology and skills, making it possible for us to take this pioneering spirit to the next level. After witnessing the evolution of 3D art driven by our one-of-a-kind artist community, we can't wait to see what you—the artist—will create in ZBrush for decades to come."
The Maxon and Pixologic teams say they are bound by regulatory requirements, which means they're not sharing details. Instead of saying they're buying Pixologic, Maxon's says it is buying ZBrush—it is buying the assets of Pixologic, not the company itself with all its attendant liabilities.
Alon, as a new Maxon hire, promises to maintain the close relationship the company has traditionally maintained with its user base. "we are looking forward to beginning the next chapter together at our new home with Maxon."
The discussion boards have erupted in outrage on the part of the ZBrush users and delight on the side of Maxon users. The Zbrush users are demanding that the company continues its idiosyncratic habit of making perpetual licenses available with annual updates available for free forever in an informal sense. The company officially promises free updates for only a year. In practice, users are claiming they've been getting free updates for years.
So, all that will play out how it plays out. Objectively, the deal looks like a really good one for both sides. The Maxon team is thrilled to be getting a powerful 3D sculptural modeler to complement Maxon's modeler. ZBrush users are hoping Maxon will update ZBrush's venerable interface. Also, Maxon has a wealth of tools that will open up new capabilities for Zbrush from rendering, animation, to VFX. For instance, earlier this year, Maxon acquired the Forger 3D sculpting tool for mobile devices. And, for more than a year, Maxon has been improving interoperability between ZBrush and Cinema4D using GLTF and the GoZ plugin. And if you read on, Maxon is updating its Moves by Maxon tool for real-world capture.
Meanwhile … updated support for Unreal and Moves by Maxon
Maxon is updating its Cineware to accommodate Unreal Engine 4.27. The update enables dynamic import of C4D content without pre-caching, and certain attributes of Cinema 4D content can be modified directly within the Unreal Editor. Unreal has modified its Datasmith tool for content import. The companies say the process is easier and more reliable than ever.
The Cineware update will also allow content to be imported from Allplan, ArchiCAD, and Vectorworks—AEC programs from the Nemetschek stables.
Pocket modeling
Maxon has updated its Moves by Maxon app developed for devices with depth-sensing capabilities. The app has grown out of the popular Cineversity CV-AR. Using Moves by Maxon on a capable iPhone or iPad, users can perform facial capture or create a 3D model. The software is using Apple's new Object Capture API introduced with MaxOS Monterey in June 2021 at WWDC. The app allows users to take pictures with their devices, create textured 3D models, and bring them into Cinema 4D.
Maxon's CEO David Gavran says the updated app will enable content creators to find the exact model they're looking for out in the real world and bring it into Cinema 4D via the Moves app.
The app requires the Cinema 4D R25 SP1, a Mac PC (M1 or Intel-based) with 16GB RAM, and an AMD GPU with at least 4GB VRAM.
What do we think?
We're kind of amazed at the pushback in the ZBrush community, okay, not really. But it's hard to understand how users can profess undying love for a tool and at the same time, protest paying some kind of fee for its upkeep—be that maintenance fees, subscription, or updates. Over the years, Maxon has increased its subscription fees but also increased its capabilities The Maxon One subscription is $1,199 and includes all of Maxon's tools including Cinema 4D, RedShift, RedGiant Complete, Universe, Forger, and Cineversity. It's not a price for hobbyists, but the individual tools are available for less and there is still perpetual pricing.
Actually, perhaps one of the most powerful tools to improve ZBrush for creatives may well turn out to be access to Cineversity. ZBrush is famously hard to get the hang of because learning how to use ZBrush together with its new stablemates at Nemetschek will give creatives new powers.
We're also pretty fascinated with the increasing interoperability between Maxon's new tools and Unreal. Autodesk and Unity have been working together to enable BIM interoperability. Also, Nvidia has been working with AEC vendors to enable Omniverse in AEC land. Nemetschek does not intend to be left out. All these companies are traveling a long road to immersive BIM. Right now, we're seeing mostly point-to-point capabilities. Users can create walkthroughs but there's much more to be done before creatives, including architects and designers, can interactively build a design in an immersive environment. Media and Entertainment is an attractive market, but if you can bring an immersive design to CAD, you can someday own the world. Unity, Epic Games, and Nvidia get the picture and so do Autodesk and Maxon.