New support for Katana and Redshift also in latest version.
The latest update to Qube render farm management software from PipelineFX makes it easier to manage cloud-based or cloud-assisted rendering jobs. This update also extends render management to video created in a wider range of products.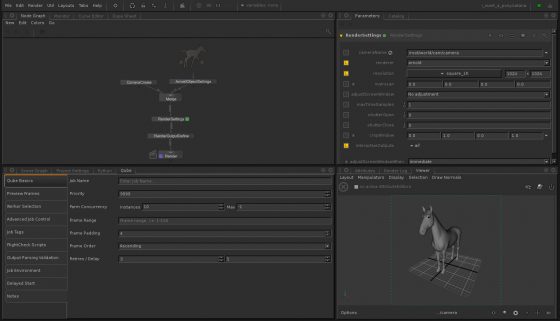 New automation routines in Qube 6.9 simplify the process of including cloud servers as part of any rendering assignment. There is also a dedicated, pay-per-minute metered licensing supervisor.
Support for The Foundry Katana and Redshift's GPU-based render has also been added in this release, increasing Qube's supported software count to 23.
PipelineFX says its metered licensing is the first pay-per-minute option for render farm management that doesn't require studios to pre-pay first. Originally available upon request, metered licensing is now built into Qube! as the default supervisor, allowing studios to burst beyond their paid (perpetual and subscription) licenses when needed. Paid licenses will always be used first, so added costs never occur until everything has been exhausted.
Additional Qube 6.9 features:
ArtistView GUI Improvements: The soon-to-be-default GUI now offers more stability, updated fonts, OIIO support, a clearer preferences screen and improved colors for users with color blindness.
Autodesk 2017 Support: The 2017 versions of Maya, 3ds Max, and VRED are all now dedicated job types.
New Cluster Priorities: Users can now assign and prioritize jobs by cluster, so priority departments within studios can get their work done faster.
"We just finished production on a 4K HDR short film and metered licensing came through big time!" said Brennan Chapman, lead pipeline developer at Moonbot Studios. "Not only did it make production and rendering much smoother, but it allowed us to scale up to 29,000 cores, the largest farm we've ever had. Metered licensing completely changes what a smaller company like us can do."
What do we think?
Metered licensing helps small studios on tight budgets stay lean. They can decrease their investment in local rendering hardware and turn on their cloud-based rendering just long enough to accomplish the task. Qube's ability to combine desktops, local servers, and both private and public cloud nodes makes rendering into a utility delivered on demand, not an infrastructure to invest in and maintain.