New Maker space offers tools and space for construction innovation.
Autodesk has been reaching out to the Maker market with a variety of products and services in recent years. One of their more high-profile endeavors was the opening of the BUILD Space in downtown San Francisco, a combination workshop, studio, and practical R&D center.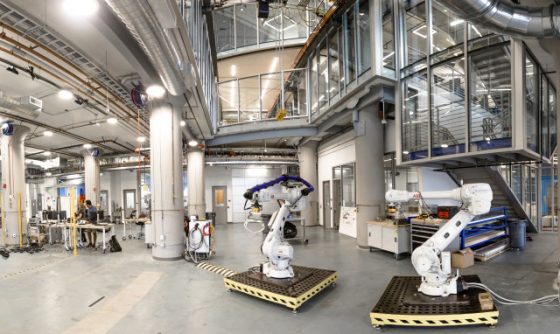 Now Autodesk has opened a second BUILD Space in Boston, where it also has a substantial business and research presence. The new center covers 34,000 square feet at 23 Drydock Avenue, in Boston's Seaport neighborhood near downtown.
BUILD is short for "building, innovation, learning, and design." This new BUILD Space contains more equipment of interest to the AEC marketplace than the California location;  Autodesk's AEC division is headquartered in the Boston office. Equipment in the center includes a 6-axis KUKA robotic arm, which can be used for fabricating non-standard architectural forms from design data. There is also a 27-foot crane space capable of moving 5-ton objects within the center.
In a statement announcing the opening of the new space, Autodesk says eight start-up companies in the AEC space are already using the center for applied research. AEC product group VP Jim Lynch says the company hopes to double that number within a year.
Robotic arms are for more than building architectural forms in the new Autodesk BUILD Space in Boston. (Video courtesy Boston Business Journal).