The 3D printing software toolkit includes new features for prepping models, print build optimization, and material optimization.
Autodesk has just rolled out the first major release of Netfabb, the software toolkit for additive manufacturing (3D printing) professionals. Autodesk acquired Netfabb in 2015 as part of its aggressive move into the 3D printing market. The software is designed to help professional users of 3D printing reduce costs, increase efficiency, and improve part performance in industrial 3D printing production environments.
Autodesk Netfabb 2017 is a set of tools that share a common installer, common file formats, and common process definitions. The tools focus on design enhancement, manufacturing preparation, and build simulation.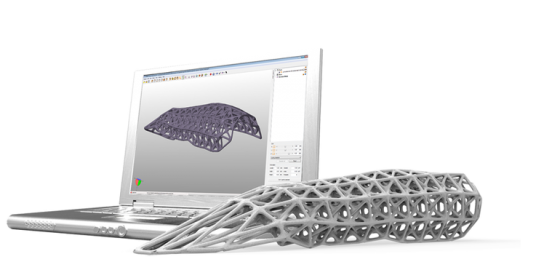 Leading the new features in this release is enhanced simulation, optimization and advanced toolpath capabilities. Highlights include:
Prototyping and File Preparation
Rapid file handling for importing CAD files and converting them to editable STL files.

A wide range of model editing tools, to create the geometry needed to get best performance from additive manufacturing processes and machines.
Production and Machine Operation
A new simulation utility provides "fast and robust simulation" of full layer deposition and predicts structural stresses and deformations in metal parts, reducing the need for costly experimental iterations.

The build support module helps users create support structures, while automatic packing maximizes the number of parts that can be loaded on a build area.
Design and Process Optimization
Generative design enhancements enables efficient light weighting and refinement of parts.

Part properties and throughput enhancement using a new toolpath engine that specifies hatching patterns and control parameters such as print speed, focus and laser or beam power.
"Since we began using Autodesk Netfabb, we're seeing significant savings on materials costs because we can keep the builds more efficient," said Lasse Gistorp, owner and technical manager at GT Prototyper. "Being more efficient gives us more money to put back into the business. It has also made it possible to use our employees' time more productively, so it's a better work environment for our people."
What do we think?
In 2014 and 2015 Autodesk poured significant resources into 3D printing. It started an investment fund, promoted its ideas for standards, and acquired several related software products. 2016 has been the incubation period; from here on we start to see the fruit of Autodesk's efforts.
Last year at Euromold, Autodesk CTO Jeff Kowalski made an impassioned plea for a major leap in software improvement to allow 3D printing to reach its full potential. The next day Autodesk bought Netfabb. The goal then and now is the same: to make it as easy to print in 3D as it is to print in 2D today.