Dassault builds out its Modelica toolset with the acquisition of Modelon GmbH.

Dassault Systèmes has announced the acquisition of Modelon GmbH, the German division of Modelon AB,  a Swedish software company. Modelon AB describes the deal as a consolidation, which "enables Modelong to continue its successful growth to be the leading provider of open-standard model based systems development solutions in existing and new markets. Modelon builds proprietary, multi-physics modular and reusable content based on the open source Modelica modeling language.
Modelon GmbH, specializes in tools for systems modeling and simulation. Modelon's libraries are being used in the auto industry for multi-body systems, mechatronics and in the design of subsystems including fluid systems and power trains. 
Dassault already owns front end tools for Modelica including its Dymola tool, which is a component in Catia V6. The company acquired Dymola with the acquisition of Dynasim in 2006.
Dynasim was founded by Dr. Hilding Elmqvist who originally developed Modelica in the late 70s based on his PhD studies on equation- and component-based object-oriented modeling at the Lund Institute of Technology in Sweden. The Modelon team in Germany frequently works with Dymola for customers in the automotive industry. In the announcement of this acquisition, Dassault says Dymola and Modelon were used in the design of electric cars including BMW's i3, i8, and hybrid cars. This acquisition brings the Modelon team inside Dassault. Bernard Charlès says the acquisition will help the Dassault "replicate Modelon GmbH's success in other industries such as aerospace, energy, process and utilities, and construction."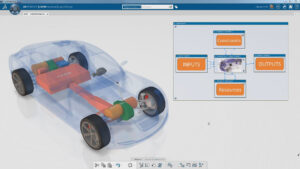 As we said, the Modelica modeling language is widely used in the automotive industry. In addition to BMW the modeling language is used for design and simulation at Ford, General Motors, Toyota, and Daimler.
Other front ends for Modelica include AMESim which, as part of LSM International was acquired by Siemens PLM; Cymodelica, Wolfram SystemModeler, SimulationX, and Maplesoft's MapleSim.
The parent company, Modelon AB, establish new offices in Hamburg and Munich, and the company will retain the Modelon brands and all assets of Modelon AB and its subsidiaries.