Total revenue is up 17%, net income up 30% from a year ago.
By Randall S. Newton
Dassault Systèmes today reported a strong first quarter, buoyed by strong sales of SolidWorks and other primary engineering products, and by the changing landscape in world currencies. Total revenue in 1Q15 (ended March 31, 2015) was €651.5 million ($699.7 million), up 17% in constant currencies from a year ago.
Net income was €69.9 million ($75 million), up 30% from 1Q14.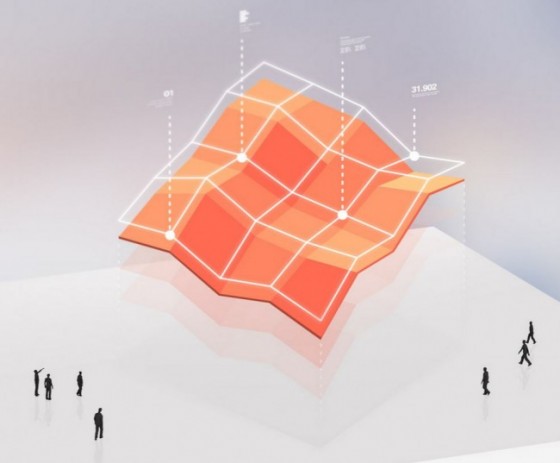 SolidWorks revenue in the first quarter was up 38% from a year ago, aided by a weak Euro and consistent demand. The company sold 15,315 seats of SolidWorks in the quarter, the fourth-best quarter ever. Because of the strong slide of the Euro against the US Dollar, the raw Average Sales Price (ASP) for SolidWorks was up 17% from a year earlier. If taking currency changes into account, the increase in ASP was only 2%.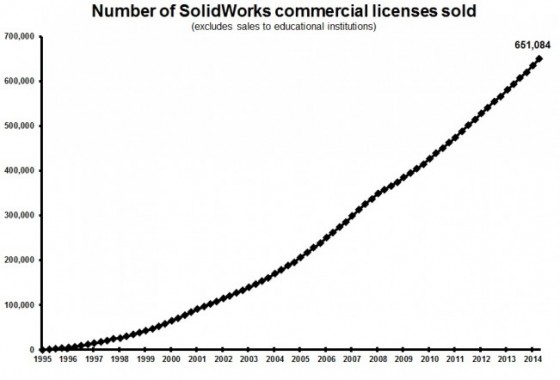 Other 1Q15 revenue highlights:
Software revenue: €578.2 million ($621 million), up 16% in constant currencies from 1Q14;
Services and other revenue: €73.3 million ($78.7 million), up 27% in constant currencies from 1Q14;
All PLM revenue: €435.5 million ($467.7 million), up 25% year-over year;
Catia revenue: €210.6 million ($226.1 million), up 12% year-over-year;
Enovia revenue: €63.7 million ($68.4 million), up 7% year-over-year;
Other software revenue (includes Delmia, Simulia, Biovia, Geovia): €161.2 million ($173.1 million), up 63% year-over-year.
Revenue by regions:
Americas revenue: €197.4 million ($212 million), up 18%;
Europe revenues: €282.5 million ($303.3 million), up 16%;
Asia/Pacific revenues: €171.6 million ($184.3 million), up 17%.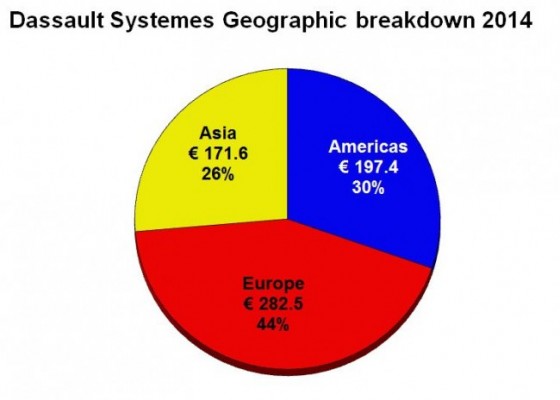 Dassault says Americas results were hampered by weakness in Latin America. Sales were strong throughout Europe, and Asia sales were led by strong results in Korea, India, and Japan.
On an organic basic, Dassault says license revenue grew 14% in the quarter, compared to 1Q14.
This quarter Dassault Systèmes broke out software revenue by various industries, including a category of "Diversification Industries" for markets that are relatively new and/or small for the company. As a percentage of total software revenues, results by industry:
Transportation and Mobility, 32%;
Diversification Industries, 29%;
Industrial Equipment, 16%;
Aerospace and Defense, 13%;
Business Services, 9%;
Marine and Offshore, 1%.
"Diversification Industries" are Architecture, Engineering, and Construction (AEC); Consumer Goods and Retail; Consumer Packaged Goods (CPG); Energy, Process, and Utilities; Finance Business Services; High-Tech; Life Sciences; and Natural Resources.
During the conference call with analysts, Dassault announced the acquisition of Modelon, a specialist in software for systems modeling (mechatronics) and simulation. The company has been popular for many years in automotive. For a complete report on the acquisition please see the GraphicSpeak article "Dassault acquires Modelon."
Five more of our custom charts follow. For larger versions, see our Facebook page.
Stephen Wolfe, P.E., a contributing analyst for Jon Peddie Research, provided research and his usual legendary insights for this article.