Looking back and looking ahead, Dassault says they've set the stage for future growth in the Experience Economy.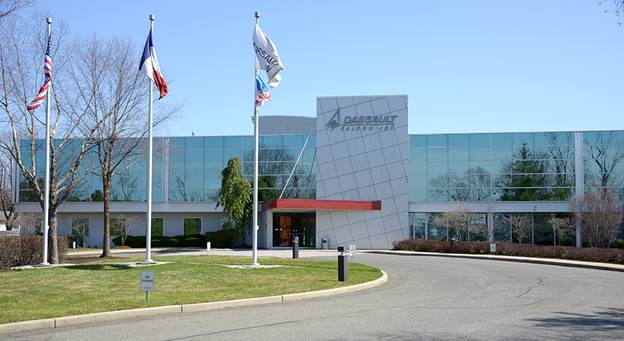 As this is being written, Dassault is spelling out its plans for the future during 3DExperience World 2022. The company says it is poised for a new period of growth as it aligns its major product lines including Industrial Innovation (such as Catia and Enovia), Mainstream Innovation (Solidworks and Centric), and Life Sciences (Medidata and Biovia).
Dassault has had its share of ups and downs through the pandemic years. That may be because it has taken a somewhat slower path to subscription and cloud and also because its largest segment, Solidworks led by the manufacturing giant Catia, which has endured the shocks suffered by the manufacturing industry. Its major design and engineering businesses are all invested in the cloud and subscription and are growing. Its investment in health care and pharmaceutical R&D looks prescient.
All the major CAD companies have strategies to enable digital twins for their customers. Dassault is unique in looking at creating human digital twins for better medical research and health care products.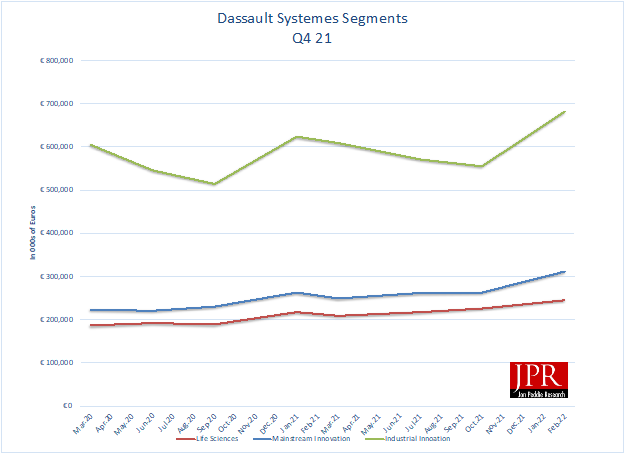 Dassault's revenue for its fiscal 4th quarter of 2021 increased 12% to €1.4 billion compared to €1.2 billion for the fourth quarter of 2020. The company's income was €237.1 billion up 16% for the quarter compared to €204 billion Euros year-over-year. The company's income was €237 million Euros.
For the year, Dassault reported revenues of €4.9 billion, a 9% increase year over year. The company's income for 2021 is €774 million, a 58% increase compared to €491 million for 2020.
Product lines
Industrial Innovation: Revenue rose 8% to €682.3 million, representing 55% of software revenue. The company highlighted the performance of the Simulia and Delmia divisions within Industrial Innovation.
Life Sciences software revenue totaled €245.1 million an increase of 9%, representing 20% of software revenue. Medidata grew over 15%. The company calls out Medidata products Rave, Acorn AI, and Patient Cloud. They're selling to pharmaceutical and biotechnology companies and contract research organizations (CROs). Note, this is another example of the ways in which Dassault is reaching out to consumers. In this case, they are testing medicines or providing patient experiences.
Mainstream Innovation software revenue was €312.1 million, an increase of 12%. It represents 25% of software revenue.
Dassault says the company's growing end markets were led by Industrial Equipment, High-Tech, and Home & Lifestyle.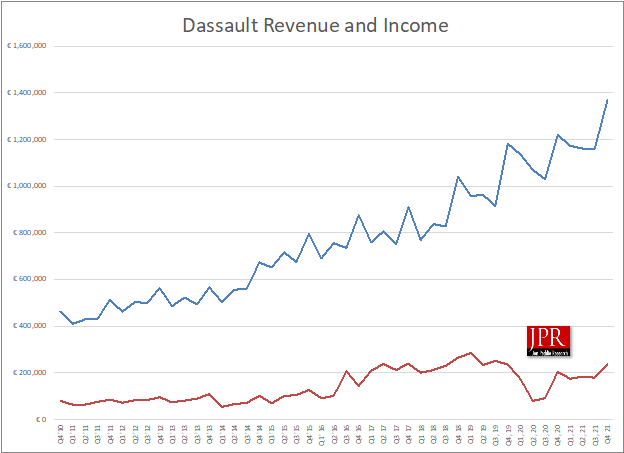 Dassault's CEO and Chairman of the Board, Bernard Charlès kicked off his comments on the Dassault year-end financial call reminding listeners that it has been 10 years since the company introduced its new brand 3DExperience to the world. The reception at the time included a certain amount of mystification as the company promised a continuum of tools that reached all the way from the designer to the consumer. Dassault was ahead of the curve but the idea of the "experience: the economy is now a business cliché, and consumers are more involved with their suppliers than ever before—for better or worse.
As an example of how people are interacting with 3DExperience, Charlès cited Dassault 3DVia's set of home design tools, HomebyMe, an AR utility that teams with companies providing goods and services for home design.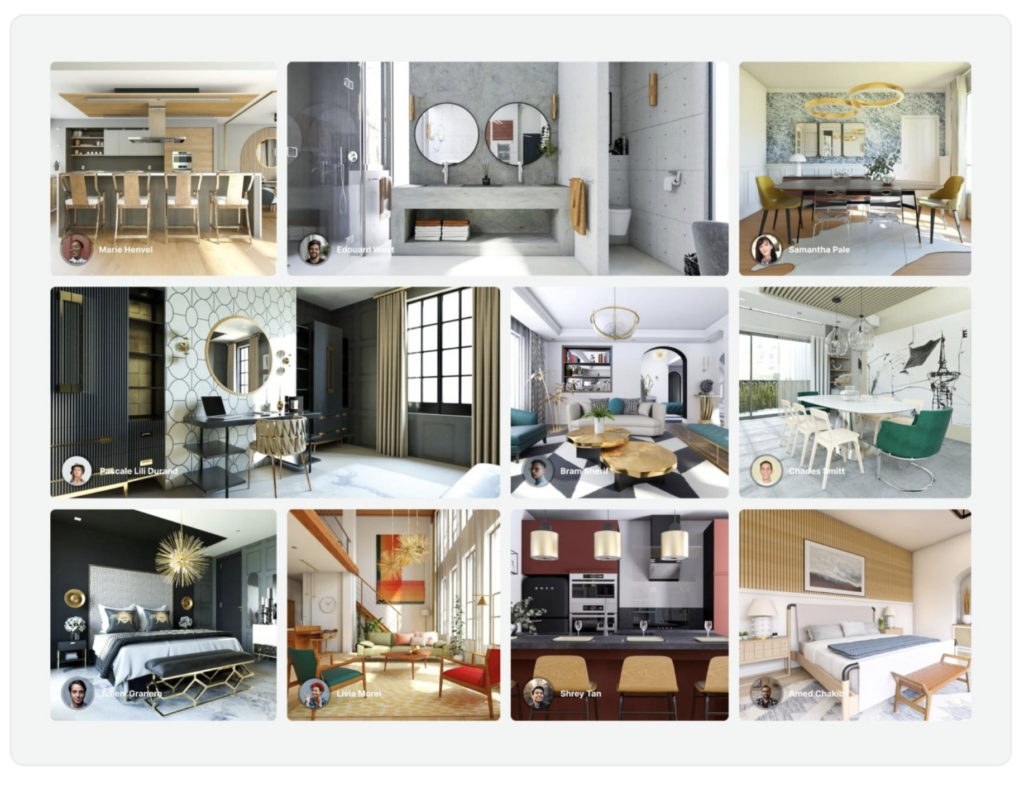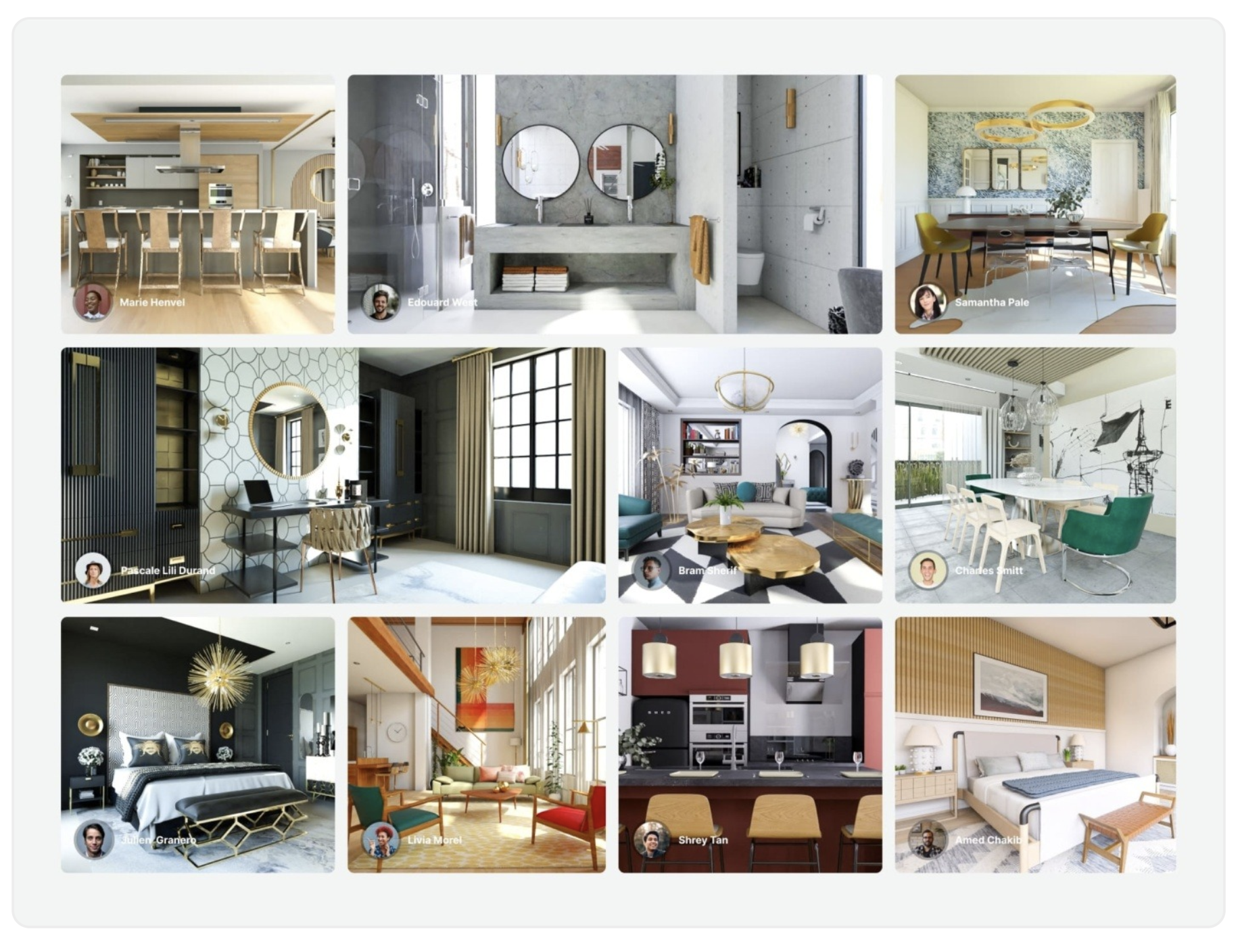 Ten years after Dassault's introduction of 3DExpereince, 3DVia's HomebyMe allows suppliers and builders to work directly with consumers for home design. Dassault's acquired SquareClock, an early entrant into the AR home design market founded in 2007, and used it to build HomebyMe. Dassault's 3DVia division began partnering with suppliers including furniture makers, kitchen builders, appliance companies, lighting specialists to offer consumers a tool they could use to design and kit-out rooms in their house. This year Ikea has announced its adoption of the ByMe utility enabling over a million users to try out the software for home design.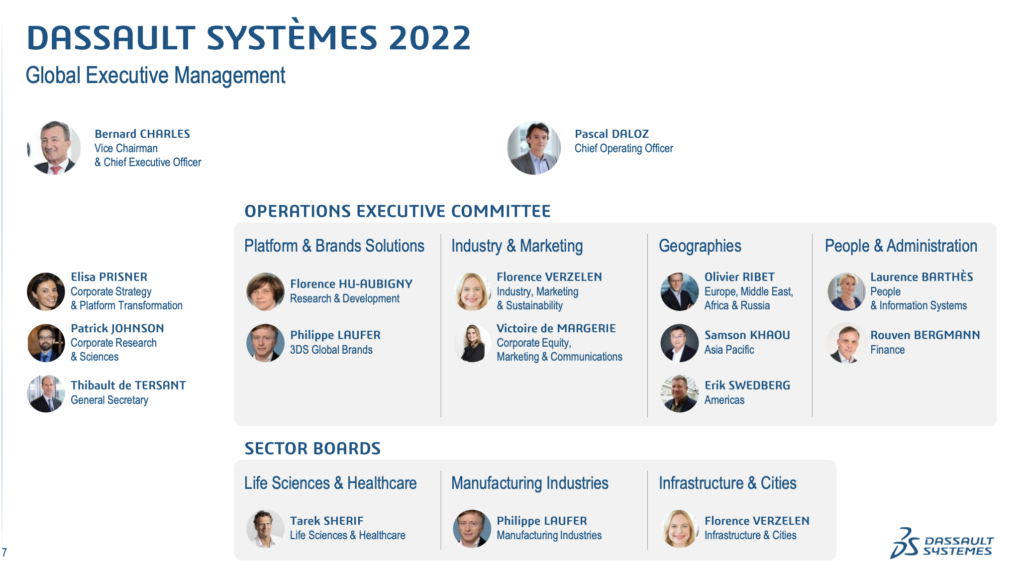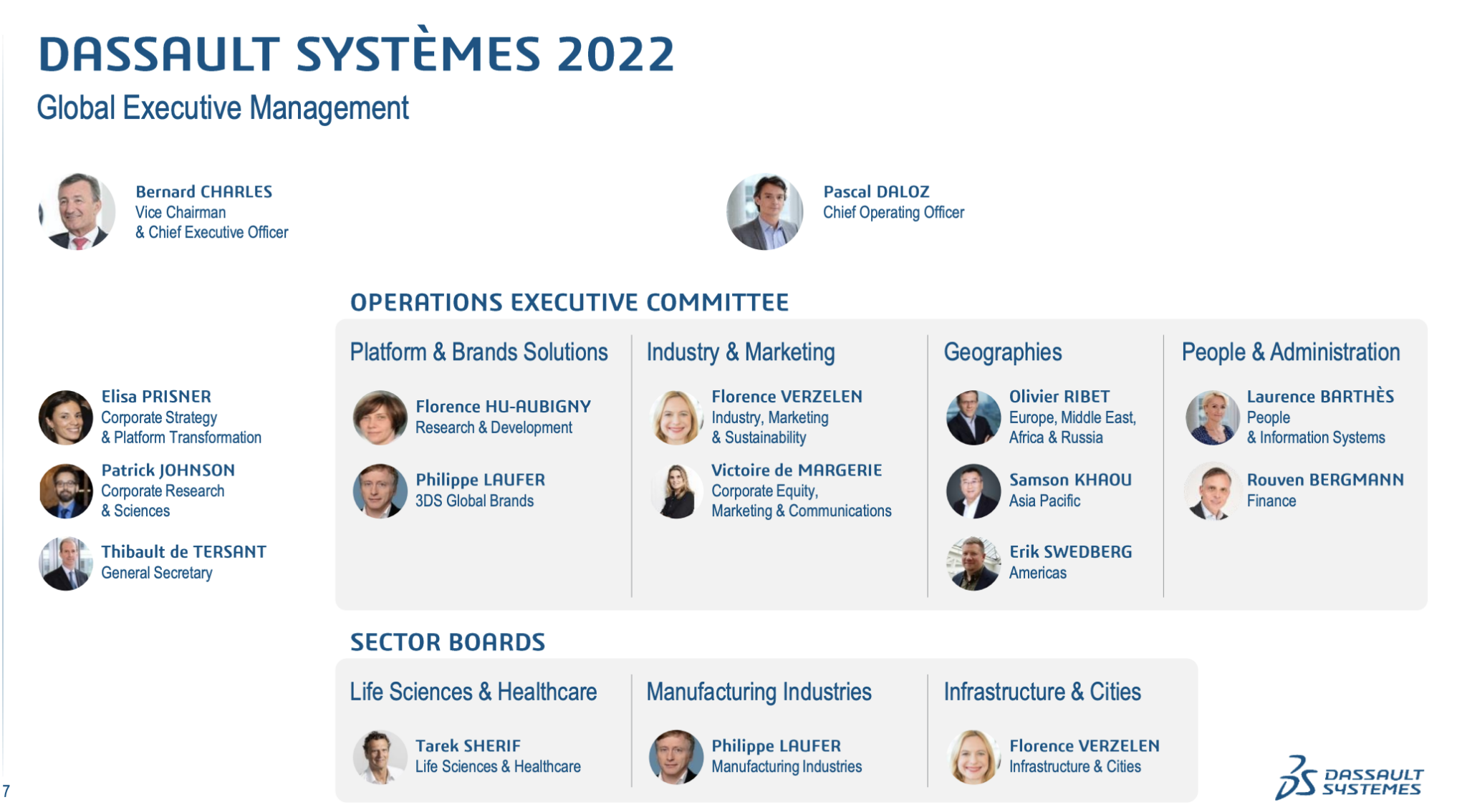 Bernard Charlès says the company is focusing on its next horizon: 2040 and to get there the company has rearranged its org chart. Pascal Daloz who had been the CFO has been elevated to Chief Operating Officer. Rouven Bergman who came to the company with the Medidata acquisition has been named Chief Financial Officer. Medidata lost its CEO and leader. Glen de Vries who died in an airplane accident last year. Along with de Vries, the company was co-founded by Edward Ikeguchi and Tarek Sherif. Ikeguchi has gone to AiCure and Sherif is leading Medidata.
At 3DExperience World, Dassault announced two new appointments: Gian Paulo Bassi, who has been CEO of Solidworks for the last seven years, has been appointed Executive Vice President of 3DExperience Works. Manish Kumar who led R&D at Solidworks will replace Bassi as CEO.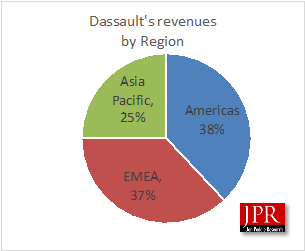 Dassault saw growth in all geographic regions. The Americas grew 13% thanks to the company's interests in high-tech, transportation & mobility, and Life Sciences. The Americas account for 38% of Dassault's business. Europe grew 10% for the fiscal year and was led by France, Southern Europe, and Germany. Europe accounts for 37% of Dassault's revenue. Asia increased 12% for the year to reach 25% of revenues.  Dassault said the company saw Market expansion in Japan, India, and Southeast Asia.
For the future says Charlès, Dassault will concentrate on opportunities in health care and digital cities as well as their traditional markets in design and engineering. He said, "To support these transformations, we need to take a more holistic approach. I believe the innovators of today and tomorrow have to think in terms of "universes", that is to say in terms of organic systems of systems that create." Charlès also promised new developments toward a sustainable economy.
What do we think?
Dassault is a visionary company that's absolutely unafraid of sharing its most ambitious ideas with the financial community and consumers. Ten years ago when Dassault expressed its intention to be a resource for consumers as well as engineers and CEOs, the idea seemed like a long shot. The thing is, the company has been thinking long term. Press and analysts have been trained to think in terms of 3 years or 5 years ahead. Now, 10 years later, Dassault is not yet a household word, but it's much easier to see how that changes. Let's remember though, that no company gets it right. They have to be willing to shift to get it right. Dassault is really good at this.
We also assume that many readers did not miss the allusion Charlès makes to universes. The company is more comfortable buying the technology it needs to realize its vision but when it comes to building universes, we'll also be handicapping the current providers on that front: Nvidia, Unity, and Epic.
On the investor call, COO Pascal Daloz answered a question about future M&A plans saying the company should be deleveraged in about 6 months, meaning the company will have cleaned up its debt obligations to the extent that it can start shopping if it chooses to. Dassault is an enthusiastic shopper.