ZWCAD revamps tablet app for CAD and reaches out for broader market. New version can read, edit, and create files.
ZWCAD is a CAD product from China's ZWSoft designed to challenge AutoCAD. Obviously, the company in­tends to win against Autodesk on its home turf in China, but the company also has larger ambitions. Its newest product is an enhancement to its mobile product, ZWCAD Touch, which they're calling CAD Pockets. With this new name, ZWSoft hopes to reach beyond ZWCAD users.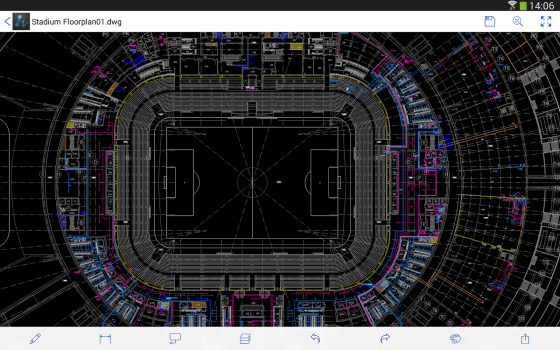 ZWSoft introduced ZWCAD Touch, its version of ZWCAD for mobile plat­forms, in 2013. The first version was primarily for review, editing, and mar­k up. As a complement to ZWCAD, It improved the mobility of CAD files, but it was far from perfect. Obviously, users complained about the inability to create drawings on the platform—only editing and annotating were available. The product also had some quirks; in our very cursory look at the product, we found it hard to snap to lines and get dimensions, etc. The finger seemed like just too blunt an instrument on the tablet. We were impressed with the tools and the straightforward interface. ZWCAD Touch didn't look like a prod­uct to break new ground, but rather an accessory for ZWCAD users. ZWCAD is recognized as a worthy competitor to AutoCAD, with an interface that will be familiar to AutoCAD users and ad­ditional tools that have been well re­ceived. However, AutoCAD has done a pretty nice job of countering the clones on the mobile platform with its own mobile product, AutoCAD 360 (former­ly AutoCAD WS).
This year, ZWSoft has taken anoth­er run at its software for mobile with CAD Pockets, which comes in two ver­sions. The basic version is just like the ZWCAD Touch product. It supports DWF and DXF and can convert DWG to DWF (Autodesk's Design Web For­mat) and PDF.
CAD Pockets Premium enables users to create new drawings and not just edit files. Also CAD Pockets Premium includes professional features including the ability to capture and edit OSnap points, use blocks to enable the reuse of content, and it adds attribute editing for blocks.
The CAD Pockets Premium product is also free, sort of. Customers will be asked to jump through some interesting hoops, which ZWSoft promises will be fun. The release says, "Users don't have to pay and they just need to accom­plish a few "tasks"—the gamification of CAD, apparently.
Among the tasks users are asked to perform is a minimum number of sign-ins; to keep using the program for free users must sign in ten times per month. Registration will win you a month of CAD Pockets Premium. And for every friend you sign up, you get another month (up to five months). We tried to sign up for the Premium version, but it asked for the inevitable email verification and we haven't gotten the email yet.