Biggest, best, and beautiful.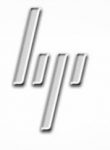 HP isn't a flashy company, but boy do they have style. Known and respected for their engineering, their products have been attractive, but not usually head-turning.  That was then, this is now. You might have gotten a hint that the company was up to a major refresh when they recently introduced their stylized logo for their premium products. The logo was developed by design house Moving Brands, which first proposed the logo in 2008. At that time, HP decided against it, but HP is now embracing it for its new line of powerful, and surprisingly affordable premium products for 2018–2019. The products themselves also have a sleek new style.
While the slow-down in the refresh cycle for PCs has been troubling and ongoing, new products with appealing consumer fashion and style could be exactly what the industry needs to change the trend. As a case in point, Apple has been gaining market share as the rest of the PC market declines. Why do you suppose that is? After all, their products are made with the same parts as everyone else's. The main differentiation and appeal of Apple has been their style. Well move over Apple, there's a new stylish company in town and oh, by the way, they also happen to be the biggest PC company in town with 22.6% market share.
This week HP announced 16 new products—sixteen! They segmented them into three categories: seven Envy brand products for Consumers, five Elite brand products for Commercial end customers, and five Z brand products for Creative professionals. The ZBooks were technically announced back in October, released in April, but they do make up part of HP's premium portfolio, which is why HP mentioned them again.
The Envy line has two trend setting products, with design features echoed in other new HP products. The Envy x360 is a tablet-like device with pen support, 1920 × 1080 screen and powered by an AMD Ryzen 7 2700U with Vega 10 GPU. It comes in 13-inch and 15-inch models, with the 15-inch being powered by an Intel core i5 8250U.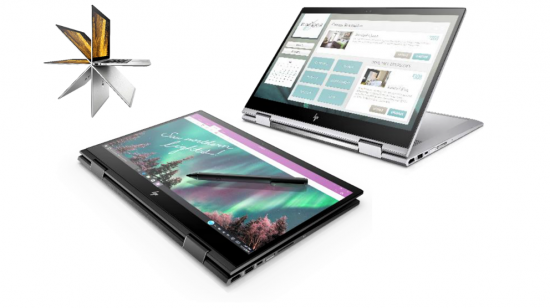 The Envy 15-inch x360 has a 4k display and can be powered with either an AMD Ryzen with Vega graphics, or an Intel 8th gen core and Nvidia MX150 GPU. The company says users can expect up to 12.5 hours battery life with the new machines.

All of the Envy x360s are equipped with 8 GB DDR4.
In 2017, HP introduced the curved, 27-inch Envy AiO which won praise and awards in the industry. This year the company has expanded that product and is offering a new 27-inch and a knock-out gorgeous 34-inch that is as feature rich as it is attractive, with a 21:9 WQHD display which can be tilted backwards up to 25-degrees.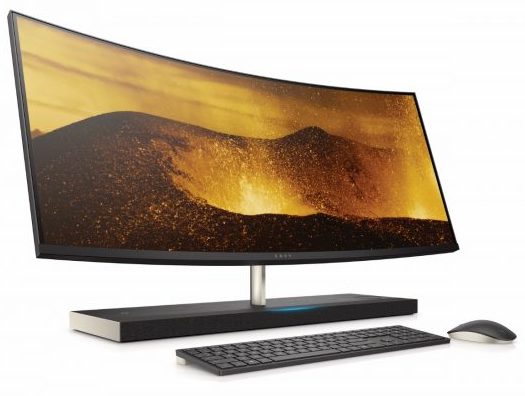 The stand, which has a clever wood grain look and feel but is actually a specialized metal surface, has an induction charging plate on the left side where a user can rest their phone and let it recharge while they are working. Also in the base are four surround sound speakers and two passive radiators that can be Bluetooth paired to one's music library in their phone using HP's new Audio Stream application. Designed to be used for video conferencing, there is a built-in pop up privacy camera to enable mic and video. HP learned that 75% of users want voice assistance with large screen PCs, so HP added Amazon Alexa as an additional feature. There is also an HD IR camera supports Windows Hello for password-less login.
HP found out that 53% of users watch TV and movies on their PCs, so HP has added a capacitive media control dial on the right side of the platform.
The system is powered by an 8th gen Intel Core processor and an Nvidia GTX 1050 GPU. All the I/O ports are in the back. The 27-inch version with 2560 × 1440 resolution can be had for $1,400, and the 4k version is $1,920. The 34-inch system's price won't be revealed until later this year, but the EliteOne version of it will start at $1,279 so that will give you an idea of the price range for this super machine.
In addition to the above, HP is introducing a new Envy tower, with what HP is referring to as a refined minimalist brushed aluminum front panel and several USB-C ports, audio, SD, and even a re-writable DVD optical drive.
There are four versions of the HP Envy desktop tower and they are configured with variations of Intel CPUs, AMD, Intel, and Nvidia GPUs, as well as system memory from 12 GB DDR4 to 16 GB, and mass storage of 1 TB, 7200 RPM, SATA HDD, to the addition of a 256 GM SATA SSD.
Based on surveys, HP has learned that 83% of its customers valued performance as the number one feature, and 54% thought that a premium design was another compelling buying influence. Over 90% of the users used their tower for photo editing and display, 84% composed and edited music, while 83% did mundane things like email and text. However, 80% said they watched TVs and videos, including movies.

The Envy tower series starts at $800.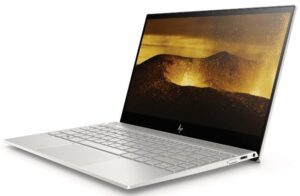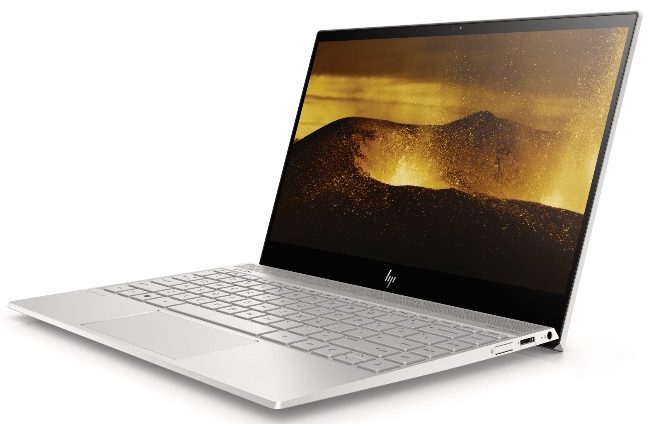 HP also introduced two new Envy notebooks, a 13-inch that can be had in silver or gold and a 17-inch that comes in silver.
Although it is subtle and might be missed, HP has paid a lot of attention to the hinge design. For instance, the screen lifts up the rear of the keyboard to give one a tilted keyboard, something we personally appreciate.
Users can hear their music while outdoor, the notebooks are equipped with Bang & Olufsen speakers driven by a discrete audio amplifier.

The notebooks come with Intel 8th gen core i7 CPUs, and 4k IPS screens.
Elitist
In addition to the Envy line up, the company also introduced new versions of the Elite series for the commercial user. They basically echo all the same features as the Envy lineup. However, HP has segmented the probable (potential) users into three groups: The Founder, The Networker, and the Gig Worker.
HP found that users complain about public Wi-Fi either not being available, unreliable, or too slow. To combat and correct that, HP has installed 4G LTE in the EliteBook version of the x360 making it an always connected PC. (As we have written in Tech Watch and the JPR site, the PC industry is coming back around to wireless connections for PCs now that the carriers seem inclined to play ball and make subscription fees more reasonable for multiple devices.)
And because users work outdoors, HP has installed anti-glare touch screens with 700 nit brightness and an ambient light sensor to adjust the screen's brightness. The EliteBook x360 also has an active pen that can be recharged via a USB-C slot, and HP says it has double the pressure sensitivity as the previous generation. The pen can hang on to the EliteBook due to a magnet, and if you leave it behind, the x360 will beep at you.
The EliteBook notebook 1050 G1 has Nvidia GTX 1050 GPU, and HP says the system can run up to 16 hours on a single battery charge. The notebook's pricing starts at $1,899.
The x360 EliteBooks will be available in June with a starting price of $1,449, and the detachable Elite X2 1013 G3 will also be available in June for $1,499.
See more do more
There is also a companion 14-inch IPS 1980 × 1080 monitor, the EliteDisplay S14 that can be connected to the EliteBook via USB-C for signal and power.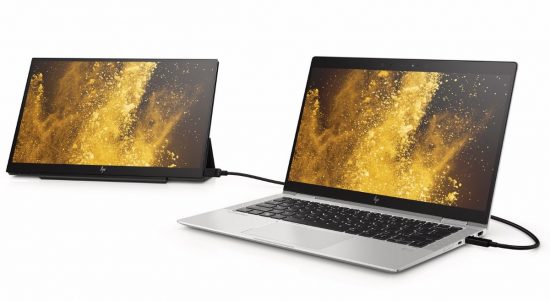 The companion monitor, with its built-in fold out stand will be available in July for $219.
For the curved all-in-one Elite version, HP has introduced the 34-inch, curved screen EliteOne 1000 G2 AiO. It will be available in June and price starts at $1,279.
Be safe
One of the things that differentiates the Elite brand from the Envy brand is bullet-rock, rock solid security. Within the Elites is HP's endpoint security controller that provides a hardened root of trust. Also included is HP's unique SureStart Gen4, the fist and as of now only, self-healing BIOS. And HP has a built-in program, independent of the OS, they call Sure Run, that protects security processes from malware that tries to shut them down. All that is enabled in HP's client security manager.
HP Sure Recover provides a secure, automated, network-based software based software image recovery with only an internet connection. And HP Sure Recover with Embedded Reimaging, recovers automatically, anywhere, anytime—no need for a network connection, backup media, or IT.
Young businesses have to be open to every new opportunity which exposes them to a lot of potentially malicious files. HP says with their secure browsing users can stay protected from bad websites by just closing the tab, and the malware is gone. And coming soon says the company is file protection. Users will be able to stay protected from malware lurking in common files. HP Sure Click will protect users viewing Word, Excel, and PowerPoint files in read only mode.
What do we think?
HP has been busy. They've been talking to users finding out what they like and don't and most importantly what they want. The company has done a good job in setting personas for users that make sense in today's world.
HP's design team, led by Stacy Wolff, has done a marvelous job in the designs, making them functional and very attractive. Usually companies go to outside organizations for such stylist design work, so the fact that HP can do it in-house says something for the depth of the company.
HP has created attractive, aspirational, and ascetically pleasing designs which although stylish will weather time and still look good years from now. Like their competitors they had to use the same parts inside, and OS, and the same APIs, so the differentiation is in the user's interface with the systems, the pen, the charger, the speakers, the capacitive dial, the standup hinge, and fold out stand, and so on. And, they done it all at competitive prices—a tour de force in the true meaning.