Bentley Systems' Seequent acquires Aarhus GeoSoftware and Imago.


Last March, Bentley Systems acquired Seequent in a billion-dollar deal that certainly impressed us. At the time, Bentley, Seequent, and its partners in the deal Accel-KKR said the deal would be accretive. And it clearly was Bentley's new subsidiary, Seequent, which operates in Christchurch, New Zealand, quickly acquired Danish geospatial imaging company Aarhus Geosoft and most recently has announced plans to buy Imago. These companies have been operating together in the same areas of interest with complementary tools and Seequent isn't wasting any time gathering the technology to build out its capabilities.
Imago, based in Phoenix, Arizona, and Perth, has been partnering with Seequent as an online tool for storing, managing, and analyzing imagery collected in geospatial operations. Seequent builds modelling tools for the mining, energy, environmental, and civil industries and Imago's cloud-based platform enables the capture cataloging and review of drilling core and chip images. Imago's services already support Seequent's tools.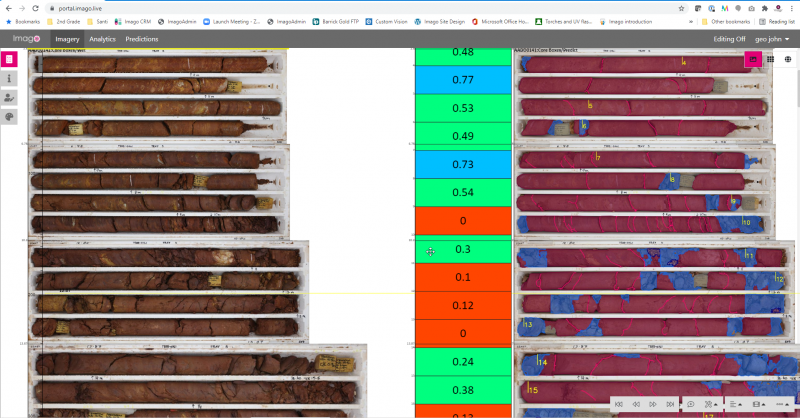 Imago enables companies to manage the huge amounts of imagery captured during drilling and mining and includes AI and ML capabilities to analyze the data and compared it to data already collected in other operations. Data is secure and anonymized, but it can provide useful information about the current operation as well as make predictions based on the data or spot problems. The fact that the data is stored in the cloud means customers can always refer back to the data and see it in context with past and future work.
In an article on Seequent's site, Rob Ferguson, the company's Segment Director Exploration and Resource Management, says "when you consider that 100,000 meters of drilling can create 30,000 images all over 100s of MB each, it's not difficult to see the problem and also recognize the opportunity. Imago provides the effective way to manage and extract value."
The company says that past approaches often relied on more inefficient approaches like sharing images on WhatsApp. Imago supports 3D images as well. In the case of Imago, the value of the data imagery increases with the volume of data across all customers.
Meanwhile, Aarhaus GeoSoftware (AGS) has been primarily interested in identifying ground water resources. At the time of the acquisition, Seequent said that the acquisition will extend Seequent's solutions for operational ground water management, and for sustainability projects involving exploration, contaminants, and infrastructure resilience. Their software enables customers to create 2D and 3D images of subsurface electrical resistivity. The output of AGS' software can be modeled in Seequent's Leapfrog to further subsurface investigations.
The companies share the same ambitions and goals. They want to help "solve earth, environment, and energy challenges."
The press release announcing the Imago acquisition follows.
Integrating Cloud-based Geoscientific Imagery Platform with Geology Data Management and Modeling Tools, Helping Solve Earth, Environment, and Energy Challenges
EXTON, Pa. – August 3, 2021 – Bentley Systems, Incorporated (Nasdaq: BSY), the infrastructure engineering software company, today announced that its Seequent business unit has acquired Imago Inc, a developer of cloud-based software for the capture and management of geoscientific imagery. The acquisition will expand Seequent's technology solutions portfolio while boosting cloud capabilities to help geoscientists and engineers solve earth, environment, and energy challenges.
Imago's cloud-based platform enables the capture, cataloging, and review of drilling core and chip images from any source, to support every aspect of the geological process from exploration to grade control. Continued development of Imago's machine learning will lead to a step function in the interpretation of geological data.
Mining companies around the world apply Imago's solution in conjunction with geology data management and modeling tools to enable teams to make more confident, profitable decisions using instantly available, high-quality images. Seequent already integrates its Leapfrog, Oasis montaj, Target, and Minalytix MX Deposit with Imago's solution, making it easy for geologists, engineers, and other stakeholders to extract knowledge and learn from geoscientific imagery. The goal is to unlock significant potential for mining and other industries, transforming image data into meaningful insights for geological activities.
Graham Grant, chief executive officer of Seequent, said, "It's an exciting step to welcome the Imago team on board to help advance Seequent's progression into the cloud. We're continually exploring ways to provide new technologies and solutions to solve workflow challenges, improve operational efficiency, and deliver greater value for our users who are working to solve some of the world's major civil, environmental, and energy challenges. This acquisition demonstrates Seequent's continued growth and our commitment to make a positive contribution to the industries we serve globally."
Imago's co-founder Federico Arboleda said, "As a small team in Phoenix and Perth, we're excited to join forces with Seequent, as this will now allow us to substantially scale Imago's solutions in mining and other markets. We founded Imago to help mining companies manage the high volume and size of geological images and unlock the great value in this geoscience imagery. Image data is an increasingly important source of data across the geosciences—and can come from potentially any source, including core photos, hyperspectral, aerial photos, drones, and handheld devices. It will become even more important to transform image data into knowledge as automation needs increase."
What do we think?
The opportunities for 3D modelling and scientific imaging are endless and the problems are as big as the earth. Bentley Systems has always been very systematic about building a product portfolio in its areas of interest. Seequent is clearly built the same way and, with the acquisition of Seequent, Bentley adds on to its already significant portfolio of geospatial tools adding new cloud resources and, ahem, deeper resources for subsurface exploration and development.
The potential for Imago and Seequent's data management, coupled with imaging, sensing, modelling, and wide-scale analysis is really exciting.