Sees significant acceptance of cloud-based products, especially in China.
Dassault Systèmes was pleased enough by the company's performance in the second quarter of 2021 that the company has raised guidance for the year. It was a quarter that met expectations all around.
In his remarks to press and analysts, Dassault CEO Bernard Charlès said that the company's clients have changed over these months of quarantine. He says they are approaching this new era with a changed vision. He says that they are thinking beyond digitalization to virtualization. In addition, sustainability is becoming an obvious requirement that has to accompany innovation. And finally, Charlès asserts that inclusiveness is an essential feature of new technologies.
Charlès is talking about inclusiveness in the sense that digitalization and cloud-based technologies tend to invite more people in with easier access and broader tools. More people mean more growth. The following chart takes a look at the company's revenues according to its latest segmentation: its Industrial Innovation tools, which include Catia and Enovia account for most of the company's revenue but their growth tends to be more modest compared to Mainstream, which includes Solidworks and revenues from Dassault investment in Centric PLM.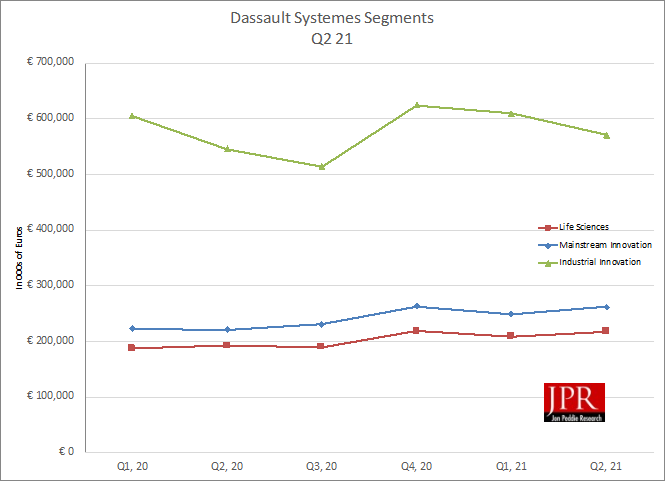 Dassault's total revenues for the quarter were €1.16 million, a 9% increase compared to Dassault's second quarter 2020 when the company reported €1.068 million. The company is very pleased with the gains it has recorded in license revenue and gains for its 3DExperience platform and especially the gains the company has seen for Solidworks.
The company stated its highlights for the second quarter:
Organic software revenue grew 15% with license revenue increasing 38%.
Mainstream Innovation revenue rose 27%; Life Sciences revenue increased 22%; Industrial Innovation revenue was up 8%.
3DExperience software revenue increased 26%, with licenses and other software revenue up sharply.
H1 cash flow from operations grew 21% to €1.033 million (IFRS).
Raising 2021 non-IFRS objectives: Revenue growth of 10%–11% from 9%–10%; EPS growth of 23%–25% from 17%–18%.
Five-for-one share split is effective July 7, 2021.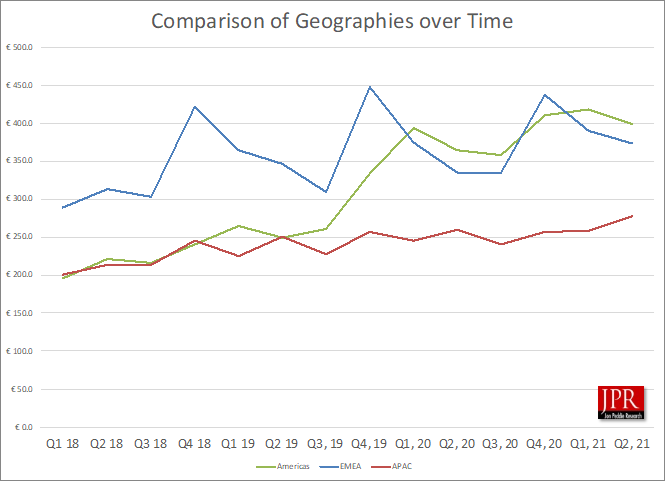 Charlès particularly called out Solidworks deals in China. He notes that in the second quarter of 2021, Dassault chalked up over 220 wins and the company is claiming to have hit the 1 million mark for commercial users. Although Dassault has long claimed a million or more users for Solidworks, it has included education licenses in that number. This time, the company is making the distinction of commercial users.
Another interesting aspect of Dassault's success in China is that the focus is on sustainability. China is showing enthusiasm for the Dassault 3DExperience platform and is using it to develop collaboration workflows.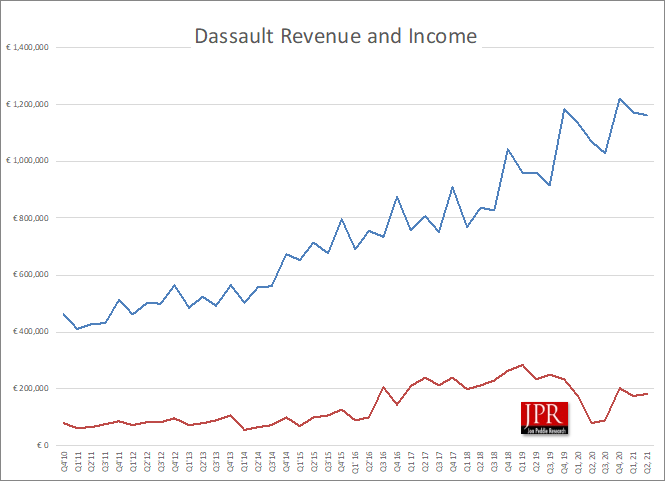 H1 year-over-year product line highlights
(unaudited, growth rates in constant currencies)
Industrial Innovation: IFRS and non-IFRS software revenue rose 8% to €571 million in the second quarter. For the first half, Industrial Innovation IFRS and non-IFRS software revenue grew 6% to €1.2 billion, representing 56% of software revenue.
In Industrial Innovation, Catia, with its world-leading solutions in product design and modeling experience, delivered software revenue growth of 9% (non-IFRS) during the quarter, punctuated by Catia Cyber Systems. NETVIBES, in data intelligence, also benefited from positive business trends into the second quarter.
Transportation and mobility software revenue was a significant contributor to returns, posting 14% growth. The increased complexity of developing more sustainable vehicles and transportation infrastructure, including EVs, aerospace, and urban mobility should be a secular tailwind. The High Tech and Home & Lifestyle industries also boosted sales during the period.
Life Sciences software revenue totaled €218 million (IFRS and non-IFRS) in the second quarter, an increase of 23% (IFRS) and 22% (non-IFRS). For the first half, Life Sciences software revenue was €427 million (IFRS) and €428 million (non-IFRS), up 22% (IFRS) and 19% (non-IFRS), and representing 20% of software revenue (IFRS and non-IFRS).
Life Sciences & Healthcare experienced strong business momentum across its product portfolio including Rave EDC, Patient Cloud, Acorn AI as well as in attach rates. The company sees platformization as a structural driver for the category.
Medidata continued to deliver compelling innovation. With the launch of Patient Cloud, Decentralized Clinical Trials (DCT) Program, Medidata became the first company in the world to unify direct patient data capture technology, direct-to-patient services and study oversight and monitoring, on a single platform.
Medidata's Acorn AI Synthetic Control Arm was named "Best AI-based Solution for Healthcare" at the 2021 AI Breakthrough Awards. The company believes this capability, which leverages their proprietary and unique dataset, will be an important category driver in the future.
Mainstream Innovation software revenue was €262 million (IFRS and non-IFRS), rising 27% in the second quarter. For the first half, Mainstream Innovation software revenue totaled €511 million (IFRS and non-IFRS), an increase of 23%, and represented 24% of software revenue.
Solidworks non-IFRS software revenue rose 25% in the second quarter on broad-based global demand. Solidworks' 3DExperience Works cloud-based solution revenue was also up sharply during the period.
Centric PLM continued to see strong business momentum, posting near triple-digit growth. The acquisition of Centric PLM should be completed within a month without an additional cash investment.
Dassault's long ongoing acquisition of Centric began with Dassault investing in the company in 2018. Centric is helping Dassault realize its ambition in the broader markets of consumer goods, fashion, retail, and food and beverage. And it sees an opportunity for growth into Centric's broad base. Dassault says Centric's customer base has over 500 companies and more than 2,000 brands.
Dassault's corporate news
Dassault announced the acquisition of SaaS startup Iterop. The company acquired the French Business Process Management company on July 16, 2021. Dassault says Iterop will enhance the 3DExperience platform.
Dassault also announced a five-for-one stock split on May 26, 2021. The company noted that Dassault's stock price had increased 125% from December 31, 2015 when it was €73.77 to €166.15 by December 31, 2020. The company anticipates further growth.
Bernard Charlès says, "we are well-positioned for the future with a $100 billion potential addressable market driven by our ambitions to apply systematic "virtual twin experience" to all manufacturing industries we serve as well as health and infrastructure projects. The platformization is a game changer for sustainable innovation as it enables end-to-end life cycle predictions and assessments across all three major sectors of the economy."
Financial objectives for 2021
Dassault's current financial forecast calls for revenue of €1.115 billion to €1.140 billion in the third quarter of 2021 and €4.745 billion to €4.790 billion for the year.
What do we think?
I don't think I want to parse the progression of digitalization to virtualization because those words are just vague enough for people to have their own definitions, which is pretty typical of high-flown CEO talks—almost all CEO talks. We have always maintained that the process of digitalization—getting all the processes, data, practices, ideas, rules, products, client data, on and on and everything into digital form has its own momentum. It's the job of companies to manage and control transition, and help their customers do the same. Virtualization comes with the territory.
Dassault is doing undeniably well but it has a lot to manage at the moment. Charlès and CFO Pascal Daloz told analysts the company has benefitted from savings in marketing and the break from having expensive live events, but they have to rebuild their sales force. From the point of view of the optimistic Charlès, it's all upside.