New tool from Mentor's IC verification group enables pre-silicon simulation for automotive SoC design.
Siemens PLM has added another piece in the very complex digital twin puzzle for automotive, SoC design. Dave Fritz, Siemens Global Technology Manager for Autonomous and ADAS, describes PAVE360 as a platform, a collection of many different tools to help companies designing systems for the automotive industry get a clear path to building their own silicon. Citing Tesla as an example, Fritz says manufacturers will opt for custom designed silicon for in-car systems because it gives them the ability to create model-specific systems and get the optimum mix of performance/power/cost.
This represents a shift for the automotive industry, which has been working with the major chip manufacturers including Nvidia, Intel, Renesas, NXP, for their SoCs. Siemens is suggesting the automotive companies will want to be in on the design process early on as part of the whole vehicle design because as vehicles become more complex, their systems are becoming more integrated.
Increasingly, the enterprise CAD companies are finding themselves pushed to the logical extreme. They've all been talking about building digital twins of cars, airplanes, computers, washing machines before manufacture. All of the major CAD companies involved in manufacture have added EDA tools. Siemens has taken a particularly big bite with the acquisition of Mentor in 2017 for $4.5 billion.
At that time, Chuck Grindstaff, then CEO of Siemens PLM, said in his keynote at DAC (Design Automation Conference), that 80% of the innovation in automotive design is coming from electronics and software and what makes that possible is a set of integrated circuits and software. EDA, he said, is now about systems and not individual components.
In the case of cars, that means all the information from the sensors, automotive hardware and software sub-systems, the full vehicle model; and as the networks come together, it will also be including the road it's driving on and the city it's interacting with. As systems become more complex, it becomes impossible to model them in any other way but, virtually, via software in the loop. Fritz says that "hardware in the loop is too hard, but it's the way things are done today."
Fritz notes that automotive companies expect to maintain control of the process. PAVE360 is designed to bring in all the different companies involved in the design of autonomous systems including people making semiconductors and components, writing custom software, developing sensors, and all the other parties that might be evolved. Siemens sees the automaker at the center of the equation.
To help promote the program, Siemens is building Centers for Practical Autonomy (CPAs) around the world. They cut the ribbon on the first in Novi, Michigan and are supporting the car industry as manufacturers evaluate their options.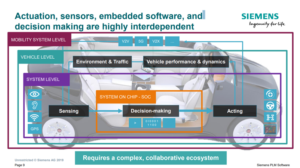 PAVE360 is a product of Mentor's IC Verification Solutions Division. Ravi Subramanian, VP, and general manager of that group, says "PAVE360 represents the first output of an innovation process born from the combination of mentor and Siemens employees."
Siemens' road to EDA has been long and deliberate. In 2012, Siemens acquired LMS, a Belgian company building test and mechatronic software simulation tools. Much of the technology from LMS is now a significant portion of Siemens Simcenter portfolio for simulation.  Siemens also acquired Dutch company TASS in 2017 for an undisclosed amount of money,  Solido (design automation), Sarokol (IC test systems), and Infolytica (electromagnetic simulation). Siemens has continued to invest and acquire technologies and talent becoming the CAD/PLM company with the deepest portfolio in EDA.
What do we think?
Will automotive manufacturers build their own SoCs? Tesla answered the question for itself earlier this year with the unveiling of its in-car computer system, with chips designed in house.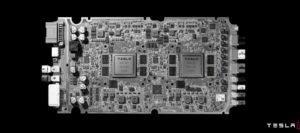 Tesla has said the reason it decided to build its own computer was that they could build a chip more efficiently according to the exact requirements of their cars. Pretty much the same thing, Fritz is saying. The chip is being built in Austin by Samsung and was designed by chip design hired-gun Jim Keller who has designed chips for AMD, Apple, Tesla, and he's now at Intel. Pete Bannon, who was also at Apple, and also PA Semi and Intel, has taken over and as director for Tesla's computer design group.
It's also possible that tools like PAVE360 will better enable the automotive manufacturers to work with chip manufacturers to custom design chips for their automobiles and in the long run that seems more practical. The industry is in its very early days and all options need to be on the table.
Siemens is deeply entrenched in automotive design, so it's pretty likely the company hasn't just decided on its own that the car makers will want more control of chip design.
Fritz makes the point that automotive designers need to be able to understand how the algorithms are working and how the decision-making process works. And he says, automotive manufacturers want to be in the driver's seat for all aspects of the car's design.  PAVE360 is designed to provide that visibility.