Along with the new name, the multinational knits together and extends technologies for digital twins.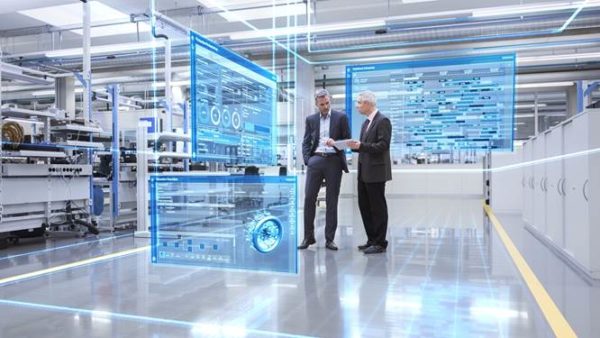 Siemens PLM, the design and engineering group within the giant Siemens Corporation, announced at its annual analyst and press event that it is changing its name to Siemens Digital Industries. It's not the catchiest of names, but Digital Industries is more descriptive of all the work Siemens is doing in the field of design, engineering, and production. The group was always about much more than product lifecycle management. Along with the name change, the company is also introducing new products, many of which package technology from acquisitions that have happened over the past year. The company is showcasing the work it has done to integrate all the moving parts it has to fulfill its evolving vision of model-based engineering.
For instance, the Xcelerator portfolio marries the Mendix technology, Siemens acquired last year, with Siemens' full portfolio of software and services and will enable companies to further digitize their business. Mendix is a low code tool for application development. Siemens customers can use Mendix to connect data from the Siemens portfolio and also from outside companies. "Unique to Xcelerator," said Siemens Digital Industries CEO Tony Hemmelgarn, "is the ability to build personalized applications that can capture feedback and performance and feed those insights back into design and manufacturing."
Siemens' Xcelerator is an ambitious set of tools and services that are for PLM (product lifecycle management), EDA (electronic design automation), ALM (application lifecycle management), MOM (Manufacturing Operations Management), Embedded Software, and IoT (Internet of Things). It's a continuation of Siemens' work to create a traceable digital thread throughout the design, manufacture, and lifecycle of products.
Key to Siemens' message is its commitment to open development approaches. For example, SAP has been a customer of Mendix and now there is synergy between Siemens' PLM tool TeamCenter with SAP, for customers who have ERP systems with SAP. Hemmelgarn talked about the important role played by open components like the Parasolid modeler and JT, which, yeah, are Siemens based technologies but the company is actively building in support for multiCAD in NX and cross platform compatibility in TeamCenter because, as Himmelgarn says, "no one company can do it all."
Along those same lines, Siemens and Bentley, which have been pooling their talents for digital twins in the process and power fields, announced CALM, the Capital Asset Lifecycle Management Solution for Teamcenter. CALM brings together tools to create a closed-loop digital twin which can include visualization, simulation, construction execution, and operations oversight abilities. Bentley's iModel technology comes into play as a package technology for infrastructure digital twins.
Adding on
Also in the last 24 months or so, Siemens has been building and adding on to its EDA capabilities. Most recently, it introduced PAVE360, as a development tool for semiconductor products for autonomous vehicles. At the analyst conference, Siemens talked about how its work in EDA fits into its grand plan for digital twins in every aspect of engineering design and production.
The company introduced Opcenter, which gives us the chance to bring in another acronym into the mix. Opcenter software is a portfolio of software solutions for manufacturing operations management (MOM). This isn't new territory. Opcenter is a renaming and expansion of Siemens Manufacturing Operating Center. Opcenter includes tools for planning and scheduling built from Siemens Preactor technology, manufacturing process and execution with technology from Camstar and Simatic IT, quality control, and also R&D and lab development. At the analyst meeting, Siemens Senior VP for Opcenter, Rene Wolf, also talked about the inclusion of EDA production tools with technology from Mentor and Valor IoT for shopfloor analytics.
No small thing
CAD is such an inadequate term these days. Let's go with design and engineering for now. Just the management of acronyms alone seems an impossible task, but Siemens and its competitors in design and engineering are looking at the major inflection point that digitalization and the cloud are bringing about and they're seeing opportunity in a big way. Sure, as Hemmelgarn says, no one company can do it all, but Dassault, Siemens, PTC, Autodesk, Bentley and their smaller competitors and collaborators are all trying to figure out how to enlarge the chunks that they now have.
It can be hard to penetrate Siemens, it's just such a huge company. But, when one is lucky enough to talk to the executives, their openness and candor is refreshing. The Digital Industries group really wants to know where their customers are seeing the sticky places as they bring digital technologies to their business.
Why isn't everyone driving to build their operations around the digital twin?
Most companies are having to make incremental changes to keep up with the fast pace of technological change. It's hard to even imagine building an integrated pipeline that includes all the people and all the digital data that needs to be included to create a true digital prototype. It's hard to imagine for a ceiling fan, it's even harder to do for a jet airplane or a new car. This is a challenge that's being faced in other industries as well: media and entertainment, game development, architecture, and pharmaceuticals.
The question isn't why haven't companies wholeheartedly adopted digital twin strategies, but rather, what do the software companies expect? Siemens is such a huge company that maybe they see the challenge as a practical one because they're having it for their own operations. A major message from the analyst conference was that Siemens is doing its best to package transformation in a way its customers can consume it.