Ever ambitious Dassault promises to transform health care.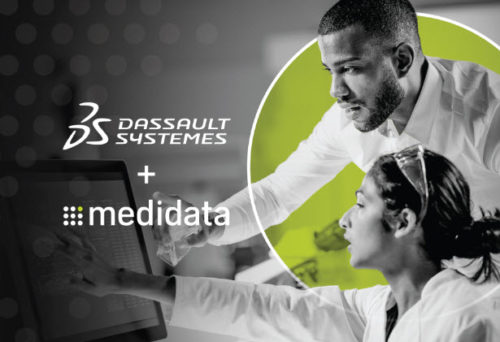 Dassault Systemes may have started as a CAD/PLM company, but it is morphing into something else entirely. For lack of any better term, we might as well grant Dassault their preferred label: they are a 3D Experience platform company. The company has announced plans to buy Medidata, a company that provides the healthcare industry SAAS tools for treatment, development, and testing. In order to manage the deal, Dassault will put together a cash package of approximately $5.8 billion in order to pay $92.25 per share of Medidata. This represents the first time Dassault, an enthusiastic acquisitor, will go into debt for a deal. Medidata is a public company. Last year it reported revenues of $636 million.
Medidata has 1300 customers and has carried out over 16,000 clinical trials.
Dassault and Medidata have pretty big ambitions. On a call to financial analysts, Medidata President and co-founder Glen de Vries outlined the challenges to companies developing and testing drugs. He said the odds of having a successful path to drug development, testing, and approval is less than 10%, and the timeline for approval is approximately 10 years at a cost of $2.5 billion. CEO and co-founder Tarek Sherif says 13 of the top 15 drugs sold in 2018 were powered by Medidata's technology. Eighteen of the top twenty-five pharmaceutical companies and nine of the top ten CROs (contract research organization) are all Medidata customers.
Medidata is a pure SaaS provider. They have built a platform with an array of end-to-end services and tools for data trials. In 2018, the 20-year-old company acquired Shyft Analytics, which adds data analytics for the pharmaceutical and biotech industries. The company's products also include Rave EDC (electronic data capture) and Acorn AI, which the company says accelerates actionable insights. The company's big picture goal is to use its expertise in medical innovation and data science to drive the development of precision medicine. Sherif says their mission is to provide the right therapy for the right patient at the right time.
All of that is what has captured the intense interest of Dassault.
Bernard Charlès says the two companies engaged about a year ago and as they worked together they recognized the huge opportunity they have to build a new business on Dassault's 3D Experience platform. Dassault says this acquisition comes as part of a long-range plan with steps that have included the establishment of the Biovia business unit with the acquisition of San Diego-based Accelrys in 2014, which also has interests in biotech and pharmacological R&D. The two companies say they already share customers and have significant synergies. Charlès says they may build a new brand around Medidata, but there are details still to be worked out and revealed. EVP and CFO Pascal Daloz said the deal will be accretive and will boost earnings from 2020 onwards. The company expects the deal to be completed in the last quarter of 2019, if not sooner. It is subjected to the usual regulatory approvals, shareholder approval, etc.
In the financial call, Charlès said Dassault is interested in getting into businesses as a game changer and not as a me-too company. "It's more fun that way."