Revenues climb.
PTC had a good fourth quarter and a not-bad year considering.
PTC's revenues are up year over year, quarter over quarter and the company says the pipeline into 2021 is looking pretty good. All this while the world struggles with a virus that just won't go away.
PTC's revenue was $391 million in Q4, a 17% increase over Q4 2019 when it was $335 million. The company reported $1,458 million for their FY 20 compared to $1,256 million for the 4 quarters ending in 2019, a growth of 16%. Growth in the mid-teens is what the company promised and that's what they delivered.
Income came in at $53 million for the quarter and $131 million for the fiscal year.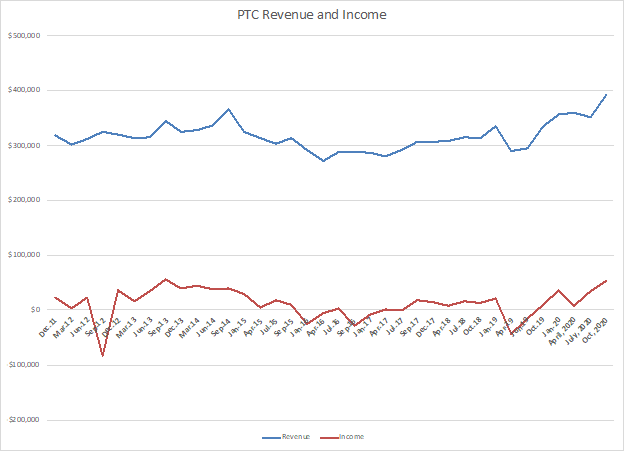 In its call with investors, PTC executives Jim Heppelmann and Kristian Talvitie said that growth was coming from the company's core business which includes the PLM business (CAD and Windchill) and growth, which includes PTC's AR and IoT.
PTC's ARR is growing in the high single-digits and the company is looking forward to the release of Creo 7 which will be the first release that will include PTC's Atlas cloud platform built on OnShape's technology. This release will also include Ansys simulation, which the company calls Creo Simulation Live (CSL). CSL allows designers to design iteratively using the Ansys simulation tools to check the design during the process.
As for regional growth, the APAC region has shown the strongest growth as a result of coming out of the pandemic faster than the rest of the world. As he mentioned in the last quarter's conversations about the company's segment growth in 2020, CEO Jim Heppelmann says the pandemic has limited live interaction for PTC's sales teams and that has slowed some of the IoT deals. This quarter, some of that has eased as PTC's teams figure out workarounds.
Rockwell and PTC have reported positive interactions through their alliance which lets the two companies team up to sell factory automation with Rockwell and PTC products. PTC says they have signed 250 deals as a result of the alliance. (See PTC and Rockwell Automation expand their strategic alliance.)
PTC is right to celebrate their solid revenue numbers. Heppelmann says the company's Q4 was well up from last year's Q4 bump, and he notes that it's significant considering the global economy and pandemic. PTC sales have recovered, and Heppelmann says "I feel like we've made more progress adopting digital go-to-market in the last 6 months than in the previous 5 years.
For this quarter,  IoT bookings doubled sequentially which was at least partially aided by the success of the Rockwell/PTC agreement.
The company said PTC's Vuforia business for AR also saw good results in Q4 with bookings up 50% year over year. Not only is PTC seeing new business with Vuforia but the company says they're seeing a significant growth in 6-figure deals over the quarter, and they've even booked a 7-figure deal in Europe.
PTC is committed to the IoT and AR business, which is why they've designated it their "growth" segment. They've ramped Chalk, an interactive AR app that provides instruction and maintenance support remotely to workers in the field. With the onset of the pandemic, PTC pushed the product with special deals and now Heppelmann says those introductory deals have led to bigger footprints for PTC's related AR products Vuforia Studio and Vuforia Expert capture in 2020.
In addition to Rockwell, PTC has a strong relationship with Microsoft to help companies build IoT systems on the Azure cloud. That relationship was also formerly established in 2018. Microsoft and PTC are going to market together on ThingWorx on the Azure cloud, with pre-built integrations between the two to simplify deployment.
Bookings have risen 20% and the company says they are getting interest from Europe which accounted for 30% of the Q4 bookings.
So what about Onshape?
Onshape is killing it, says PTC. Onshape turned in a record quarter to close out 2020. Bookings are up 80% year over year and that's primarily for new deals. As PTC puts it, they've had 70% growth in new logos. The company says it's chalked up over 700 competitive displacements primarily against SolidWorks. One of the areas of success for Onshape is education. Students don't have to have a lab to access their tools. Jim Heppelmann believes that this is the beginning of a wave that will ripple out into the commercial market.
Looking ahead
PTC is optimistic. "We're winning," says Heppelmann. He says the company has strong, competitive products and more important they've got new products to sell including Creo Simulation Live, Creo 7 with Atlas, generative design with the integration of the new Frustum technology, and the AR tools. PTC is cautious about 2021 but is fully confident the company is going to hit its stride as the new products find their way in the market.
What do we think?
Industry 4.0 requires partnerships. It's one thing to hear about big strategies and technologies, but we're learning to wait and see where the partnerships are forming. The relationships of CAD companies and Microsoft are not new but have grown out of the relationships forged over Microsoft Sharepoint.
In addition, companies are recognizing the need to build in support for partners with APIs and SDKs that will make it easier for mutual customers to take advantage of those relationships. The future holds quite a bit of M&A, but it also promises new strategic relationships between powerful companies.