Launch Forth community gets Solid Edge.
The Local Motors concept has borne fruit with several vehicles and a very active community of inventors, and designers. The founding idea of Local Motors when it started in 2007 was to break the mold of the automotive industry, which relies on long design cycles, standardized models for mass manufacture. The idea was to bring production closer to the customer, enable more customized designs, and employ direct manufacture methods along with traditional methods to enable vehicles to be built faster for smaller specific markets. The company spun out Launch Forth in 2016 as a SaaS platform for designs. Currently, Launch Forth has claims about 185,000 members and has partnerships with Airbus, HP, and GE among others. Airbus Ventures, as a matter of fact, has a funding stake in Local Motors.
Launch Forth is involved in HP's ambitious Mars Home Planet challenge, a multi-year exploration of design ideas for living on Mars, just in case we ever have to move there (which, seems like a pretty good idea from time to time). The Mars Home Project was showcased at Autodesk University. And, at CES this year, the Launch Forth and Local Motors collaboration proudly showed off the Olli autonomous vehicle, which is being used as a community transportation vehicle. It uses IBM's Watson to get around and make decisions.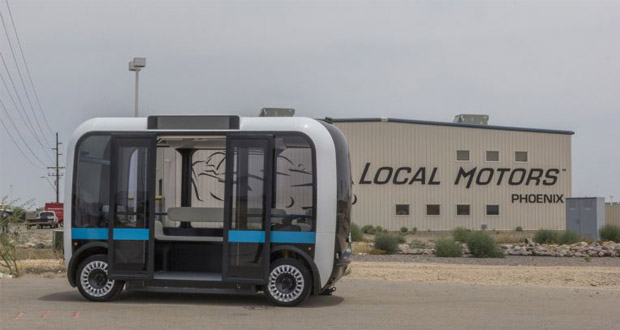 A lot of designs and a lot of partnerships have come out of Local Motors, but the road has not been smooth. Designs get announced, prototypes made, excitement generated, and then, nothing. In February 2017, the company announced layoffs and the closing of several micro-factories. The company has moved its headquarters from Phoenix to San Francisco and has announced it plans to focus on Olli, where it can claim a few wins. Most recently, Local Motors has gotten a funding deal that can be worth up to $1 billion dollars through Elite Transportation Services (ETS), based in Florida, and Dallas-based Xcelerate, an automotive sales and leasing firm.  The two firms will provide vehicle financing and ETS will also provide maintenance, warranty service, insurance, monitoring, management, operations, etc.
On the software side, Local Motors has announced an agreement with Siemens PLM as a continuation of the companies' ongoing collaboration. Siemens PLM will give all Launch Forth members free copies of Solid Edge software along with tutorials to learn the software. Launch Forth in terms maintains Local Motors' ability to come up with new designs and prototypes for future projects.
For example, the innovative GE Fuse project, which uses design communities like Launch Forth to generate ideas for future products, has chosen eight products from Launch Forth for manufacture. The Airbus collaboration has resulted in a drone services portal.
Elle Shelley, executive vice president of Launch Forth says Solid Edge is a good choice for the community because Siemens' synchronous technology will enable members to import CAD data from any system and edit it as if it were a native file. All current members of Launch Forth and new members who sign up will receive an exclusive version of Solid Edge called the Launch Forth Community Edition. It is a full version with unlimited usage, but exported 2D files are watermarked.
What do we think?
Local Motors always did seem too good to be true and for that reason we've been surprised they've hung around so long. However, that very tenacity and willingness to change the model if it isn't working is the key to the future. It's not wrong to try and upend the way things have always been done, but that doesn't always mean you're going to be the one that ultimately does it.  The company's alliances are as important as their products. The makers movement is morphing into networks, communities, and platforms tying virtual resources like Launch Forth and Fuse with distributed manufacturing. There may be fewer Local Motors micro-factories but more are springing up around the world.
Related stories: