The Mirage Solo will be the first standalone headset to join the Google Daydream platform.
Lenovo was one of many companies to reveal new VR offerings at CES 2018, announcing the Lenovo Mirage Solo, what it describes as "the first standalone Google Daydream VR headset."
The Mirage Solo offers users an untethered VR experience, i.e., it doesn't need to be connected to a PC or other device to function. This is a notable feature since it helps remove the space constraints that hinder certain types of VR apps and experiences. In fact, 2018 looks to be the year of the untethered headset, with fierce competition for the Mirage Solo in the form of the Oculus Go and HTC Vive Focus.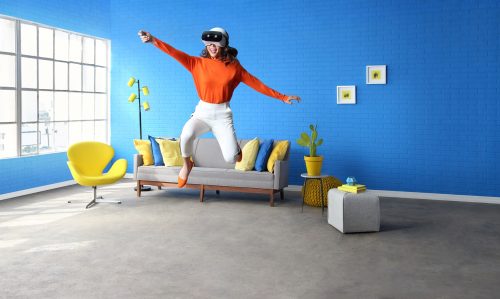 The Mirage Solo keeps track of users' movement in virtual reality via a motion-tracking technology called WorldSense. This system promises to give users a more realistic sense of movement in VR, being able to lean or duck to maneuver through a virtual space. The Mirage Solo will also be connected to Google's Daydream virtual reality platform, giving customers access to a large variety of VR content. Lenovo gives examples such as exploring the Acropolis in Athens or walking the futuristic streets of Blade Runner.
WorldSense was introduced last May by Google, its sensors and tracking provide an "inside-out" sense of the virtual environment. What this means is that the technology can detect obstructions and barriers and built a special arena for the application. Google says the technology improves as during use. Hands on reports describe it as offering an area in which to play and the world stops near barriers. Google has a paper on what it calls Semi-supervised Word Sense Disambiguation with Neural Models.
The Mirage Solo will be powered by the Qualcomm Snapdragon 835 VR platform supported by 4GB of RAM. The Snapdragon 835 platform (also appearing in the Vive Focus) has been designed to allow for built-in VR functionality as well as increased ease of use when developing VR content. As part of the Daydream platform, Mirage Solo will be able to run any VR experience available on the Daydream platform smoothly.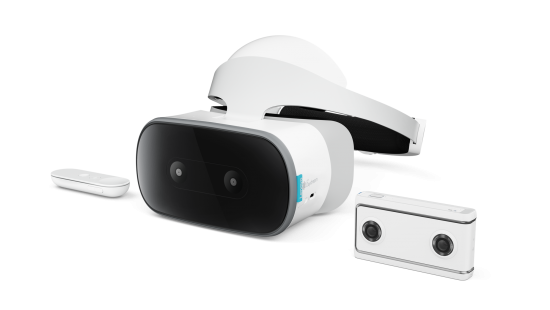 Display: 5.5 inches resolution QHD (2560 x 1440) LCD, 75 Hz
Lens: 2 × Fresnel-Aspheric, 110° FOV
Operating System: Daydream OS
Processor: Qualcomm Snapdragon 835
Audio: Android N Pro Audio, 3.5 mm audio jack with dual microphones
RAM: 4 GB
ROM: 64 GB UFS
Card Slot: microSD card; up to 256 GB
WLAN: WiFi 802.11 ac/n 2 × 2 MIMO dual band
Bluetooth: Bluetooth 5.0 + BLE
The company also announced the Lenovo Mirage Camera, allowing for the capture of 180 degrees of VR video which can then be watched via the Mirage Solo, as well as on Daydream and Cardboard devices. This will allow users to create their own custom VR scenes and videos.
While exact pricing and release details are yet to be announced, the Mirage Solo is expected sometime during the second quarter of 2018, with pricing under $400 for the Mirage Solo, and under $300 for the Mirage Camera.
What do we think?
Untethered VR is improving rapidly with technology like WorldSense, which can calibrate an area quickly. Developers will have much more freedom to experiment with unique virtual spaces. This could also increase the appeal of VR outside of the tech and gaming industries. For example, the standalone nature of these devices makes them easier to incorporate in movie theatres or amusement parks. More physically demanding activities could also become possible via VR, including sports ranging from tennis to snowboarding. Imagine being on a climbing wall while immersed in a VR simulation wherein you're hanging from the side of a cliff Mission Impossible II style.