Epic Games expands the features and capabilities of its MetaHumans.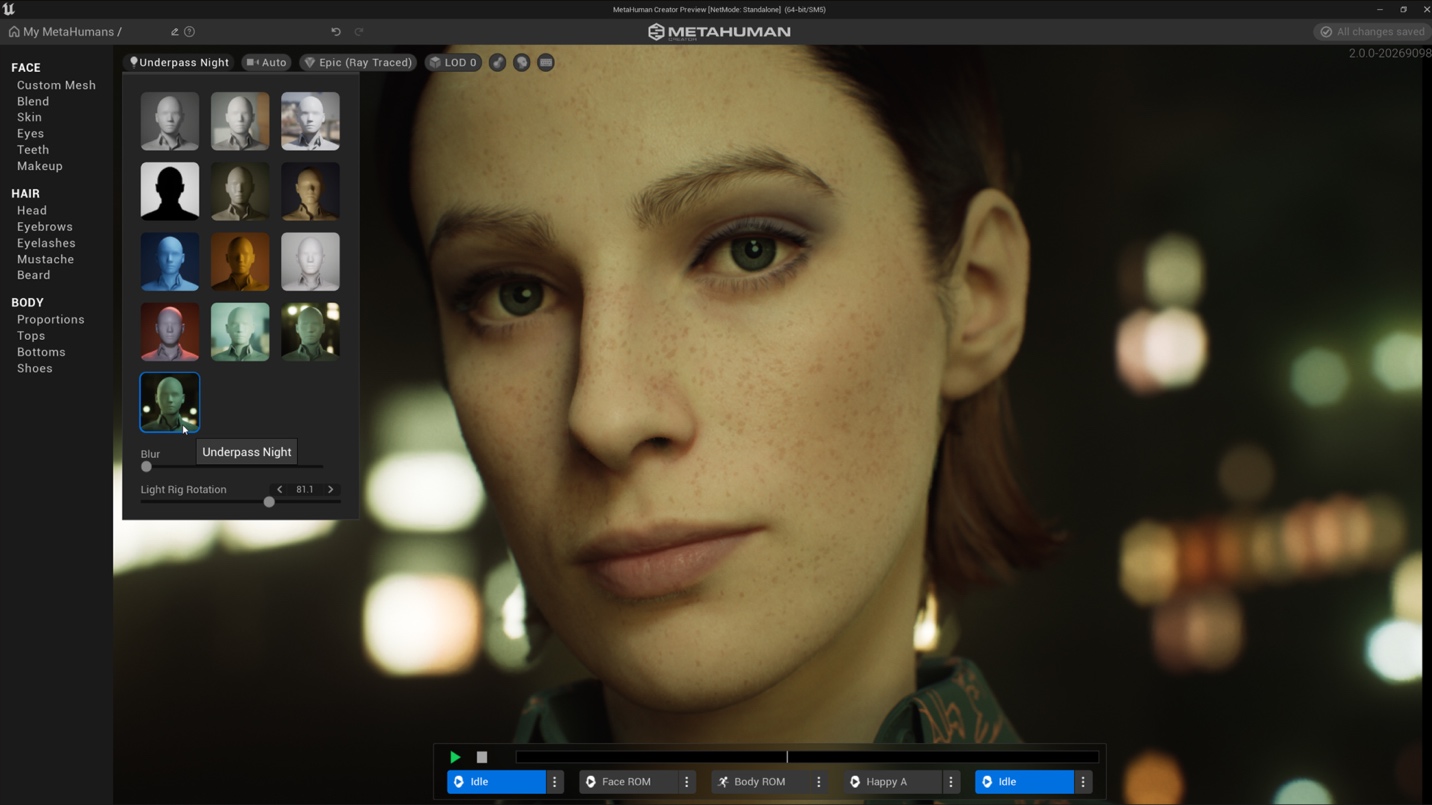 A little over a year ago, Epic Games revolutionized the creation of realistic humans with its free MetaHuman Creator browser-based app, which reduced the time it takes to generate a photorealistic digital human from weeks or even months to less than an hour. Now Epic has expanded their portfolio  with a new version (still in Early Access) that contains more features and capabilities, and is compatible with the recently released Unreal Engine 5. The emphasis here is on professional workflows with control over lighting, the ability to bring in custom meshes, more rigging features, and more physics features.
The MetaHuman plugin for Unreal Engine contains a Mesh to MetaHuman feature that enables users to convert their own custom facial meshes into a MetaHuman that is fully rigged and ready to animate. Users start with a textured mesh that was created through scanning, sculpting, or with traditional modeling tools. Mesh to MetaHuman then uses automated landmark tracking in UE5, fitting it into the MetaHuman topology template and combining it with a body type selected from the options within MetaHuman plugin. The template is then uploaded to the cloud and matched to the most appropriately fitting MetaHuman from Epic's extensive database. Users then employ the mesh to drive the facial rig.
Once users download their results, they can continue to refine their character within MetaHuman Creator. Epic cautions that some features, such as hair and skin textures, will need to be reapplied in MetaHuman Creator or other software. However, with this new capability, users will be able to easily generate a fully rigged digital human from a unique static mesh in minutes.
The new version of MetaHuman Creator release also enables users to take advantage of the new character tools in UE5, including new character rigging and animation features—all of which can be used with MetaHumans.
The new release contains numerous new features for refinishing custom MetaHumans or creating new ones from scratch, including new facial animation loops, new body poses, new facial poses, more clothing options with the ability to customize colors, new hairdos, facial hair options (beards, mustaches, eyebrows, and eyelashes), and more.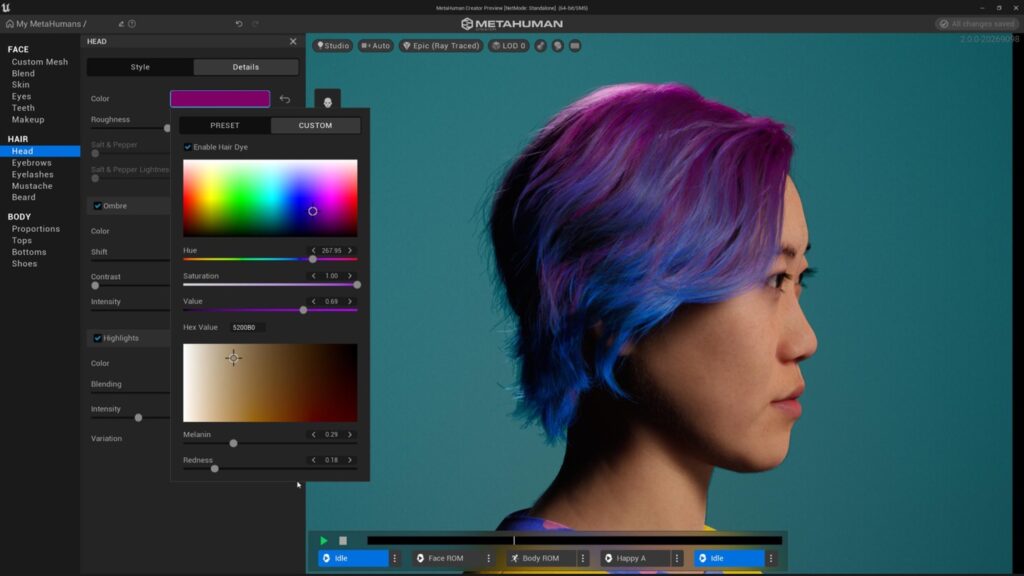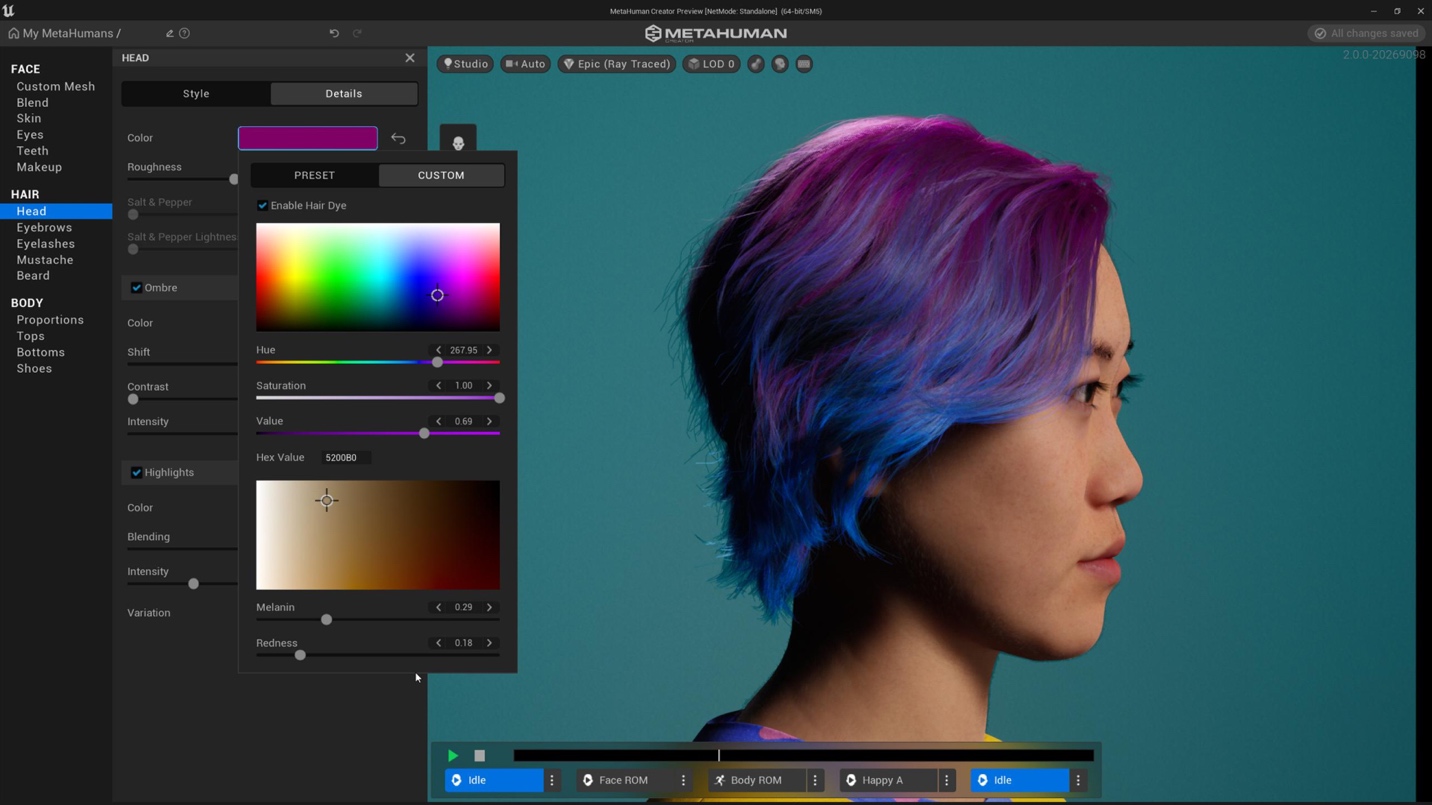 What do we think?
If there's an arms race between Unity and Unreal, then Unreal is ahead by a nose, make that a whole face. Making free tools for people is a good way to create a standard, and the other major contender for human content creation, Fuse has been abandoned by Adobe. Actually, there never seemed to be much commitment to the care and feeding of Fuse.
MetaHuman, of course, is bound to Unreal Engine and we think the real arms race is for the Metaverse. Many observers believe the metaverse will become a reality when common standards are established to enable content to exist in multi-verses. (Certainly, it's going to take much more than simply naming your company "Meta." Epic and Unity seem to believe they'll be the de facto standard when they manage to kill their competition.
Right now, there does not seem to be a lot of motivation on the part of the leading 3D engine companies to help enable support for cross platform content. That's going to be up to the users, the artists, the creative community to make themselves heard and felt.