Unveils the largest, highest resolution holographic display yet.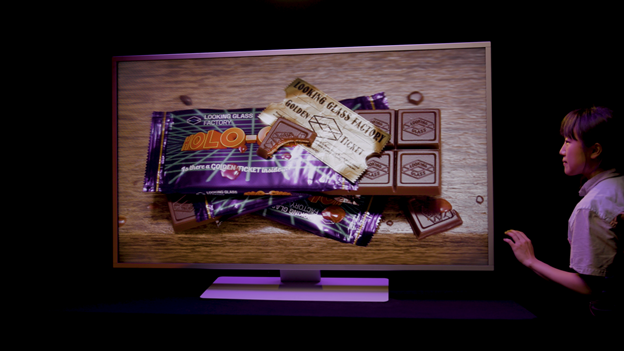 We all agree, size matters when it comes to displays. With this in mind, Looking Glass Factory, a holographic display company, has some big news: a 65-inch 8K holographic display. According to the company, the display is 5× larger than any other 3D holographic display and 50× larger than any other on the market that's used for holographic viewing in a group setting.
This new addition complements the company's line of holographic displays, which ranges in size from the 7.9-inch Looking Glass Portrait for personal use, to the 16-inch Looking Glass monitor, to the 32-inch version for group presentations—the highest resolution ultra-realistic lightfield display of this size, offering four times higher resolution than provided by HD. None of the Looking Glass Factory displays, including the new 65-inch 8K offering, requires the use of a headset or glasses.
The 65-inch version can be used in a wide array of settings, from experiential marketing, to engineering and design applications, to 3D storytelling. Springbok Entertainment is showing its new film, Zanzibar: Trouble in Paradise, on the display at the Tribeca Film Festival.
The 65-inch 8K holographic display provides four times the depth of other group-viewing systems in a structure that is just three inches thick, while generating up to 100 different perspectives of 3D content from 100 million points of light every 60th of a second, resulting in an unprecedented level of reality for as many as 50 simultaneous viewers.
This latest addition to the Looking Glass Factory family is compatible with the company's plug-ins to Unity, Unreal, Blender, and other software.