A deep dive into the ongoing struggles of women as they battle the undertow of society and climate change.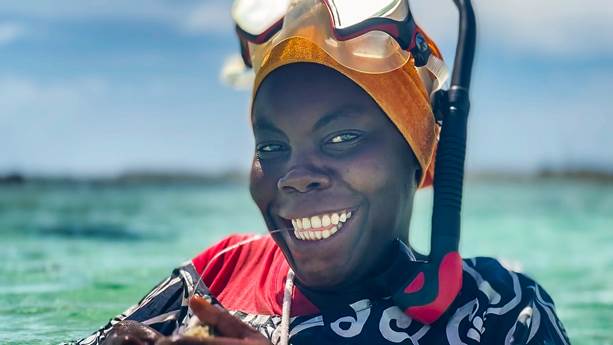 Going against the norm. It's not always easy to do, but it can lead to rewarding results. Consider a group of women in Zanzibar, an archipelago off the coast of Tanzania in the Indian Ocean, where men dominate the culture. Here it's not easy for a woman to forge their own way; they have limited access to education and employment, so creating financial independence is not easy. But a group of women did just that by farming the sea.
For the most part, filmmaking follows a very traditional (2D) process. But when filmmakers set out to create a documentary short about these amazing women breaking through the traditional societal norms, what better way to do so than by using a less traditional path themselves? To this end, directors Ashraki Mussa Machano and Steven-Charles Jaffe chose the immerse medium of holography to highlight the story of two of these amazing women who found that farming seaweed, followed by sea sponge cultivation, were the answers to their freedom.
Their film, "Zanzibar: Trouble in Paradise," was shown as it was intended to be viewed, at the Tribeca Festival June 8–19, 2022, on the new 65-inch 8K holographic screen that had been recently introduced by Looking Glass Factory. The short film, which made its world premiere at the festival, is produced by Brandon Zamel, Rick Collins, Steven-Charles Jaffe, and Ashraki Mussa Machano. It is published/produced by Springbok Entertainment.
While this 10-minute immersive film contains a number of important themes, there is one in particular that stands out: climate change and the immediate impact and devastation it is wreaking on the lives of many women in Zanzibar. The film dives into the story about a group of women, two in particular—Nasiri and Hindu—who work at a seaweed farm that gave their lives independence and stability. But when climate change wiped out this valued crop, they were forced to look elsewhere for employment, again turning to the sea and began cultivating sea sponges. Now, that commodity, too, is under siege, threatening not only that crop, but the livelihoods and stability of these women who have worked so hard to make their own way in their society.
"My mother was a seaweed farmer…. And so we start again." Those two sentences were the bookends to the story of two women who gained their financial independence in a male-dominated society only to have climate change challenge them. "'Zanzibar: Trouble in Paradise' is a story that needs to be told, and it is our hope that it contributes in a meaningful way to the important and growing body of work that sets off the alarms on climate change," explains Jaffe. "The stories told by the women of the film are real, and it is our goal that the use of holographic technologies reinforces this for the viewer."
Machano has always strived to tell the stories of his culture and of his community, noting that these women have been depending on the ocean for decades—the ocean that provides, and the ocean that connects. "Now, they are facing their biggest challenge. The ocean is denying them their right to earn a living and to have independence," he says. "To tell this story by using this holographic technology makes me understand that technology is like an ocean. Technology can provide, and technology can connect. We hope it shows the viewers the impact climate change is having on rural communities, which have had little or no contribution to climate change, but where lives are completely devastated by it."
The impact of holography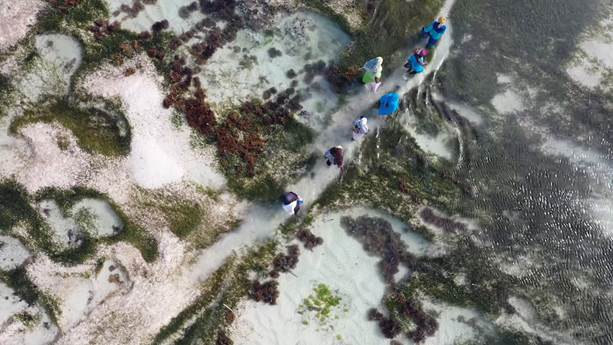 The filmmakers want the movie to have as much global impact as possible, illustrating to those across the planet how this issue is affecting lives, especially in far-flung places. It is important to generate empathy for these women and their predicament in order to drive change. Use of an immersive format does just that.
"One of the fundamental driving forces of technology is our collective desire to feel connected to one another. The evolution of storytelling is intertwined with our insatiable appetite to expand the methods in which we express our humanity. Specifically speaking, at the root of cinema is an effort to create a reality and transport a viewer to another place. In this regard, holographic film making is a natural evolution of the story that exists within a frame. It emphasizes the realism of the world and its subjects that it captures, and hopefully, in turn, maximizes the emotional impact a compelling story can have on its audience," says Zamel. "In many ways, documentary filmmaking is a litmus test for new capture technology. It must be resilient, field-ready, and most important, cannot act as a barrier when capturing the raw emotion, vulnerability, and truth of its subjects. As we develop new technologies and techniques for holographic filmmaking, we aim for a balance of innovation while maintaining the integrity of the storytelling."
In particular, through the holographic medium, the team was able to present both the beauty of Zanzibar and the devastation that's occurring there at this time. Zamel hopes that "Zanzibar: Trouble in Paradise" contributes in a meaningful way to the important and growing body of work that sets off the alarms on climate change. "The stories told by the women of the film are real, and it is our goal that the use of holographic technologies reinforces this for the viewer," he adds. "The reality we live in is not only 3D, but [one that] has volume. Our natural physical movements combined with the way our eyes see and our brains interpret the world mean that a 2D image, or a single stereoscopic perspective, is missing a great deal of information for how human beings understand what is real. By capturing and reproducing those additional 'perspectives,' we effectively get that much closer to re-creating reality."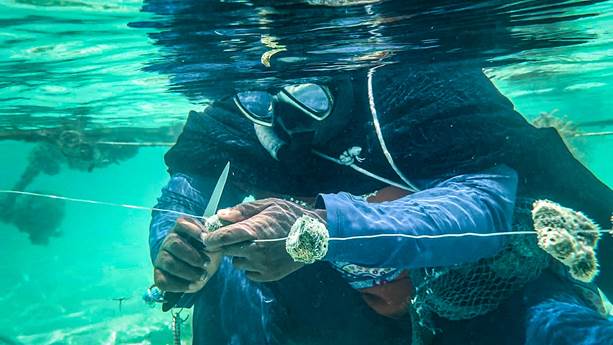 In a way, it seems peculiar to use high-tech production methods in a place where life is lived far more simply. Production in Zanzibar included a number of different camera technologies, including single-lens RGB with depth sensors, camera arrays, and drones. Ultimately, the single-lens RGB camera with depth sensors became the team's primary approach to filming this story. According to Zamel, it allowed for the most unimposing approach when the team was welcomed into the homes of the women in the film. On-site, the filmmakers had a Looking Glass Factory Portrait holographic display for footage review. Back in Los Angeles, the team received the footage and reviewed it with a larger 16-inch display.
In addition to capturing both RGB and depth data, the filmmakers also used AI interpolation and a number of custom postproduction tools and techniques to process the footage, with the final format output for the Looking Glass Factory holographic display.
Zamel says his group first heard about the incredible women in the film in November 2021, and time was of the essence—they had three weeks to assemble the team and get them and this equipment to Zanzibar, as it was critical to film during low tide when the sponge farms are most accessible. "There was enough confidence in the technology that, despite the uniqueness, did not require a lot of additional considerations," he notes.
Filming then took place over two weeks, followed by four months of postproduction, which Zamel says often resembled a traditional film edit. Once the film was cut, though, attention was given to each individual shot to maximize its holographic qualities.
From the outset, "Zanzibar: Trouble in Paradise" was intended as a holographic project. For the co-directors, this was their first holographic film. For Springbok, this is what they do, specializing in emerging technologies and storytelling, with an emphasis on holographic capture technologies.
"While virtual and augmented reality provide fantastic methods to tell such stories, the emergence of holographic displays means that a significant missing piece in the spectrum of immersive storytelling can now be explored and defined," says Zamel. "These displays provide immersive storytellers the next phase of the 'framed' narrative."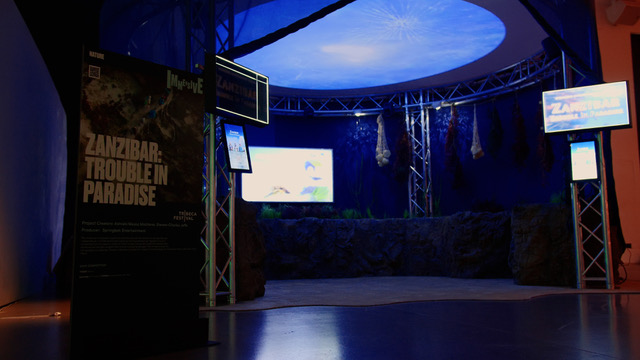 The opportunity to show "Zanzibar: Trouble in Paradise" on Looking Glass Factory's 65-inch holographic display reinforces that the rapid progression in holographic experiences is no longer a hypothetical consideration, Zamel points out. The combination of multiple approaches to content creation, along with the delivery mechanism for audiences to consume this type of content, means that a whole new arena of storytelling is upon us, he adds.
"Overall, the entire team is ecstatic with the results. We see it as the first major step towards the evolution of live-capture holographic filmmaking," says Zamel.
As filmmakers, the group is also pleased to have had the opportunity to show their film on such a prestigious stage. "Tribeca serves as a forum of incredible talents. To be welcomed into the festival is a validation of our hard work among peers and colleagues in the industry who all strive to push the industry forward," Zamel says.