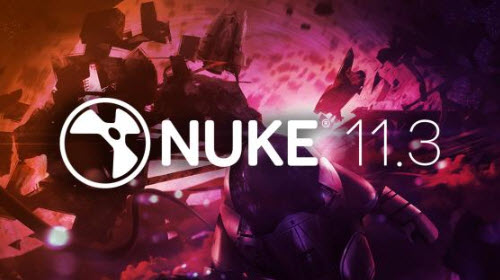 The Foundry has released its latest update, Nuke 11.3, the fourth installment of the Nuke 11 series. With this release, the Foundry places an emphasis on collaboration with improvements for Live Groups, improved particle system performance, multi-file stereo Nuke Studio and Hiero, and UI and performance improvements.
The latest improvements also enhance the use of the Nuke tools for managing and reviewing dailies and the interoperability between the tools in the Nuke family have been improved for more seamless workflows.
Nuke 11
To recap a little, the version 11 release of the Nuke family, which includes Nuke (Nuke compositing, and the NukeX and Nuke Studio add-ons) and Hiero (Hiero and Hiero Player management and review tools), has new collaboration capabilities, and improved VFX tools as well as improvements for customization using Python, Pyside, and Qt. Live Group was an addition to Nuke's node type which enables collaboration and is supported by scripting tools that enable file references and automatic updates without rendering intermediate stages. Background rendering for Nuke and NukeX via the new Frame Server which can run in the background users' local machines. Improvements to the Lens Distortion node in NukeX which adds fisheye and wide-angle lenses and support for multiple frames to improve the effect. Lens Distortion, by the way, has support for GPU acceleration. The new Timeline Disk Cache in Nuke Studio is also GPU accelerated and adds caching for smooth playback of complex sequences.
The latest
The Nuke 11.3 update adds improvements to the Live Groups collaboration node, making the tool more practical for large and complex pipelines. Artists can better see the state of the Live Group so they can see what they're doing when using override values within a Live Group.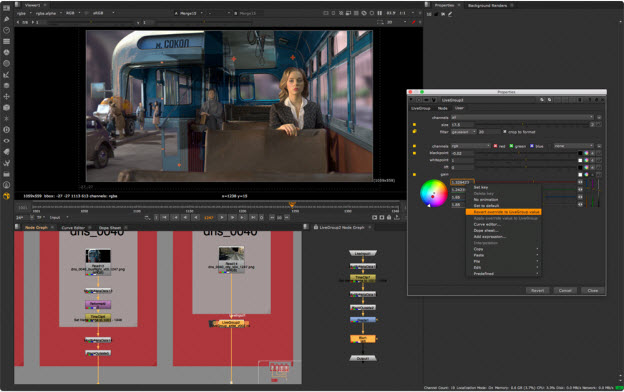 The Foundry has added more improvements to the already updated particle system and now can create simulations up to six times faster than previous versions and four times faster for playback. Allowing more and faster iterations when creating particle systems.
The multi-file stereo features for Nuke has been extended to Nuke Studio, Hiero, and HieroPlayer timelines. The export structure has been updated to enable multi-view Nuke scripts from the timeline in Nuke Studio and Hiero, in addition, 11.3 has support for full resolution stereo monitor-out, and an export preset for rendering stereo projects.
UI updates
Sometimes, the more you can do, the more you can't see. The Foundry has updated the new bounding box feature and channel count to help artists trouble-shoot their scripts. Now there is a notification on nodes that increase the bounding box size to be greater than the image. Channel count is now displayed in the status bar with a warning when the 1024 limit is exceeded. Users can define the appearance and threshold for the founding box warnings and channel warnings in preferences.
The selection tool for 2D and 3D views now has updated marquee and lasso tools to make selecting points and shapes easier.
Group product manager Christy Anzelmo promises more to come. In the release, she says, "we have ambitious plans for the future—especially around performance and the timeline-based tools." She also notes that the latest changes are largely in response to user input and she calls out the improvements for multiview stereo in Nuke Studio and Live Groups as updates that will improve the ability of teams to collaborate.
What do we think?
The secret to success for tools in film and video content correction is flexibility and the ability to customize. The Foundry has consistently improved the customization tools for its suite of compositing and finishing tools. They have rapidly become a dominant tool in the movie and TV industries. So, the company's interest and growing support for collaboration is also significant. Finally, we think it is interesting that stereo tools continue to be developed and it makes sense. Although interest in 3D stereo movies has mostly petered out, VR has come along to keep the art alive, and what really seems to be happening is that 3D stereo storytelling is moving along a developmental trajectory that isn't obvious, but is ongoing and driven by a range of capabilities including increasing resolutions which have depth, evolving capture, and post-production techniques. I am betting against glasses for the future, but I wouldn't put money on it as glasses are also improving—getting lighter, more fashionable, etc. Maybe, they'll be capable of a range of functions outside of the theater as well: 3D entertainment, AR, and VR. Whatever happens, production methods will have to stay a step or two ahead of the game.