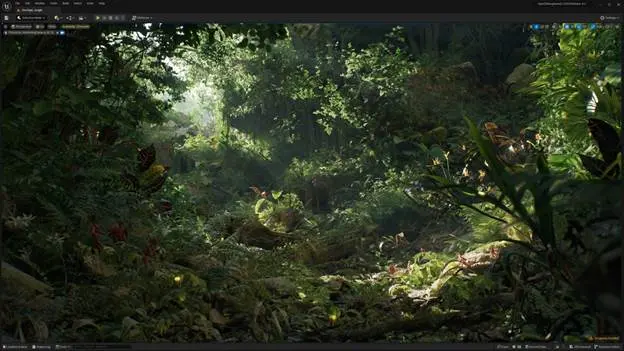 Unreal Engine 5.2 includes PCG tools for populating large scenes, making the process of creating large worlds fast and efficient. (Source: Epic Games)
Epic Games has released an update to its Unreal Engine, now in version 5.2. It includes a range of updates and new features including Procedural Content Generation tools and the Substrate shading system, both of which are experimental features and not recommended for use in production work at this time.
At GDC 2023 in March, Epic Games provided a peek at its upcoming Unreal Engine 5.2. Now it has arrived, and with it, some notable new features including Procedural Content Generation (PCG) tools and the Substrate shading system, which the company provided a glimpse of during the conference.
UE 5.2 gives users an early taste of the PCG framework, which can be used directly inside the engine when creating your own procedural content. Included are in-editor tools for defining rules and parameters when populating large scenes that are art-directable and work with hand-placed content. There's also a run-time component so the system can run inside a game or another real-time application, with the world reacting to geometry changes and gameplay. According to Epic, PCG is an experimental feature and will be developed more fully over future releases.
Substrate, previously called Strata, gives artists more control over the look of objects that are used in real-time applications or for linear content when authoring materials. When enabled, Substrate lets users compose and layer various shading models with a wide range of appearances. Substrate replaces the fixed suite of shading models with one that is more expressive and modular. Like PCG, Substrate is also an experimental feature and is not recommended for production work.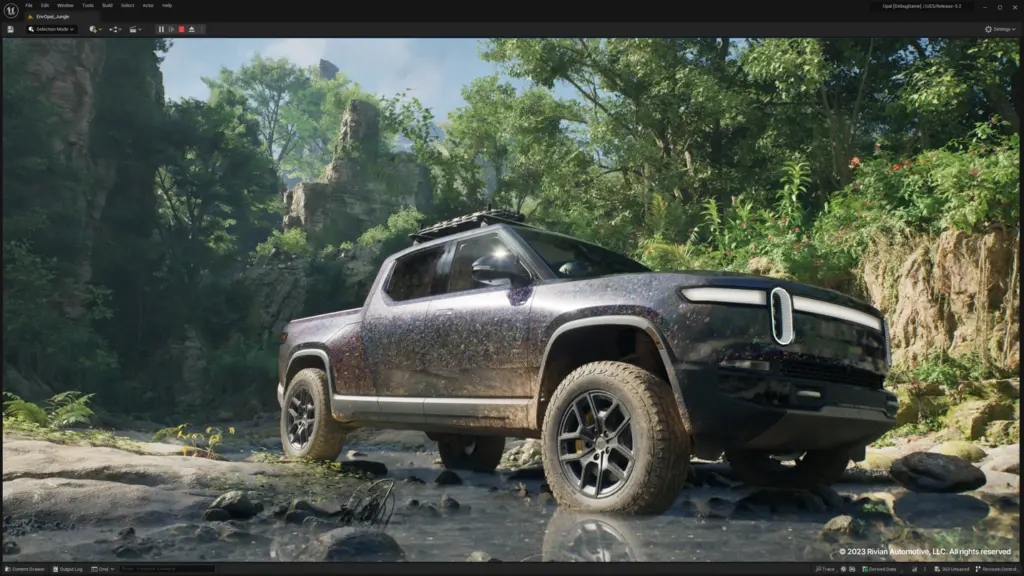 Substrate offers flexibility when authoring materials. (Source: ©2023 Rivian Automotive)
Epic also boosted this release with more features to the virtual production tool set. This includes a new soon-to-be-available iPad app, which will offer a touch-based interface for stage operations like color grading and light card placement. There are also virtual camera improvements, DMX improvements, and SMPTE 2110 integration.
Native support for Apple Silicon also has been added to the Unreal Editor, as well as a new ML Deformer sample project for full-body character mesh deformations driven by full muscle, flesh, and cloth simulation.
Epic further added Nanite feature and performance updates, as well as quality and performance updates to Lumen.
Epic released Unreal Engine 5 in April 2022, which offered a generational leap in technological capabilities and workflows across industries, offering tools such as Lumen, which provides fully dynamic global illumination, and Nanite, a virtualized micropolygonal system. Last November, UE 5.1 debuted with significant improvements to both Lumen and Nanite, among other features.