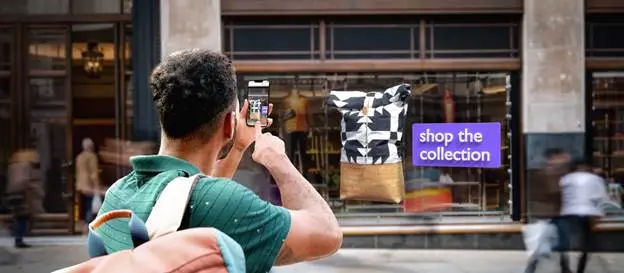 Due in large part to the rise of AR, retailers are beginning to engage with customers on a whole new level. Adobe began tapping in to this new, growing trend back in 2019 when it officially launched Aero. Part of Adobe Creative Cloud, Aero is an all-in-one augmented reality authoring and publishing platform for building and sharing immersive experiences in AR. The big selling point is that Aero is intuitive and easy to use—no coding skills are needed.
Thanks to a collaboration with Google's ARCore, Adobe is offering new geolocation capabilities to Aero. As a result, retailers can create 3D AR experiences that are seamlessly connected to real-world locations. Sharing the AR experiences with customers requires a QR code scan. However, this is an experimental capability right now, available through an invitation-only Aero Geospatial prerelease.
Aero began as a free mobile iOS app for phones and tablets, and is available as a public beta for the desktop on MacOS and Windows. The mobile app makes it possible to create AR in AR with the added contextural view of the front-facing camera. A range of assets can be imported into Aero—photos, layered files, audio, and other 2D and 3D content. Obviously, Aero for desktop does not enable a real-time view of AR in augmented reality since there is no front-facing camera on most desktop hardware. But the work can be authored on the desktop app.
Aero is part of Adobe's 3D and AR series, which also includes Dimension, Mixamo, and Substance.