Graduating to the big time.
It's a BIG program, over 170 MB—over two times bigger than Word, and it takes a minute and half to load. Popular with graphics artist for almost 30 years, it was one of the fist vector graphics programs to run on a PC. The multi-layer program comes with more tricks and tools than I have time or stamina to list, and the types of images some of its users have produced are breathtaking.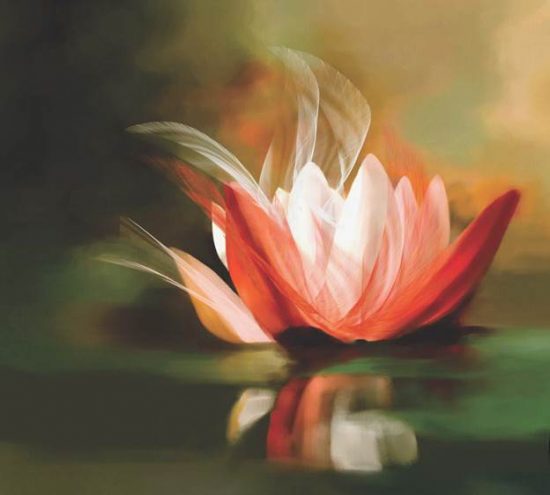 Of course, to make beautiful pictures like the above one does have to a certain degree of talent, and also be proficient in the intricacies and operation of Corel Draw.
I'm never going to be an artist, however, I will learn to be more proficient in the application. Why? Because I am abandoning Visio (a program I am proficient in) to use CorelDraw. Why? Because Microsoft has crippled the version of Visio I have and informs me I have to buy an Office 365 version. I've always had trouble being told what to do, and so I went looking for alternatives. I found a few. There is a free on-line app called Draw.io, and LibreOffice Draw. They, like CorelDraw, can read a Visio .vsd and .vsdx file. However, none of them can save a Visio file (although there are programs available that can, they just aren't any less expensive than Visio proper). I have used all of them, and they each have merits. If I want something simple and fast, I'll use Draw.io. If I want a bit more Libre is a good choice, and if I want the max, then CorelDraw is the best choice. As you can imagine, each one has different levels of difficulty. The difficulty is finding all the neat thing you can do, which takes us back to proficiency.
Proficiency begins with opening up Corel's 885-page user's manual (plus 20 pages of glossary). Don't mock the glossary because every application has its own dictionary of terms and you have to learn them.
Some of the new features that caught my attention were:
AI draw. One of the coolest features introduced in Corel 2017 and X8 is LiveSketch tool. It allows one to design using hand-drawn vector curves immediately. In CorelDraw 2018, this revolutionary tool has been enhanced. How CorelDraw analyzes and adjusts one's input strokes has been refined, delivering results that are more precise than ever.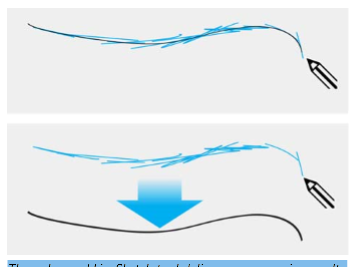 A user can harness this enhanced accuracy to speed up his or her workflow and focus on the creative process, making it even easier to get an idea onto the screen in front of you.
And if one works with a pen or stylus, you can take advantage of a variety realtime input factors to erase with the ease and accuracy of a pencil eraser. Now you can use pressure to vary the size of the eraser nib, as well as link tilt and bearing to its flatness and rotation. Flipping the stylus or pen activates the Eraser tool, so you can erase on the fly without having to go to the toolbox. In addition, you can use the Eraser tool on most object types, and it's easier to erase through groups of objects.
Envelope tool. A longtime favorite of graphics professionals, it lets a user interactively shape an object by placing it in an envelope and dragging the nodes of the envelope. It allows the user to modify bitmaps in CorelDraw the same as when working with vector objects. Using this tool, one can quickly and seamlessly blend a bitmap into an illustration using envelope presets, or you can craft one from scratch and save it for reuse.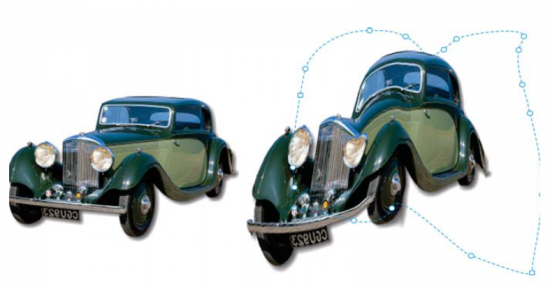 The enhanced Envelope tool can be used on a group of objects, whether vector, bitmap or both—all non-destructively. Designers can swap out the bitmaps used in an envelope with the Copy envelope properties option, so experimenting to get the desired look is safe. And, it's easy to turn any vector object into an envelope with the Create envelope from option.
Corel brags about their UI and says all the controls that one needs are right on the canvas and property bar, so there's no time spent navigating a series of dialog boxes. Still, like any program, it takes some time to learn where things are and what they do.
Straighten tool. When something in a photo, such as a building or a road, is just a little off-kilter, one can easily salvage those photos. It lets the user rotate crooked images by interactively aligning a straightening bar to an element in the photo or specifying an angle of rotation.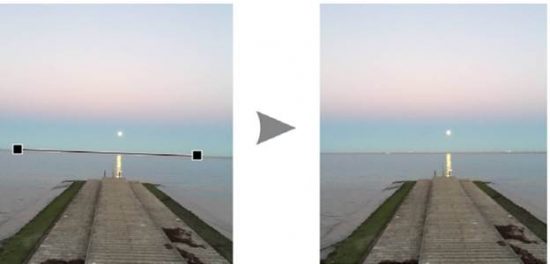 All the controls are easily accessible on screen or on the property bar. One can choose to rotate the image horizontally, vertically, or just let Photo-Paint decide which straightening mode works best. The Straighten tool can also rotate lenses, masks, objects, and groups of objects. In addition, you can crop the photo as you align it, or choose not to crop it and fill the edges with the background color instead.
Perspective Correction tool. In Photo-Paint there is a new interactive feature that gives one the power and versatility of an expensive tilt correction lens.

With the Perspective Correction tool, it's easy to adjust the perspective of landmarks or objects in photos to get the exact look that you wanted. Right in the image window, you simply move the four corner points to get the perspective that you have in mind. You can also display grid lines that make it easy to apply the rule of thirds as you adjust perspective.
Fit Objects to Path effect. In CorelDraw 2018, one can fit any type and number of objects to a path of the user's choice. Smart spacing and rotation settings help customize the arrangement of objects along the path.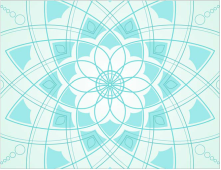 Symmetry drawing mode, which automates what is usually a very time-consuming process. It lets one create a range of symmetrical designs, from simple objects to stunning mandalas and complex kaleidoscopic effects, in realtime.
There are two ways to use Symmetry mode. You can work in Symmetry mode from the outset and start drawing symmetrically immediately. Or, you can apply symmetry to an existing object or group of objects, both vector and bitmap.
Blurry shadows. Drop shadows with Gaussian Blur feathering: in CorelDraw, you can create realistic drop shadows that have natural-looking feathered edges in an instant thanks to the Feathering direction button on the property bar.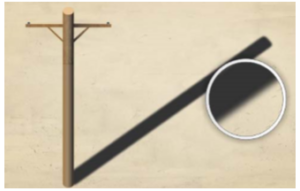 I especially like this feature for putting drop shadows under block diagrams.
There is support for UltraHD displays which allows one to edit photos at their native resolution and see the subtlest details in the image. And with more pixels available, several windows can be opened side-by-side for an efficient workflow. Also there is HDR merge now. One can access the High Dynamic Range (HDR) Merge module in AfterShot 3 HDR directly from the Camera RAW Lab in Corel PHOTO-PAINT 2018 to combine two or more photos of the same scene that were taken with different exposure settings. This lets you access a broader tonal range to create a final image that can be breathtaking.
The price for a perpetual license is $499. Corel also offers a subscription service. CorelDraw is more than twice the price of Visio, so why spend the extra money? Well if all you want to do is make block diagrams, CoreDraw might be overkill (although they could be the most beautiful block diagrams you ever made). But more to the point is that CorelDraw is a suite, not just a stand-alone program.
What's included?
CorelDraw 2018
Corel Photo-Paint, an image-editing application for retouch and enhance photos
Corel Font Manager, a standalone font management application
Corel PowerTRACE, a utility embedded in CorelDRAW that helps one convert bitmaps into editable vector graphics
Corel CONNECT, a full-screen browser that lets you access the suite's digital content, the Content Exchange, and search your computer or local network to quickly find the perfect complement for a project
Corel CAPTURE 2018, a one-click utility that lets you capture images from your computer screen
Corel AfterShot 3 HDR, a photo editor that lets you create HDR images and make corrections and enhancements to RAW or JPEG photos
BenVISTA PhotoZoom Pro 4, a plug-in that lets you export and enlarge digital images from Corel Photo-Paint.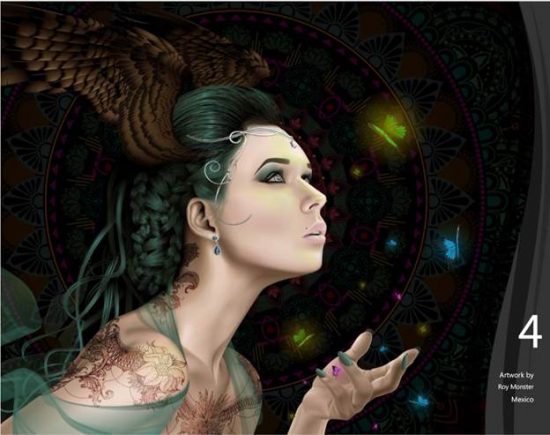 What do we think?
CorelDraw 2018 is the most robust illustration and photo editing program we have played with, and have barely plumped its depth. It comes with a huge library of:
10,000 clipart and digital images
2,000 high-resolution digital photos
Over 1,000 TrueType and OpenType fonts
350 professionally designed templates
2,000 vehicle templates
Over 500 interactive frames and photo frames
Over 600 fountain, vector and bitmap fills
For $500, it's an amazing value.