$3.2 billion in sales, $1.24 billion profit, up 11% from last quarter.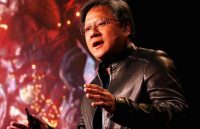 Nvidia reported another record of revenue for the first quarter ended May 1, 2018, of $3.21 billion, up 66% from $1.9 billion a year earlier, and up 10% from $2.9 billion in the previous quarter, with growth across most of its platforms. Revenues were up in all segments.
The company's GPU business revenue was $2.77 billion, up 77% from a year earlier and up 13% sequentially, with growth across all our platforms led by gaming and datacenter and all measures of profitability set records, with GAAP gross margins at 64.5%, operating margins at 40.4%, and net income at $1.24 billion.
"We had a strong quarter with growth across every platform," said Jensen Huang, founder and chief executive officer of Nvidia. "Our datacenter business achieved another record and gaming remained strong."
The company's Q1 GPU revenue grew 77% from last year to $2.77 billion. Tegra processor revenue rose 33% to $442 million. In gaming business, revenue was $1.72 billion, up 68% year-on-year and down 1% sequentially. Demand was strong and broad-based across regions and products. The gaming market remains robust and the popular Battle Royale genre is attracting a new wave of gamers to the GeForce platform.
Nvidia's CFO Colette Kress said, "while supply was tight earlier in the quarter, the situation is now easing. As a result, we were pleased to see that channel prices for our GPUs are beginning to normalize, allowing gamers who had been priced out of the market last quarter to get their hands on the new GeForce GTX at a reasonable price."
The company adds that cryptocurrency demand continues beyond expectations, but Kress said, "we were able to fulfill most of it with crypto-specific GPUs, which are included in our OEM business at $289 million. As a result, we could protect the vast majority of our limited gaming GPU supply for use by gamers. Looking into Q2, we expect crypto-specific revenue to be about one-third of its Q1 level."
The company has called out the success of its Max-Q design for thin and light gaming notebooks, which sounds like an oxymoron and does represent a compromise—less GPU power in return for thin and light design. The Max-Q GPUs are throttled to allow for a lower power envelope, making them easier to cool and allowing the use of thin and light chassis. Kress says the Max-Q design has caused an increase in sales in thin and light gaming machines. And, she says the Nintendo Switch has also contributed to increased revenues.
Datacenter revenue was $701 million, up 71% year-on-year, up 16% sequentially. The company says AI and high performance computing are driving demand.
In the public cloud segment, Microsoft Azure announced the general availability of Tesla V100 instances joining Amazon, IBM, and Oracle. Google Cloud announced that the V100 is now publicly available in beta. Nvidia says hyperscale and consumer Internet companies are ramping to Volta for its improved deep learning performance over Pascal.
Visualization revenue grew to $251 million, up 22% from a year ago and accelerating from last quarter, driven by demand for realtime rendering, as well as emerging applications like AI and VR.
Automotive revenue grew 4% year-on-year to $145 million.
During the first quarter of fiscal 2019, Nvidia returned $746 million to shareholders through a combination of $655 million in share repurchases and $91 million in quarterly cash dividends.
For fiscal 2019, the company intends to return $1.25 billion to shareholders through ongoing quarterly cash dividends and share repurchases.
Nvidia will pay its next quarterly cash dividend of $0.15 per share on June 15, 2018, to all shareholders of record on May 24, 2018.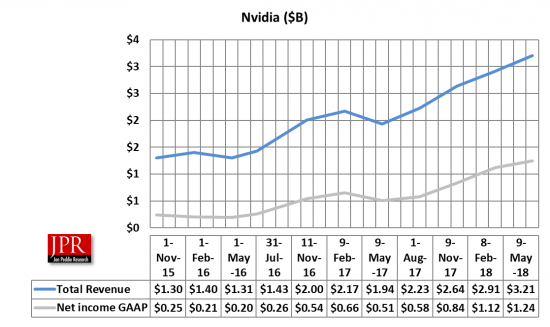 During the quarter, the company introduced Nvidia Drive Constellation, a platform that will help car companies, carmakers, Tier 1 suppliers and others developing autonomous vehicle test systems.
Outlook
Nvidia predicts revenue to be $3.1 billion plus or minus 2%. GAAP and non-GAAP gross margins are expected to be 63.6% (sic) [63.3%] (16:26) and 63.5%, respectively, plus or minus 50 basis points.
Revenue is expected to be $3.10 billion, plus or minus 2%.
GAAP and non-GAAP gross margins are expected to be 63.3% and 63.5%, respectively, plus or minus 50 basis points.
GAAP and non-GAAP operating expenses are expected to be approximately $810 million and $685 million, respectively.
GAAP and non-GAAP other income and expense are both expected to be income of approximately $15 million.
GAAP and non-GAAP tax rates are both expected to be 11.0%, plus or minus 1%, excluding any discrete items. GAAP discrete items include excess tax benefits or deficiencies related to stock-based compensation, which are expected to generate variability on a quarter-by-quarter basis.
Kress said quarterly cash flow from operations reached record levels at $1.45 billion. Capital expenditures were $118 million.
What do we think?
Nvidia's GPU business revenue for the quarter was $2.8 billion, up 13% from last quarter, and up an astounding 77% from the same period last year. It was driven mostly from gaming (54%) but also contributed to by the data center, and pro viz.
Gaming is still the big money maker for Nvidia as shown in the following chart, with growth (and higher ASPs coming from the datacenter).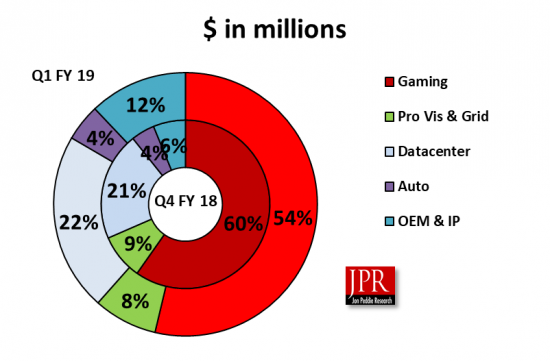 Tegra sales due the big influence from Nintendo's Switch, is showing seasonality, and was down 2% from last quarter but up 33% from last year, driven by automotive and Nintendo.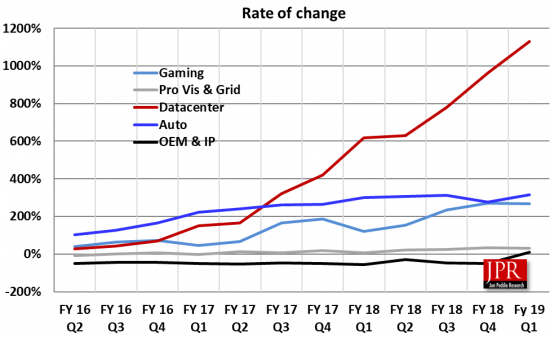 The dollar values are shown in the following table:

Nvidia includes its Nintendo (Switch) business with its gaming revenue. GPU includes GPU revenue in GeForce, Quadro, Tesla, and OEM. Gaming includes GeForce DT/NB, Switch, other like GeForce Now, G-SYNC.
The valuation placed on the company is getting still quite high, and the company's gross margin remains high, increasing 4.2% from last quarter, and 8.6% from last year, driven by the high ASP Volta and Pascal boards sold into the data center where every cloud compute service has incorporated Nvidia's products. Demand in that sector remains high, driven by AI and machine learning, and we expect Nvidia to grow with the market, if not slightly ahead of it.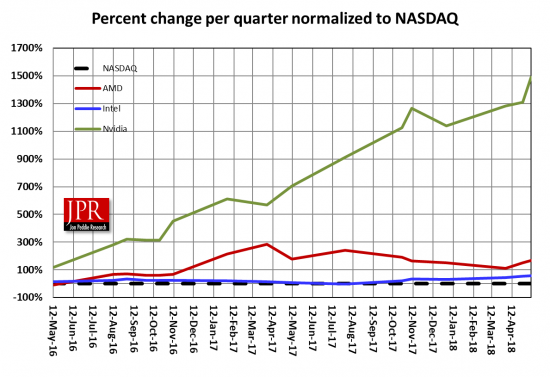 Nvidia continues to delight its investors, employees, and top management. To say, it's at the top of its game seems like an understatement. The GPU is a great processor for AI training, and Nvidia was clearly in the right place at the right time when it was showcased finding cats. Nonetheless, we believe AI will be the biggest thing to haven computing since the introduction of the PC and is proving to be a great offset to the sluggish PC market. All of that translates into a nice pickup in the data center for Nvidia. Within the PC market, gaming is still the bright spot the strongest segment for the company, augmented by the success of the Nintendo Switch. In pro-viz the company has always been strong and maintains a strong large market share. Pro-viz doesn't grow as dramatically as the other market, but is a high ASP segment, and contributes to the company's high margin.
Although Nvidia didn't enjoy as much of a boost in sales from crypto mining (relatively) as AMD did, it did see its AIBs disappear from the channel. However, Nvidia's crypto boom may be coming to an end.
"Cryptocurrency demand was again stronger than expected, but we were able to fulfill most of it with crypto-specific GPUs, which are included in our OEM business at $289 million," said Kress.
"As a result, we could protect the vast majority of our limited gaming GPU supply for use by gamers. Looking into Q2, we expect crypto-specific revenue to be about one-third of its Q1 level."
When crypto prices reached their peak earlier this year, Nvidia AIBs sold out in the traditional gaming channels. A steep decline in prices since then, coupled with a potential shift in Ethereum's mining rules has dampened the demand for AIBs.
"Crypto miners bought a lot of our GPUs during the quarter and it drove prices up," Huang said. "And I think that a lot of the gamers weren't able to buy into the new GeForce as a result. And so we're starting to see the prices come down."
"The success of Fortnite and PUBG are just beyond comprehension, really," he added. "Those two games are a combination of Hunger Games and Survivor has just captured imaginations of gamers all over the world. And we saw the uptick and we saw the demand on GPUs from all over the world."
Q2 is rationally a down quarter, and with the combination of that seasonality, and the fall off of demand from crypto miners, we expect to see Nvidia's GPU sales drop in Q2, and then likely rebound in Q3 as the channel and OEMs stock up for the holidays. We also expect to see a new GPU from Nvidia in that time period.