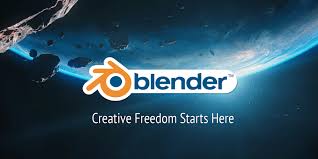 Epic Games announced its MegaGrants program at GDC 2019. The company established a $100 million fund to support game developers, enterprise professionals, media and entertainment creators, students, educators, and tool developers who are "doing amazing things with Unreal Engine" or enhancing open-source capabilities for the 3D graphics community.
The Blender Foundation had their wish granted with a $1.2 million grant from Epic to further the success of Blender, the open-source 3D modeling and animation program. Blender fits the bill for Epic's interests because it is helping train thousands of 3D modelers and programmers. Blender has a very active community of participants who build tools, add-ons, and contribute to the suite of Blender, which, in addition to 3D modeling and animation, also has rendering including ray tracing, effects tools, physics, and fluid dynamics, and a video editing module.
The grant will be delivered incrementally over the next three years and will contribute to Blender's Professionalizing Blender Development Initiative. Ton Roosendaal told us the funds will be used to hire at least 6–8 more people.
Ton notes, "the industry is really taking Blender seriously now," and he's right. Blender was also awarded an Annie Award this year with the Ub Iwerks Award for Blender's contribution to the animation industry. In addition, Ton Roosendaal will be recognized at this year's JPR Siggraph Luncheon with the Technology Advancement Award for the creation of Blender and his ongoing support and commitment building the Blender Commitment.
"Having Epic Games on board is a major milestone for Blender," said Blender Foundation founder and chairman, Ton Roosendaal. "Thanks to the grant we will make a significant investment in our project organization to improve on-boarding, coordination, and best practices for code quality. As a result, we expect more contributors from the industry to join our projects."
"Open tools, libraries, and platforms are critical to the future of the digital content ecosystem," said Tim Sweeney, founder and CEO of Epic Games. "Blender is an enduring resource within the artistic community, and we aim to ensure its advancement to the benefit of all creators."
What do we think?
The knock on Blender is that it's hard to learn, with a challenging interface, and that its organization as an open source tool means that improvements can be slow in coming. These are "features" of all open source projects. Freedom is messy. However, the Blender Foundation has worked hard to improve the process. For instance, the movie projects the group has undertaken have not only resulted in entertaining animations but it has provided a practical workshop in which problems that need to be fixed are revealed in a working environment that makes it easy to see priorities.
More than anything, money changes everything. To find out how, check out the Blender Blog. Changes will be documented and opinions will be stated.