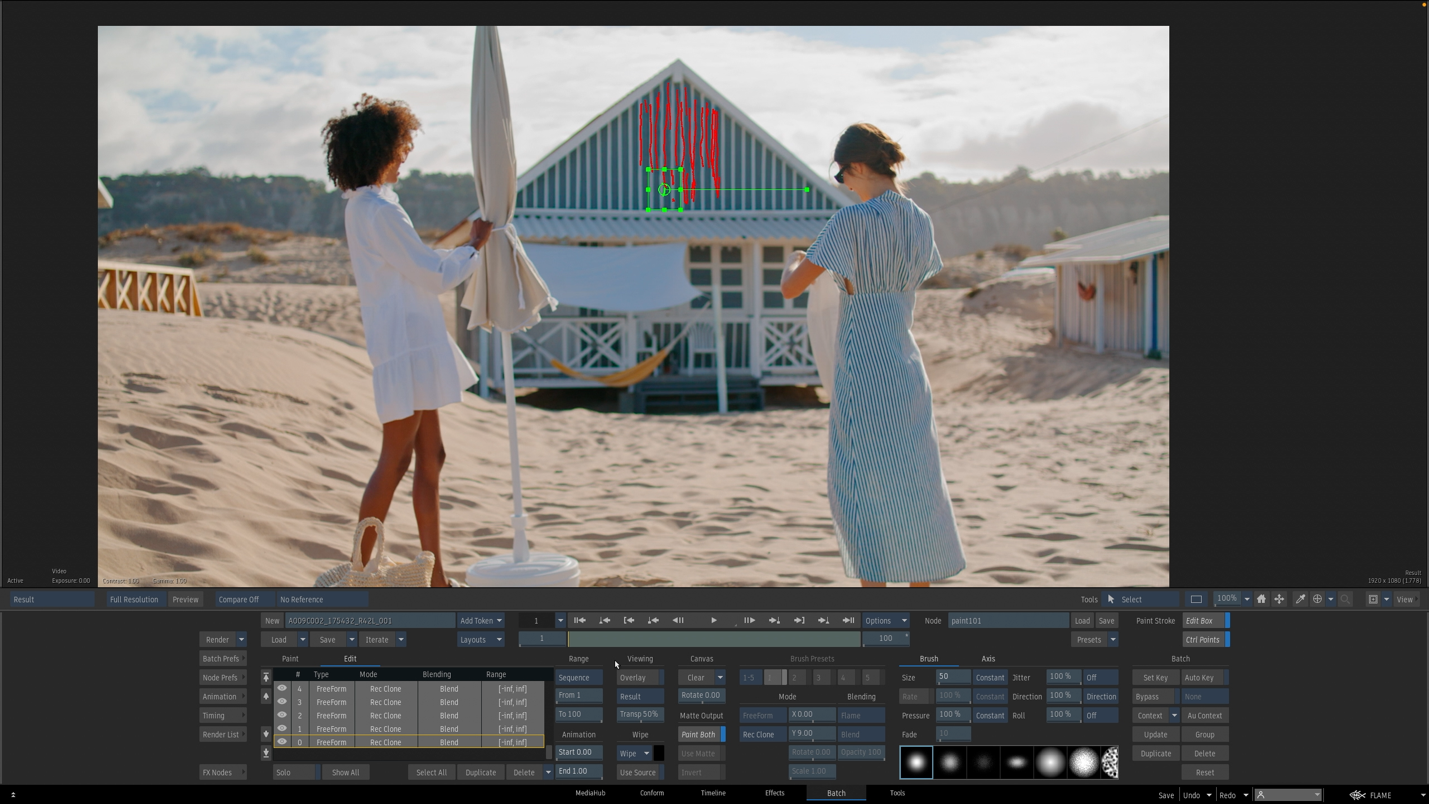 The new updated Flame offers a number of paint improvements. (Source: Autodesk)
Autodesk is shipping Flame 2024, the latest version of its finishing, compositing, and VFX software, with the goal of creating a centralized workflow hub. Updates include features to improve workflow, including those in the cloud. And, the Flame family of products now supports Apple silicon. 
It's clear that postproduction finishing, compositing, and VFX workflows have changed in recent years, as more facilities are adopting cloud infrastructures and workflows to connect globally dispersed individuals and teams. Recognizing this evolution, Autodesk has updated its Flame 2024 with features that continue to assist these dynamics as well as changes that are beneficial to all Flame users, no matter their access.
Autodesk is focusing on creating what it calls a hub for conform, timeline, VFX, publishing, color, and delivery at the heart of the finishing workflow. Not only will this enable Flame artists to work faster and more efficiently across these processes, but it will also help teams deliver more content faster using local solutions as well as those in the cloud.
In terms of efficiency, a new metadata content-aware overlay feature has been added, so users can view shot metadata in context directly in the Flame viewer UI, making it easier to monitor and track shots when collaborating across teams. Users can also save presets and share them. Additionally, the Burn-In Metadata tool now contains new options (Star Frame, Handles, Timeline FX, and Batch Iteration) that will streamline productivity, especially during complex workflows.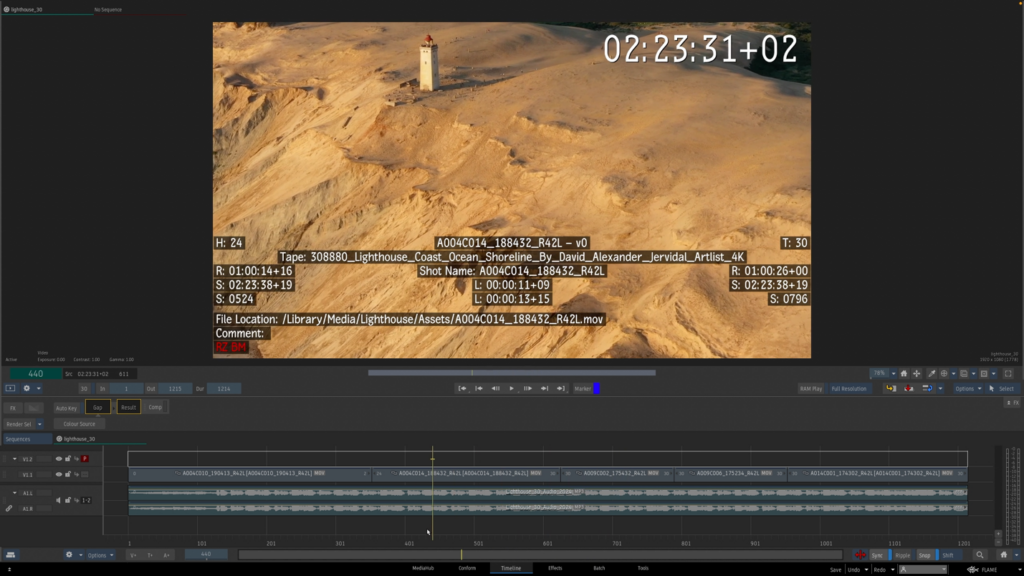 The metadata overlay. (Source: Autodesk)
This latest version of Flame further builds on the software's cloud-enabled finishing capabilities introduced last year, making it even easier to collaborate in the cloud and even meet increased demands during increased periods in production. Recent support for AWS and Cloud Digital Interface (CDI)—which allows users to move uncompressed video between AWS instances—results in high-quality, low-latency reference monitoring while working in the cloud. Users of Flame AWS can transmit 8-, 10-, and 12-bit video signals with audio for better reference display and viewing, and when paired with a supported streaming solution, signals can be sent to multiple devices for remote work and collaboration. Also, Batch Paint, one of the most widely used tools in Flame, can now apply changes to multiple strokes at once and track strokes directly within the Paint node. Other updates include definable brush presets, a preference to set the default status of the Consolidate option, a cleaner UI displaying all the controls, and more.
One studio, Carbon, has shown how running Flame on the cloud enables it to scale the number of active Flame workstations as needed. The studio's Flame life cycle is built into a GitLabs open-source product, so updates are made automatically, thereby saving time. Not only does this provide Carbon with the latest Flame versions quickly, but the unique deployment enables the studio to scale up the number of active Flame workstations when needed to meet project demands.
In addition, users can port a direct NDI preview out of Flame and into Moxion Rooms as a Live Asset through Moxion Connect. Also, Flame and Moxion APIs can be used to send a Flame sequence to Moxion, bring it into a Moxion Room for review, and then send a report of the review session back to the Flame artist.
Lastly, Autodesk announced that the Flame family now runs natively on the latest Mac computers and operating systems. This follows last month's announcement that Maya as well as Bifrost and Arnold for Maya, now run natively on Apple M1 and M2 chips.