Workflows and tools have changed significantly since Autodesk founded its Media & Entertainment division many years ago, and the company has strived to keep pace. Autodesk recently updated its M&E portfolio with changes that continue to help streamline artist workflows. Autodesk also announced that it is supporting Apple Silicon in its Maya (and AutoCAD) software.
Autodesk has been a mainstay developer in the M&E industry for about 27 years, starting with its first release, 3D Studio (now 3ds Max). A few years later, the company established its Media & Entertainment division following its acquisition of Discreet Logic, maker of the Flame, Inferno, Flint, and Smoke visual effects, compositing, finishing, and editing systems. Since then, Autodesk has never looked back. Over the years, it has gobbled up other companies with star-quality products including SGI's Alias (Maya), Avid's Softimage, and a string of others. The tools from those acquisitions, along with internally developed ones, have made Autodesk software the hallmark of the industry, used far and wide for games, film, and broadcast content creation.
One of the big concerns voiced by users time and again pertains to interoperability, especially as the lines separating and joining this growing list of products began to blur. Content creation has certainly evolved since Autodesk M&E's early days, and as we all know, the need for creative content is insatiable at this point. As a result, efficiency is more concerning than ever for artists, along with the need for collaboration, particularly given the rise of virtual production.
Interoperability is something Autodesk has been working hard to address across tools, workflows, and pipelines. For the past year or so, the company has repeated its commitment to support open standards and has made a number of its tools that work with Maya open sourced, and it is continuing that trend.
With the recent updates to its 2024 M&E product portfolio, which includes Maya 2024, 3ds Max 2024, Bifrost 2.7, and Arnold 7.2, the company has iterated that commitment. "Whether they're working on the next big blockbuster, streaming content, or games, our customers use a lot of different tools to get productions out the door. It's a top priority for us at Autodesk to help connect their workflows, so they can work nimbly and efficiently across teams and projects," said Diana Colella, senior vice president, Autodesk Media & Entertainment. "That's why we've focused our development efforts on integrating open standards like USD, LookDevX, and OCIO across our tools. We're excited to continue on this path, building deeper connections between our solutions and third-party tools, so that our customers have truly connected workflows for collaboration."
LookDevX is a new agnostic material editor in Maya that standardizes material workflows, allowing artists to create complex shading networks that can be shared freely and accurately throughout studio pipelines. With a modern, node-based environment, this enables artists to author a variety of materials like USDShade, Material X, and Arnold, which can then be used by other artists across multiple projects.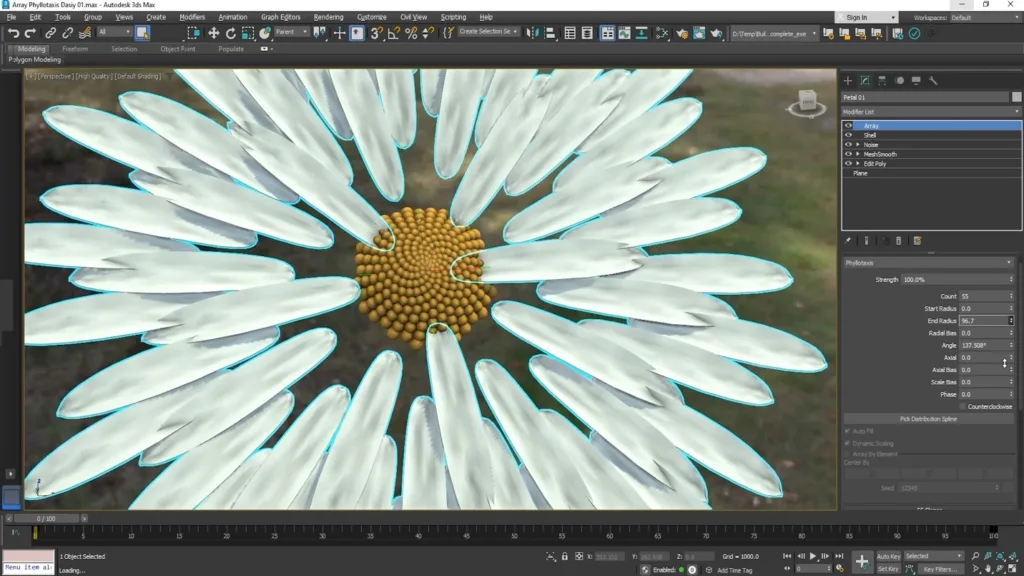 Make natural images even more beautiful with the Array modifier in 3ds Max. (Source: Autodesk)
For 3ds Max, Autodesk has expanded the modeling tools, offering a new Boolean modifier that provides a modern, more intuitive way to produce clean geometry, as well as updates to the Array modifier for procedural creation of nature-like scenes. Also, Color Management gives artists more control over colors and their consistency throughout every phase of production.
For Maya, in addition to LookDevX and Hydra, Autodesk has added new tools and workflows including updates to Retopologize and the Boolean modifier for more creative control, along with streamlined animation capabilities for more fluidity during editing. Bifrost, Maya's visual programming environment, received a complete overhaul of viewport volume rendering.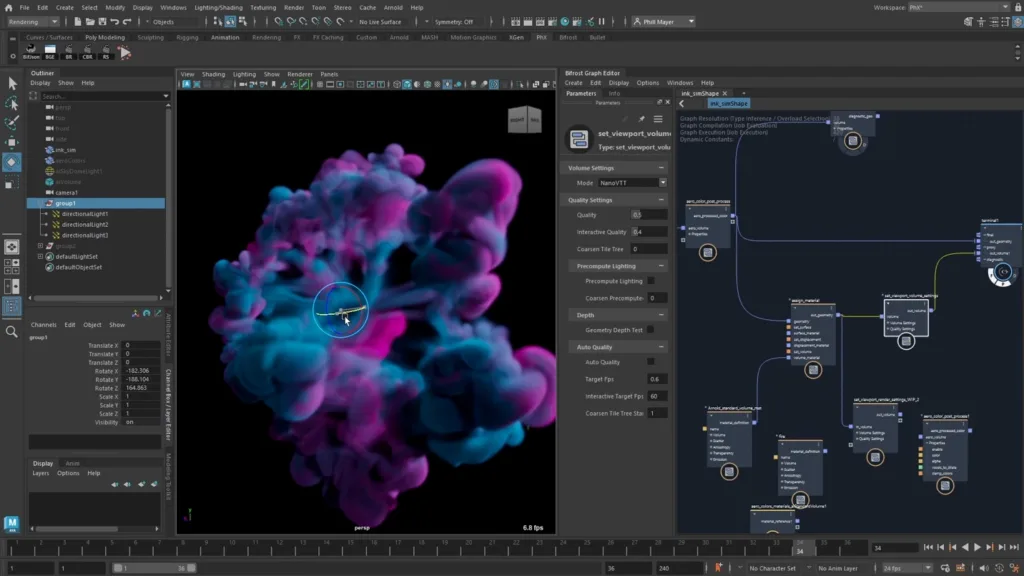 Thanks to Bifrost, artists have access to MPM Gel, a cool, new capability that simulates substances such as soft-serve ice cream. (Source: Autodesk)
In a "if you blink, you'll miss it" announcement, Autodesk is supporting Apple Silicon. To this end, Maya, along with Bifrost and Arnold for Maya, can now run natively on Apple M1 and M2 chips, providing a performance boost during rendering—exactly how much of a boost, however, is unclear. (On the previous day, Autodesk also announced its AutoCAD for Mac 2024, and for the first time, that product and AutoCAD LT for Mac 2024 will run natively on both Intel and Apple Silicon architectures. Autodesk claims the support for Apple Silicon can increase overall performance by up to 2× compared to the 2023 versions of those CAD products.)
In other news, the company has made some fast friends of late, saying it is collaborating with Adobe to build a material standard that combines Autodesk Standard Surface and Adobe Standard Material. It is also teaming with Microsoft for a beta version of AI-powered Maya Assist, which enables artists to interact with Maya scene data using Microsoft's Azure OpenAI Service. With this capability, users will be able to automatically manipulate scenes using natural language text prompts directly in Maya.