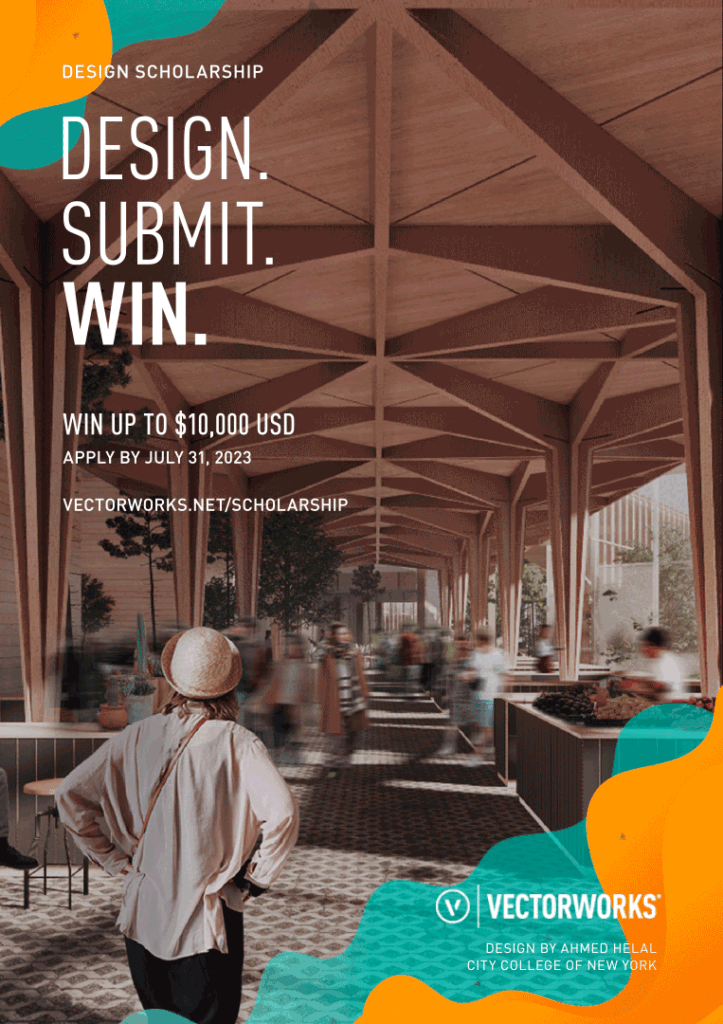 Vectorworks, Inc. is inviting submissions from students around the world for its seventh Vectorworks Design Scholarship competition. Undergraduate and graduate students in major disciplines related to architecture, landscape architecture, entertainment, and interior design can enter the competition. Students can submit a new design or past project from any of their classes for the opportunity to win a scholarship prize of up to $10,000 US. The closing date for submissions is July 31, 2023. The winners will be revealed on December 8, 2023. The rules and eligibility criteria are listed here.
"It's clear that today's student designers have limitless potential. We're honored to have the opportunity to showcase their creative talents and innovative designs, but also to help to foster their future careers through the exposure and financial assistance this competition can provide," said Jen Hart, Vectorworks academic marketing programs specialist. "We encourage all students to take advantage of this unique opportunity to shine a light on their achievements as they embark on their professional journey."
The competition will be judged in two rounds by an expert panel of international judges. The submissions will be evaluated on five main criteria: design, technology, originality, presentation, and writing. The winners of the first round will receive up to $3,000 US and entry to round two to compete for the Richard Diehl Award, a global award providing an additional prize package including $7,000 US, professional networking opportunities, and media exposure. In addition to the prize money, winners' schools will also receive free Vectorworks Design Suite software and free virtual or in-person workshop training provided by a Vectorworks expert for faculty and students.
Submission deadlines and prize award amounts differ based on the applicant's country or region. Click here for more information.
2022's Richard Diehl Award winner was Michelle Wanitzek for her "Nomad Coworking" project. View all the winning and runner-up submissions here.