New features improve color grading, camera tracking, review, through FX and editorial.
Apparently, Autodesk's developers have not been waiting out the pandemic. In response to user requests and experiences during the pandemic, Autodesk has taken advantage of emerging technologies to add more than 40 improvements to Flame 2022.
The company has taken advantage of Machine Learning (ML) to make significant improvements to Flame's camera tracking capabilities, finishing, and color grading. In fact, what Autodesk has done with camera tracking has resulted a feature that goes beyond camera tracking.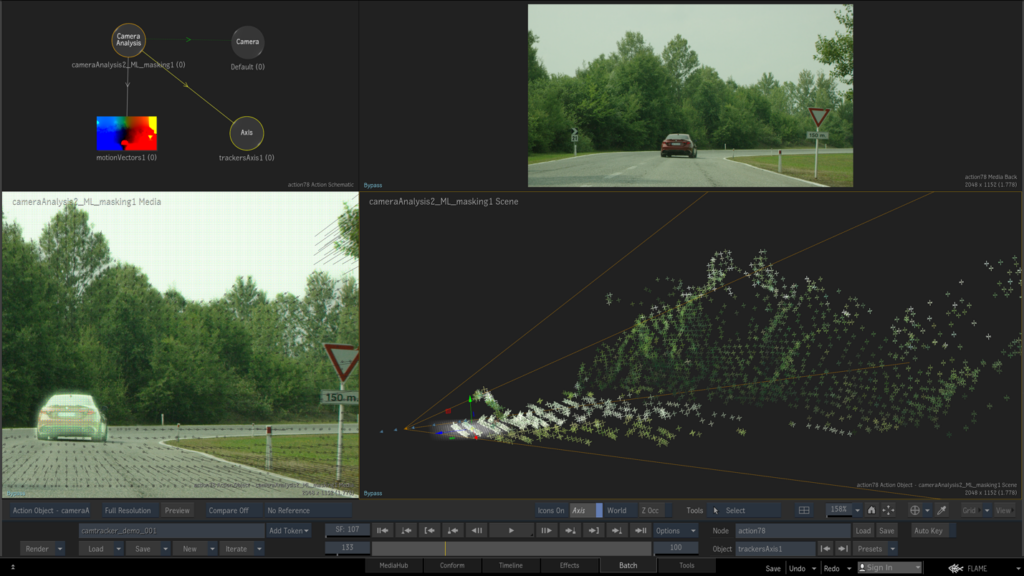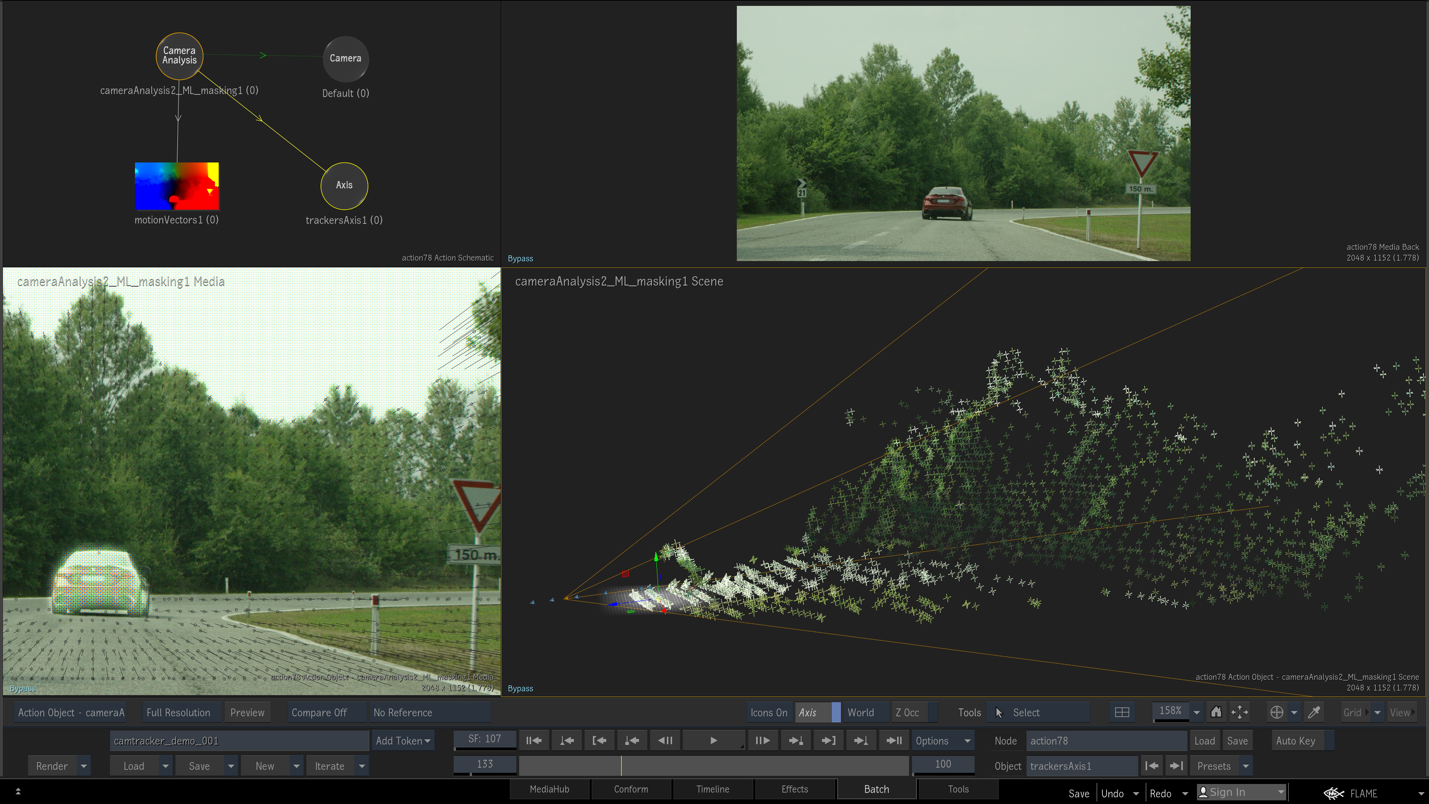 Autodesk uses scene reconstruction algorithms used by mobile phones, autonomous vehicle technologies, and scanning technology point clouds to create a much more powerful camera tracker. Flame is now smart enough to recognize moving objects like people, cars, and skies that interfere with camera tracking and can automatically mask out those elements allowing the camera tracker to solve faster. Autodesk says that many times camera tracker can provide a one-click solution, it delivers high-quality results with over 5,000 points much faster than it did previously or that can be achieved by traditional methods.
In addition, that same technology can use the data gathered to create 3D geometry and place 3D objects in a moving shot, apply masking for compositing, selective effects or color-grading. In addition, says Autodesk, macros for re-projection enable cleaned up "patches" or new elements into a scene. The technology is taking advantage of Structure from Movement (SFM) and simultaneous localization and mapping (SLAM) to reconstruct scenes.
Flame's finishing tools have been updated with a LUT loader that enables users to import external LUTs and color transforms from other sources (.3dl, .cube, .ctf., .ccc) directly inside Action and Image toolsets. Looks can be applied to the entire frame or part of it. In addition, frame enhancements include GMask Tracer functionality, support for industry-standard tactile colorist control panels (Arc, Element, Eave 2, Ripple, Element-Vs), and Blackmagic RAW media.
Support for Blackmagic Raw has been causing a stir around the filmmaking community as have Blackmagic itself, which is empowering indie producers, small FX houses, and streaming video producers while Blackmagic cameras and equipment are also showing up in more high-budget productions and one of the reasons is support for NDI.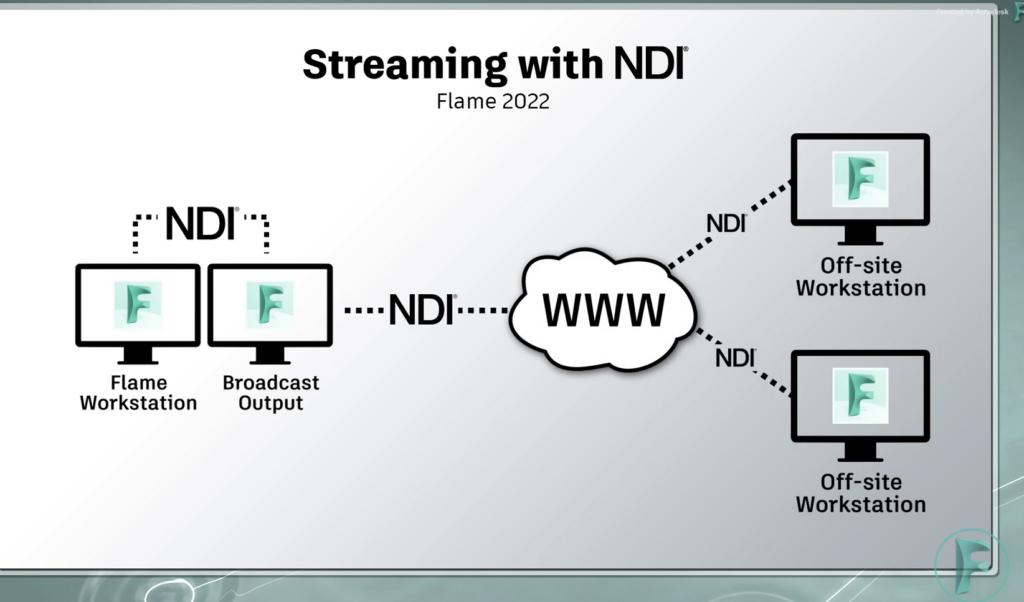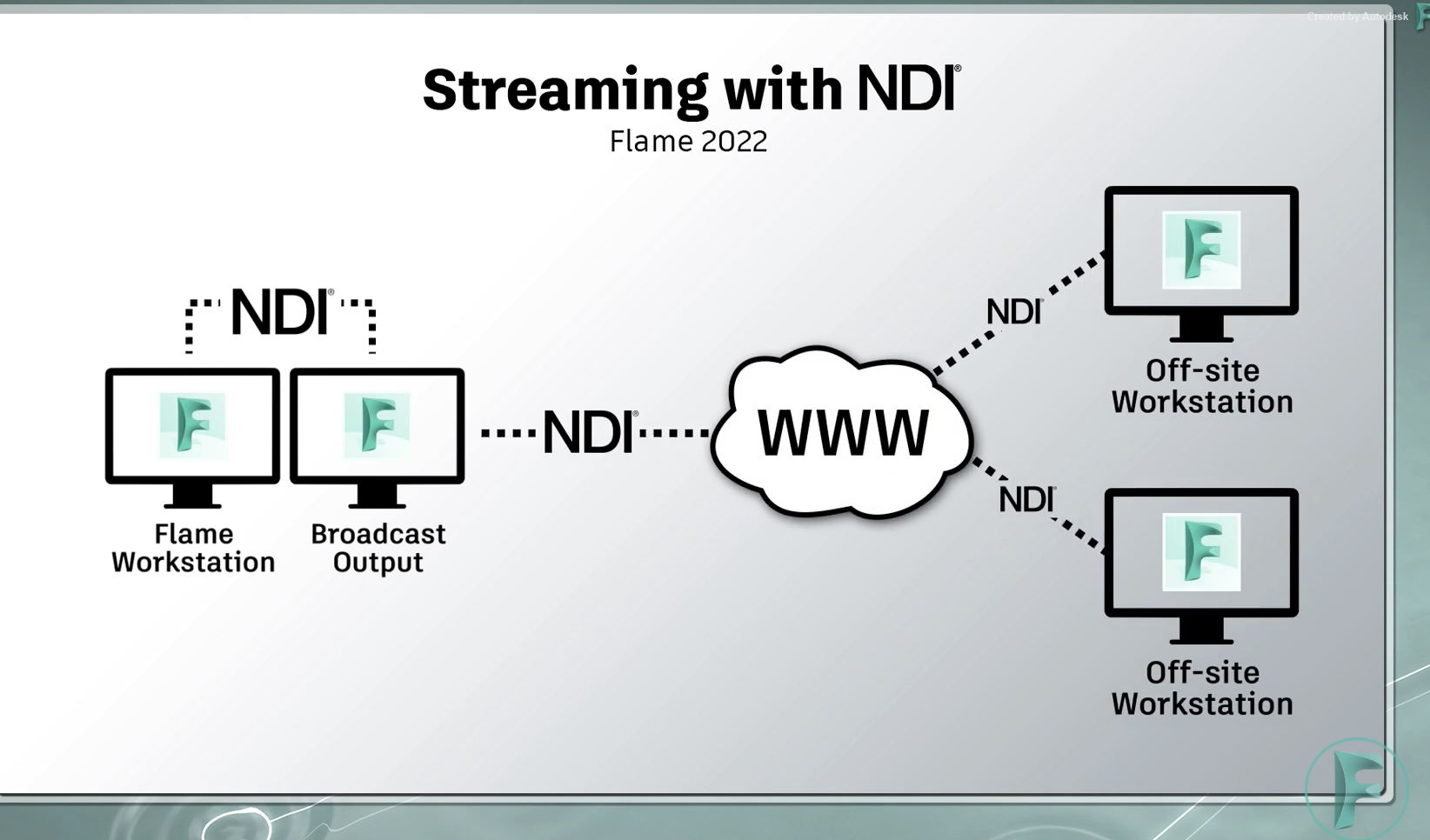 NDI (network device interface) is transforming production work on large and small projects. Developed by Newtek and introduced in 2015, NDA enables cameras, switchers, monitors, storage, and other devices to be connected via common, every day 1 GB Ethernet. It's been percolating along much more efficient and cheaper workflows on sets and locations, but it's become clearly revolutionary with the onset of the pandemic and production shutdowns around the world. Now NDI is enabling off-site review. Flame says NDI support extends to webcasting software such as OBS Studio and streaming services including YouTube Live, Facebook Live, Twitch, and the inevitable Zoom.
It's been remarkable to see how quickly the VFX community has figured out how to keep working using remote tools. They certainly didn't wait for Autodesk to hand them solutions, but Autodesk has been smart enough to learn from what their users are doing.
Will Harris, Autodesk's Flame Family Product Manager, says the new tools in Flame are the direct result of the work their customers have done to continue working and deliver high-quality content.
To learn more, Autodesk will be presenting a Catch Up with Flame Webinar on Wednesday, April 28 from 12–1:30 pm ET/9:30–10:30 am PT.