Q1 revenue $19.7 billion, down 1% YoY, $1.1 billion above expectations.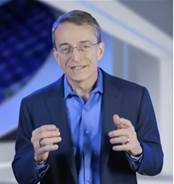 First-quarter revenue exceeded Intel's January guidance by $1.1 billion, said the company, led by continued strong PC demand. PC unit volumes were up 38% YoY, and notebook volumes set a new Intel record. The company also saw an initial recovery of Enterprise and Government sales in the Data Center Group (DCG). Intel also achieved better-than-expected revenue in their Internet of Things Group (IOTG) and Mobileye, and Mobileye set a new revenue record in the quarter.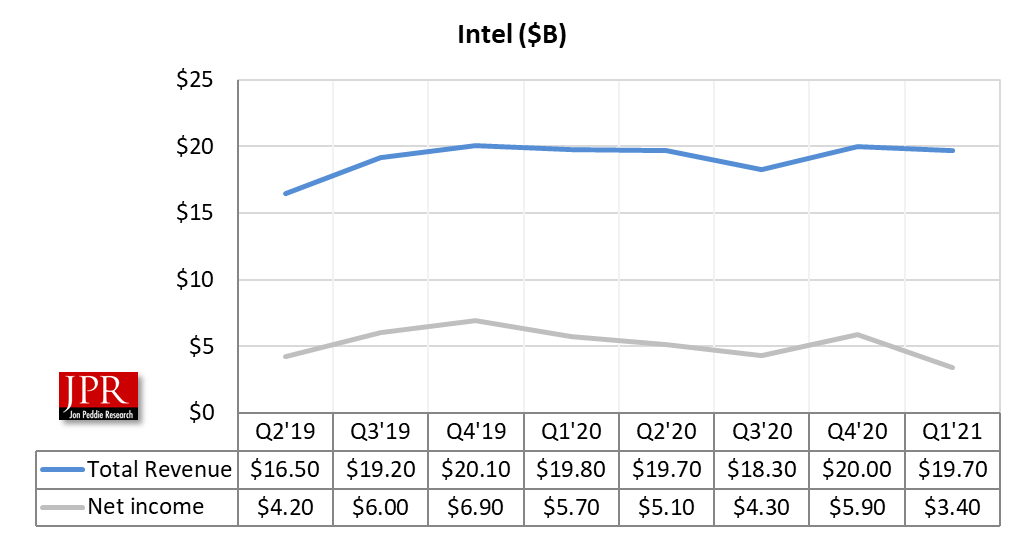 "Intel delivered strong first-quarter results driven by exceptional demand for our leadership products and outstanding execution by our team. The response to our new IDM 2.0 strategy has been extraordinary, our product roadmap is gaining momentum, and we're rapidly progressing our plans with re-invigorated focus on innovation and execution," said Pat Gelsinger, Intel CEO. "This is a pivotal year for Intel. We are setting our strategic foundation and investing to accelerate our trajectory and capitalize on the explosive growth in semiconductors that power our increasingly digital world."
In the first quarter of 2021, Intel shipped new CPU products and announced key customer design wins. The company also completed the CEO transition to Pat Gelsinger who unveiled Intel's new, differentiated IDM 2.0 strategy for manufacturing, innovation and product leadership.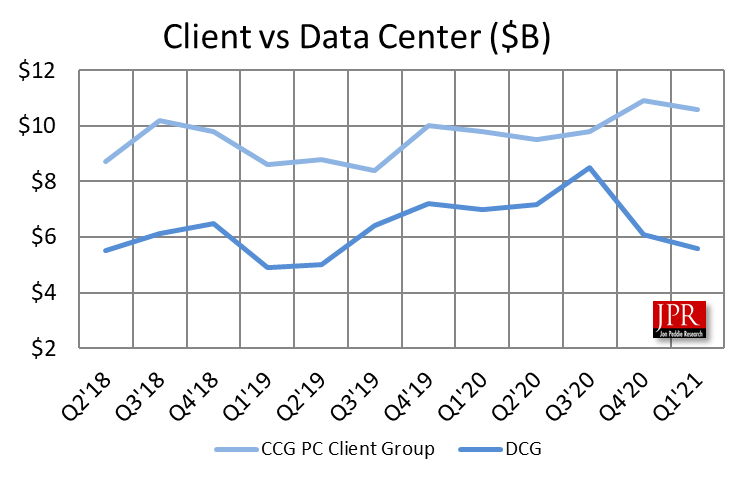 Intel listed their Q1'21 business highlights as:
Announced new IDM 2.0 Strategy, including $20 billion capacity expansion plans in Arizona and new Intel Foundry Services.
Introduced new client processor families including 11th Gen Intel Core vPro platform, N-series 10-nanometer Pentium Silver and Celeron processors, 11th Gen Intel Core H-series mobile processors, and 11th Gen Intel Core S-series desktop processors (code-named "Rocket Lake-S").
Launched new 3rd Gen Intel Xeon Scalable processors (code-named "Ice Lake"), including new network optimized "N-SKUs".
Achieved Amazon Web Services High-Performance Computing Competency status. Announced 5G network collaboration with Google Cloud.
Intel's Habana AI accelerators and Intel Xeon Scalable processors selected by the University of California at San Diego to power the new Voyager supercomputer.
Shipped new Intel Agilex FPGAs with heterogeneous integration and advanced 3D packaging.
Mobileye's self-driving system, Mobileye Drive, will be the autonomous "driver" for Udelv's next-generation electric self-driving delivery vehicle.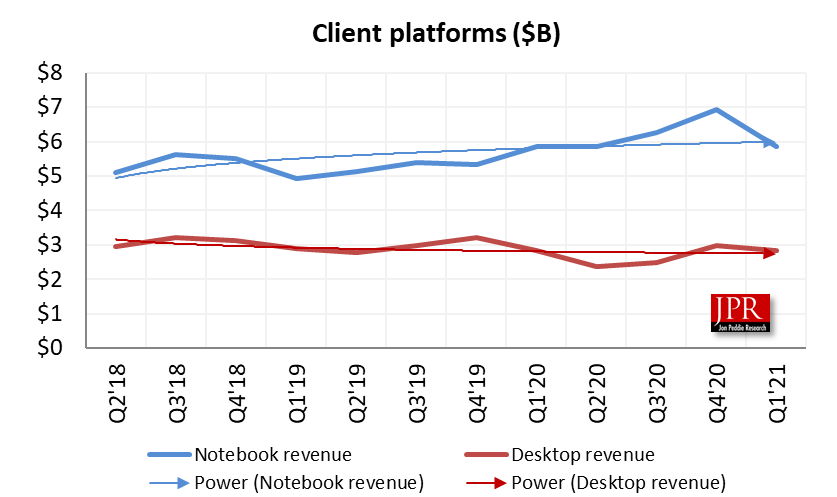 Intel's Client Platform sales by quarter. (Source: Intel)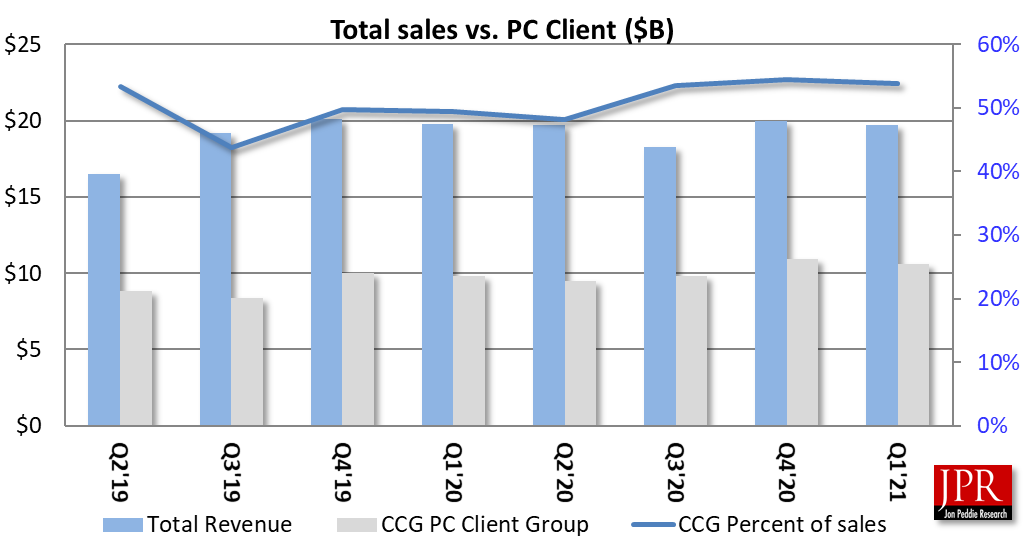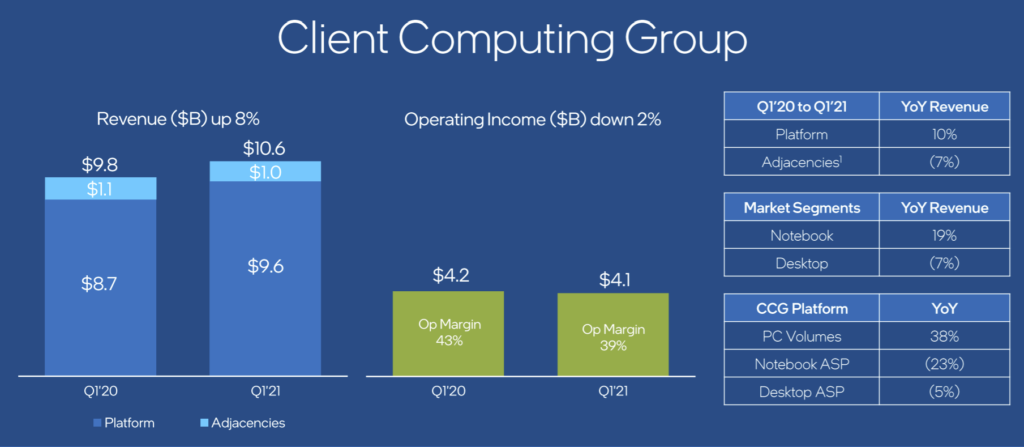 Gelsinger said, "There are four superpowers driving digital transformation: cloud, connectivity, artificial intelligence, and the intelligent edge."
Intel's mission, and they are uniquely positioned to do so, is to help customers harness these superpowers to improve the lives of every human on the planet.
The digitization of everything was markedly accelerated by COVID and has spurred innovation and new models of working, learning, interacting, and caring. Technology is increasingly central to every aspect of human existence, and semiconductors are the foundation. This is creating a cycle of explosive growth in semiconductors that will result in sustained growth for a decade or more.
Gelsinger says:
The PC ecosystem, in particular, is experiencing a resurgence. The remote work and learning dynamics of COVID led to more PC shipments in 2020 than at any point since 2012, and that's continuing. 2021 is shaping up to be the largest PC market ever. In fact, we shipped more notebook CPUs in QI than in any other quarter in our history. Total platform unit volumes were up well over 30% in the first quarter.

"in many markets, one PC in every home is no longer enough. The number of PCs per household — what we call "PC density" — is increasing. We are seeing strong growth in education where, on a global basis, the number of PCs per 100 students and teachers still remains in the single digits. Every student needs a laptop, and we have a long way to go. In addition, there are over 400 million PCs running Win 10 that are over 4 years old today, which is an enormous PC refresh opportunity.

"Intel is leading this rejuvenation of the PC with marketing, user experience, and purpose-built innovation at the software, silicon, and platform level. We shipped "Tiger Lake H" for notebooks and Rocket Lake for desktops, and customer reception has been enthusiastic. As a  sign of our improving execution, we qualified Tiger Lake H ahead of schedule on 10 -nanometer and we expect 10-nanometer unit volumes to crossover 14 nanometer in the second half of the year.

Our Intel Evo platform give buyers the very best mobile experience, and we're deepening our ecosystem engagement with partners including Microsoft, Google and Samsung to advance the PC experience in new, innovative ways.

We see no signs of PC demand slowing and believe the industry will return to shipping more than a million units a day."
His full statement can be found here.
Outlook
The company is forecasting second-quarter 2021 revenue of approximately $17.8 billion (non-GAAP revenue of $17.5 billion); expecting first-quarter EPS of $1.05 (down 8% YoY).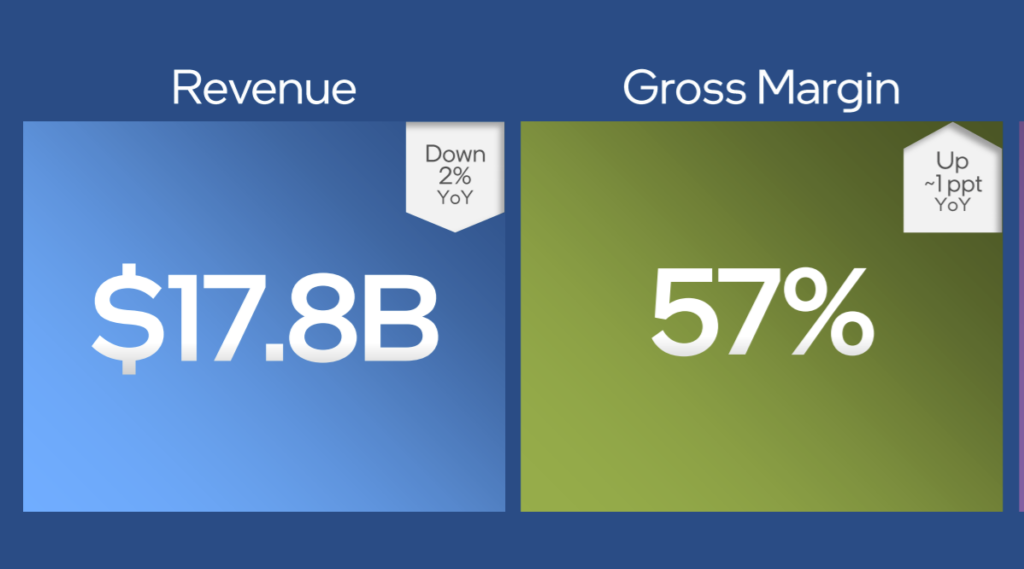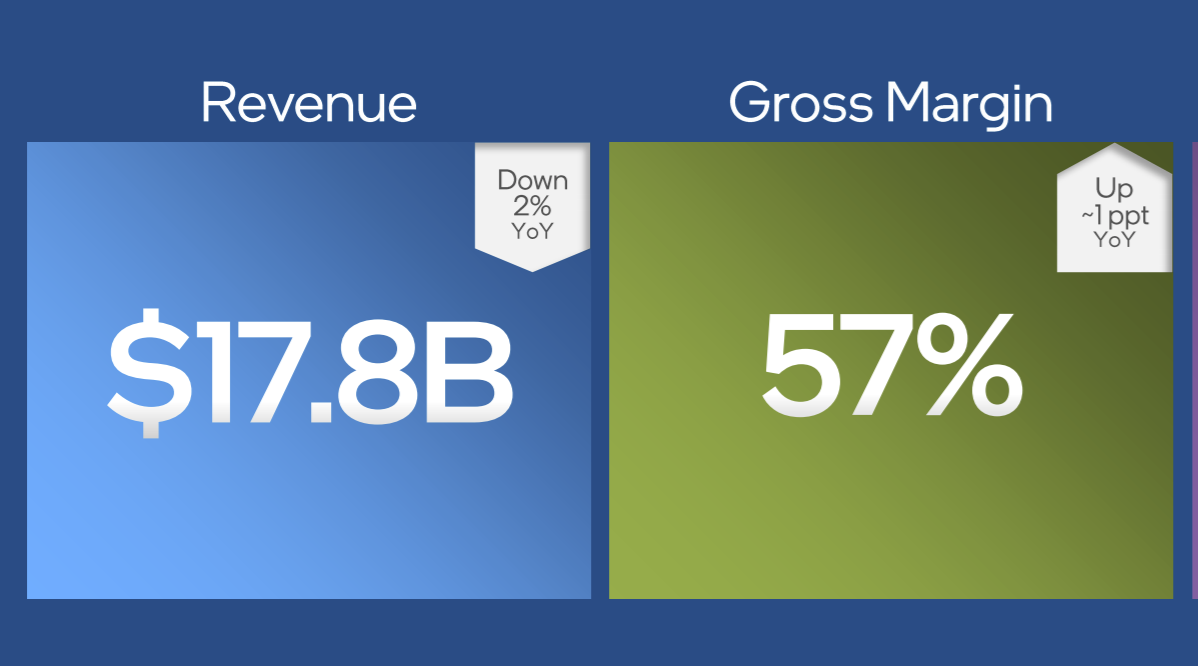 What do we think?
This was one of Intel's more subdued quarterly presentations. The results were in line with last year, and the forecast is too. There was no mention of the company's forthcoming GPUs which is bound to raise the rumor mill's noise level.