The media and entertainment (M&E) industry also got affected due to the worldwide pandemic. The demand for streaming content and games increased sharply but content creators and members of production teams were sheltering in place as per the Covid protocols. The pandemic hastened up the move to cloud-based workflows. The M&E industry is working towards creating a resilient future by putting content creation and production management tools in the cloud.
Taking one more step towards its vision for the cloud, Autodesk recently announced that it is acquiring LoUPE, a cloud-based CG production solution that integrates key components of production into one package, from asset and project management to render management. Tangent Labs, a technology company based in Toronto, Canada, launched LoUPE in November 2020. Jeff Bell, CEO and Founder of Tangent Labs, says that Loupe is a tool developed "for artists, by artists." Bell will be joining Autodesk with his development team. He says he is excited about joining Autodesk again. Bell worked at Autodesk as an application engineer for Maya in the 1990s.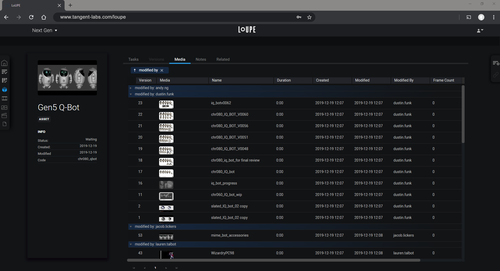 . The company's blog post about the LoUPE acquisition is as follows:
Autodesk announces acquisition of cloud-based animation pipeline software from Tangent Labs
Creating great entertainment requires talent and imagination, and the will to push boundaries, take risks and tackle the unknown. The same skillset also helps make great software.
One such pool of talent is not far from Autodesk's office in Toronto, at Tangent Labs. We are delighted to announce that Autodesk is acquiring LoUPE, a powerful cloud-based production pipeline technology for artists and studios, and the team that created it.
We share a common passion—the desire to build software that empowers animators and studios to create the best stories and entertainment. Removing friction from production allows more time for creative ideation and iteration that lets them produce more content, faster.
We believe that a cloud-based production ecosystem for Media & Entertainment (M&E) is the right way to tackle the future needs of the industry. Cloud-based workflows make it easier for artists, producers, and supervisors to work more efficiently and scale with the pace of production. This is a journey we are taking in collaboration with our customers, our partners, industry organizations, and even other software vendors.
This acquisition furthers our mission, and I'm excited about what it brings to Autodesk:  decades of production experience and extensive software expertise in areas such as asset management and real-time reporting & analytics. By combining this with Autodesk's well-established leadership in production management and content creation, we can accelerate the development of our next-generation cloud production tools on the Autodesk platform for M&E.
I'm equally excited that Tangent Labs founder Jeff Bell will be joining Autodesk with his development team. Jeff is a well-respected leader in the 3D animation industry who started his career at Alias Wavefront, and previously worked at Autodesk on the Maya team. In many ways, this is a homecoming for him. Jeff's animation and asset management expertise will help drive the future of production in the cloud, and shape future industry collaborations.
I welcome the new talent, technology, and expertise to Autodesk, and look forward to what we will accomplish together.