Revenue $7.1 billion, up 50% from a year earlier, profit up 84% to $2.46 billion.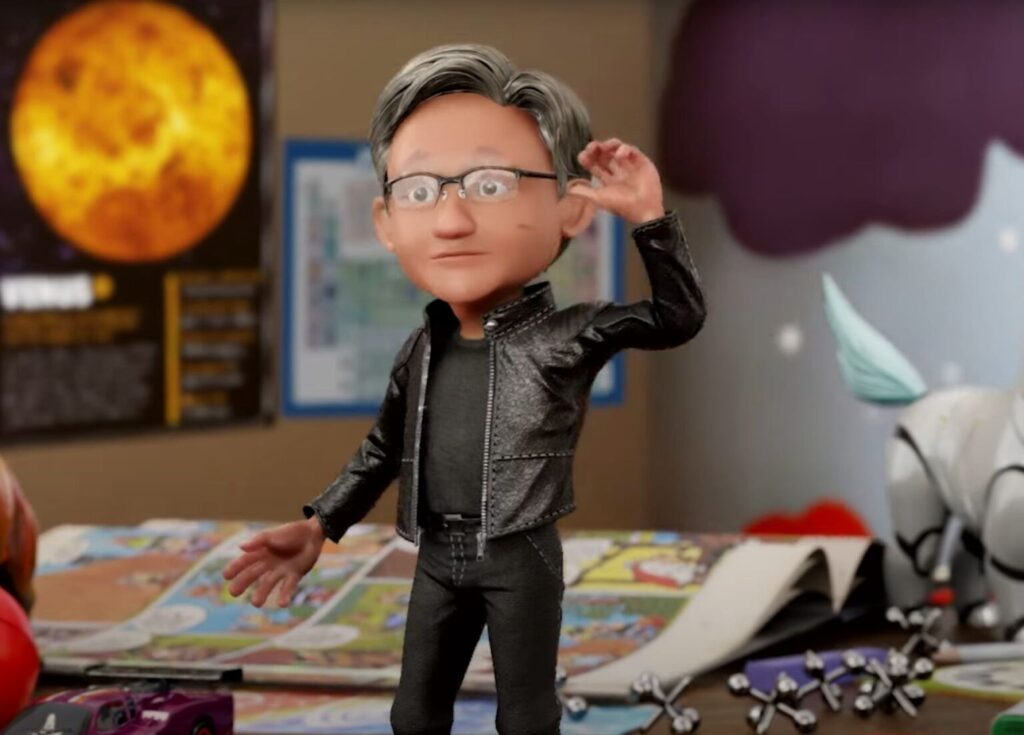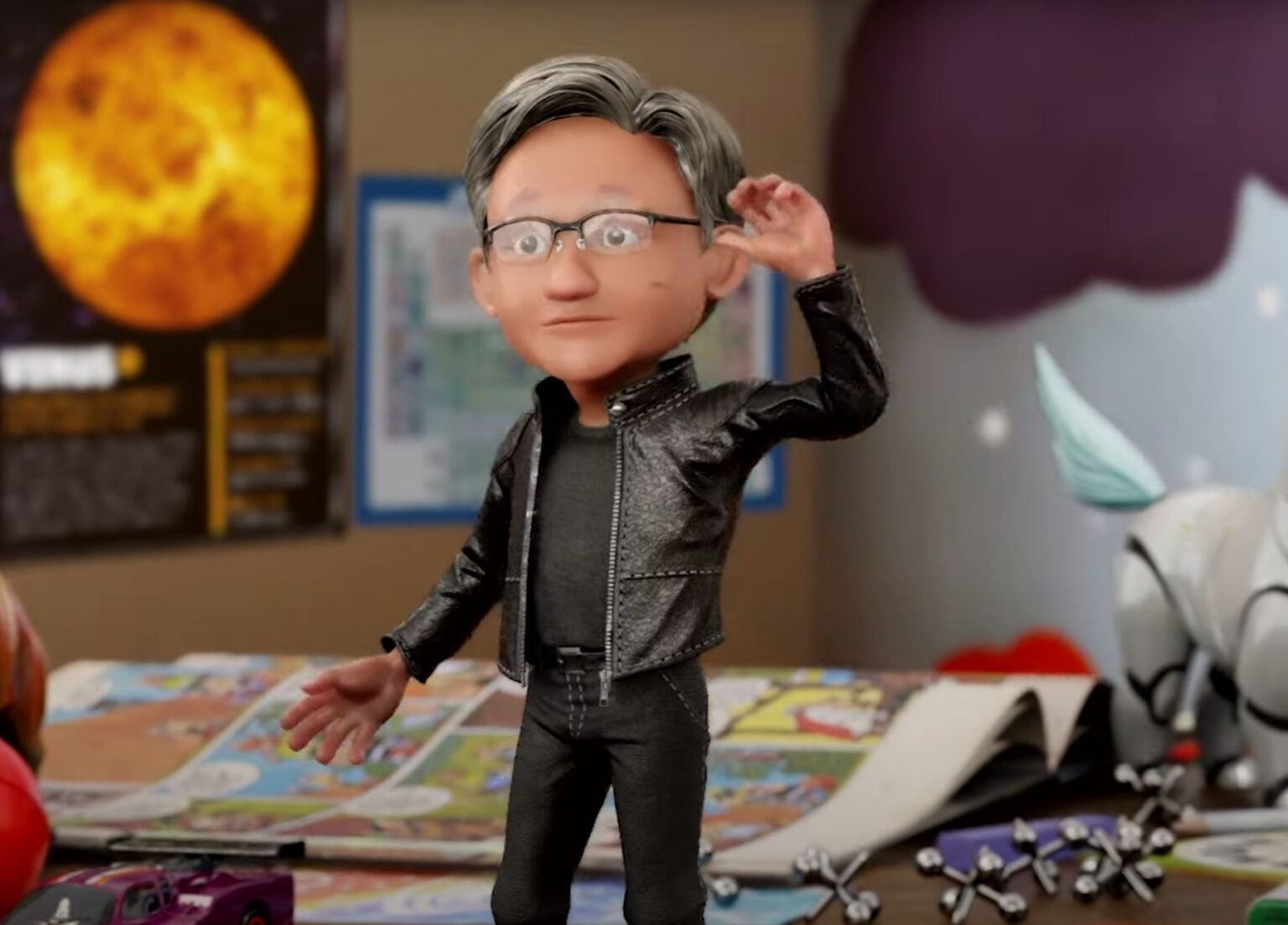 Nvidia's Q3'21 earnings report continues the company's revenue gains and sets another record. For the third quarter ended October 31, 2021, the company reported sales of $7.1 billion, up 50% from a year earlier and up 9.2% from the previous quarter, with record revenue from the company's Gaming, Data Center, and Professional Visualization platforms.
The company's Graphics business revenue was $4.1 billion, up 4.7% from last quarter and up 47% from last year.
"The third quarter was outstanding, with record revenue," said Jensen Huang, founder and CEO of Nvidia. "Demand for Nvidia AI is surging, driven by hyperscale and cloud scale-out, and broadening adoption by more than 25,000 companies. Nvidia RTX has reinvented computer graphics with ray tracing and AI, and is the ideal upgrade for the large, growing market of gamers and creators, as well as designers and professionals building home workstations.

"Our GTC event series showcases the expanding universe of Nvidia accelerated computing. Last week's event was our most successful yet, highlighting diverse applications, including supply-chain logistics, cybersecurity, natural language processing, quantum computing research, robotics, self-driving cars, climate science and digital biology.

"Omniverse was a major theme at GTC. We showed what is possible when we can jump into virtual worlds. Omniverse will be used from collaborative design, customer service avatars and video conferencing, to digital twins of factories, processing plants, even entire cities. Omniverse brings together Nvidia's expertise in AI, simulation, graphics and computing infrastructure. This is the tip of the iceberg of what's to come," he said.
Nvidia paid quarterly cash dividends of $100 million in the third quarter. It will pay its next quarterly cash dividend of $0.04 per share on December 23, 2021, to all shareholders of record on December 2, 2021.
Third-quarter revenue was a record $3.22 billion, up 42% from a year earlier and up 5% from the previous quarter. The company announced RTX capabilities coming to titles like Marvel's Guardians of the Galaxy, Battlefield 2042, and Dying Light 2, as well as Sony Interactive and Santa Monica Studio's God of War. What does that mean? It means those games are going to get a lot more beautiful with real-time ray tracing. RTX also has accelerated AI.
Nvidia said new RTX-accelerated AI features in Adobe applications highlighted at the recent Adobe MAX conference, are supported by the latest Studio Driver. In addition, there are new Studio systems from partners, including Microsoft, HP, and Asus.
GeForce NOW has been enhanced with a new high-performance membership tier providing access to GeForce RTX 3080-class gaming, and with the introduction of more Electronic Arts hit games.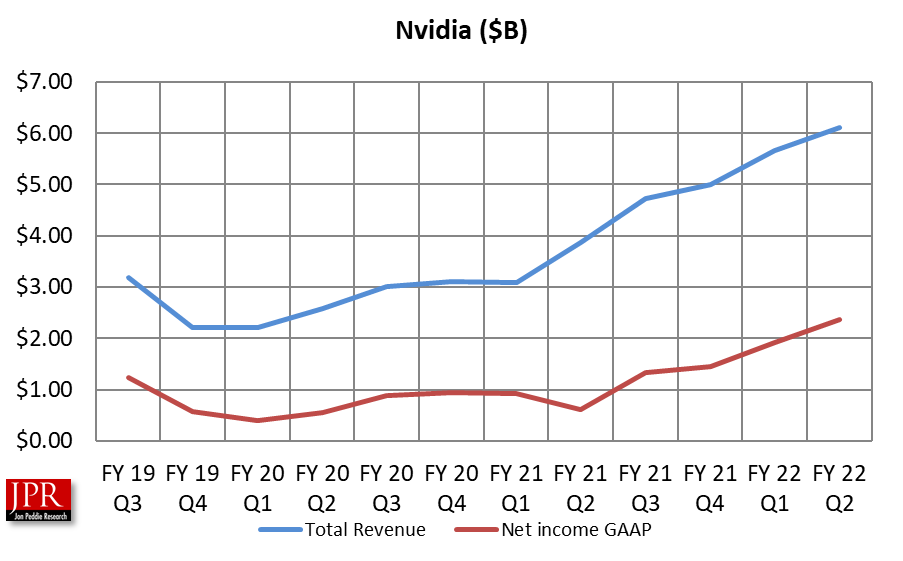 Data Center revenue was $2.94 billion, up 55% from a year earlier and up 24% from the previous quarter. Nvidia announced plans to build Earth-2, an AI supercomputer dedicated to addressing the global climate change crisis.
The company announced the general availability of Nvidia AI Enterprise, a comprehensive software suite of AI tools and frameworks that enabled companies running VMware vSphere to virtualize AI workloads on Nvidia-Certified Systems.
Pro-viz revenue was a record $577 million, up 144% from a year earlier and up 11% from the previous quarter. Nvidia announced Omniverse Enterprise is in general availability, with the addition of AR, VR, and multi-GPU rendering, as well as announced adoption by Bentley Systems and Esri for digital-twin applications.
In automotive, the third-quarter revenue was $135 million, up 8% from a year earlier and down 11% from the previous quarter. The company announced that Nvidia Drive Orin is being used by autonomous truck company Kodiak Robotics, automaker Lotus, autonomous driving-solutions provider QCraft, and EV startup WM Motor.
Outlook
Nvidia's outlook for the fourth quarter of fiscal 2022 is as follows:
Revenue is expected to be $7.40 billion, plus or minus 2%.
GAAP and non-GAAP gross margins are expected to be 65.3% and 67.0%, respectively, plus or minus 50 basis points.
GAAP and non-GAAP operating expenses are expected to be approximately $2.02 billion and $1.43 billion, respectively.
GAAP and non-GAAP other income and expense are both expected to be an expense of approximately $60 million, excluding gains and losses from non-affiliated investments.
GAAP and non-GAAP tax rates are both expected to be 11%, plus or minus 1%, excluding any discrete items such as excess tax benefits or deficiencies related to stock-based compensation.
Capital expenditures are expected to be approximately $250 million to $275 million, including principal payments on property and equipment.
What do we think?
Compute and network had a bigger Q-Q and Y-R growth than Graphics for the third time, 16% compared to 15% for the quarter. But Graphics still brings in more revenue.
In the segments, Data Center was the big winner with 24% quarter-to-quarter, and a 54% year-to-year growth. Data Center is getting the benefit of Mellanox sales.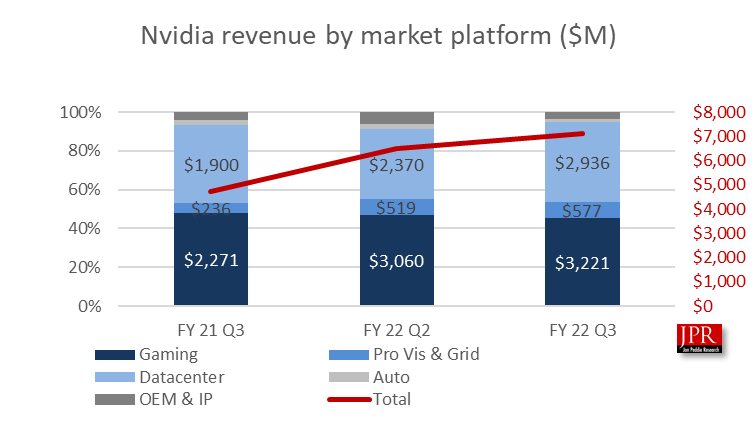 Nvidia formally announced its Omniverse just in time for Facebook's attempt to change the conversation with a distractive name changing and the reintroduction of the term metaverse, which all the ducks in the industry have just discovered—imagine, the METRAVERSE!  Holy cow!  There's a lot of silliness, but the publicity around 'verses is cumulative and doesn't hurt either company.
As the following chart shows, the Data Center stuff has had the best five-year growth for some time.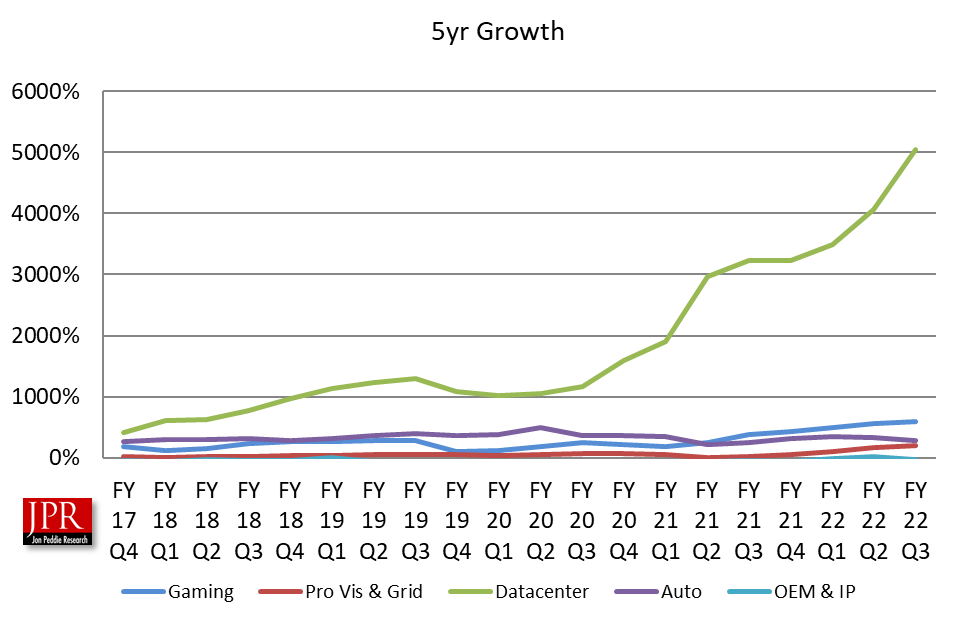 The numeric values are shown in the following table.
| | | | | | |
| --- | --- | --- | --- | --- | --- |
| ($ in millions) | FY 21 Q3 | FY 21 Q4 | FY 22 Q1 | FY 22 Q2 | FY 22 Q3 |
| Gaming | $2,271 | $2,500 | $2,760 | $3,060 | $3,221 |
| Pro Visualization | $236 | $307 | $372 | $519 | $577 |
| Datacenter | $1,900 | $1,900 | $2,048 | $2,370 | $2,936 |
| Auto | $125 | $145 | $154 | $152 | $135 |
| PC & Tegra OEM/IP | $194 | $153 | $327 | $409 | $234 |
| Total | $4,726 | $5,005 | $5,661 | $6,510 | $7,103 |
Nvidia quarterly revenue trend by markets. (Source: Nvidia)
Nvidia has been the leader in gross margin since Q1'19 and beat AMD by 19 points.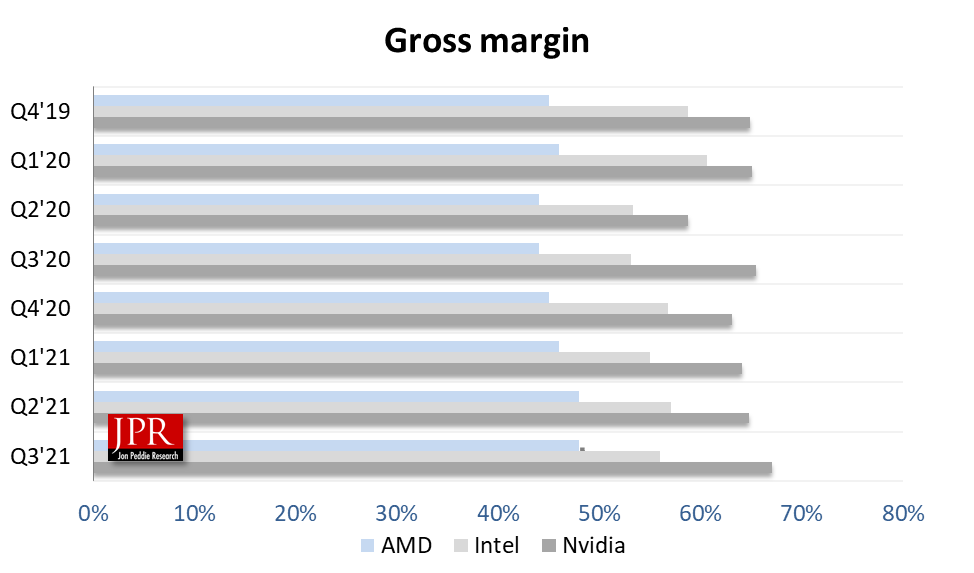 Most of Nvidia's investments have paid off, and the company is enjoying the demand created by the new applications, as well as work at home rules and companies going to a hybrid work arrangement.