The company announces new plans for the future and accelerates the transition to the cloud.
PTC reported its first quarter financial results for its fiscal 2022 and told investors all is going according to plan. At the end of 2021, PTC told investors it was putting its foot down on the accelerator to speed up its transition to the cloud. To do so, PTC CEO Jim Heppelmann told listeners on its Q4'21 investor call that the company would be restructuring to save money and put it into building its SaaS initiatives for Arena and Onshape as well as Windchill.
In addition, at the end of 2021 during its virtual Manufacturing Live Event, PTC unveiled its new DPM (Digital Performance Management) program that will help customers evaluate the effectiveness of their systems with tools available to the workers on the front line. The company says it is a "self-regulating and self-measuring platform for closed-loop problem solving. Talking about the program during the Q4'21 call to investors, Heppelmann said the program will become a "category of solutions," and PTC's first introduction is DPM for factory. He said there will be ongoing introductions within DPM including digital performance management for a fleet of products in the field but what Heppelmann most wants to get across is that DPM will be turnkey solutions sold to companies for implementation and not a toolkit sold to developers within companies. And, at the beginning of 2022, PTC's management team said the new program will start bearing fruit next year.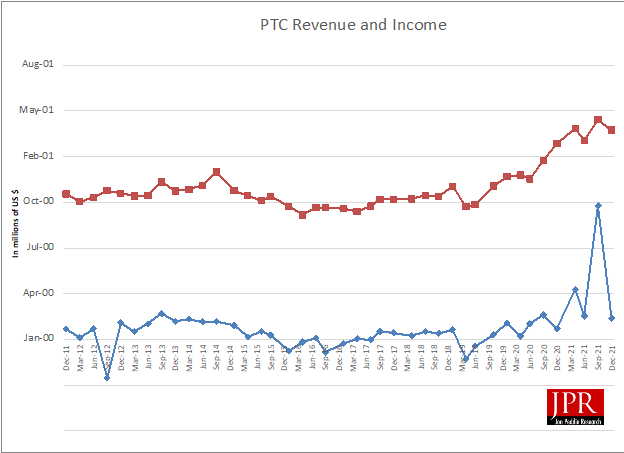 PTC's annual results tend to be backloaded.  At least that's been evident in the most recent years. The company's latter half of the year is a time for harvesting the work of the first part of the year. That was especially true at Q4'21, when the company saw high gains, and was comfortable enough to announce big initiatives and restructuring. For Q1'22, however, the company is careful to manage expectations. While Heppelmann says PTC's management is convinced that customers are ready to move to SaaS models; he was careful to remind investors that it's still a big lift for many companies and so will take time on some fronts.
PTC has begun to talk about its performance for the point of view of ARR (annualized recurring revenue) because they believe it provides an easier to understand picture of the year's revenues.  It's more helpful for us as we compare the performance of companies competing in the CAD/PLM/BIM markets if we stick to GAAP-based revenue figures but we recognize the window into the future offered by ARR because annual deals are recognized upfront not amortized over the year.
PTC says its ARR was $1,496 million at the end of the first quarter, a 12% increase compared to the same time last year. For the quarter, PTC's revenue for the quarter was $458 million, an increase of 7% year over year compared to Q1'21 when the company reported $429 million.
The company says it is seeing support for its belief that their customers in the manufacturing design and engineering segments are ready to move to the SaaS models as evidenced by high growth sales for its Arena and Onshape.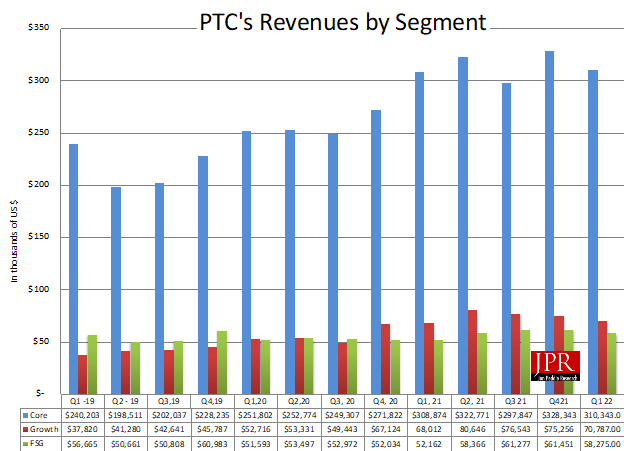 "We are accelerating our multi-year SaaS transformation, and our strong performance this quarter has enabled us to raise the low end of our constant currency ARR guidance and positions us well to deliver on our cash flow targets for 2022," says Heppelmann in the company's prepared quote.
The company says total cash and cash equivalents at the end of Q1 '22 was $296 million and the company also got a bonus thanks to their investment in Matterport, Inc. As of December 31, 2021 and Matterport's IPO, that investment was worth $87 million.
The company says its strategy of alliances is also serving them well. Jim Heppelmann said he was pleased to see that Rockwell came in ahead of the target the two companies had set for their alliance.  In addition, PTC says their relationship with Ansys has delivered new customers to the company because Ansys and PTC have been able to offer a strong analysis tool within PTC Creo. In the financial call, he said, "if we're competing against Autodesk or Siemens or Dassault, nobody is going to have a better simulation story than PTC because nobody has a better simulation story than Ansys, and Ansys products are built into PTC products." And finally, PTC's commitment to Microsoft's Azure platform has raised PTC's profile and is enabling PTC's growth into SaaS.
To wrap up, PTC says they have seen 17 successive quarters of double-digit growth in ARR and the company is confident they can continue their streak through 2022.

PTC has offered the above table for investors. As you can see, talking in terms of ARR lets them promise double-digit percentage growth but here at the beginning of 2022, the company's expectations for revenue growth are relatively modest.
What do we think?
PTC's management has the courage of their convictions and they back up that courage with targeted alliances. The Rockwell deal is a case in point. Heppelmann admitted to being worried Rockwell would take their eyes off the ball with their acquisition of Plex in the summer of 2021 and it didn't help when incorrect press reports suggested the relationship between the two companies had changed suggesting that Rockwell was reducing its commitment. Well never mind, all is fine now and Heppelmann admitted that Rockwell was managing the $2+ billion dollar deal well. Plex will help realize Rockwell's SaaS ambitions.
On another front, it's been really instructive to see how companies have come around to the idea of SaaS when going remote becomes a requirement instead of a luxury. The next lesson for CAD users will be that do they like Autodesk's style of SaaS or that of PTC?
One thing we all know is that the world is pretty tired of having to learn new practices through a tough experience.