Maxon headlines NAB with the acquisition.
It's been a big year for Maxon. The company won its first Academy Award, and in the last 12 months it has gotten a new CEO, David McGavran, and it celebrated this year's NAB by acquiring Redshift Rendering Technologies.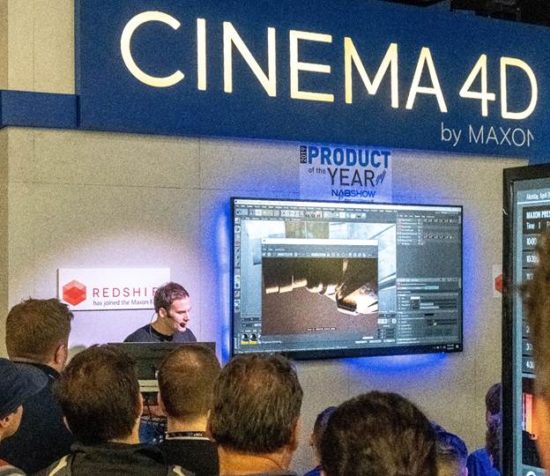 Maxon CEO David McGavran came to Maxon from Adobe where he was director of engineering for video and audio. He was hired by Nemetschek, when the company bought out Maxon's founders Uwe Bärtels, Harald Egel, and Harald Schneider who had decided to retire. At that time, McGavran said one of his major goals was to increase the integration of Maxon in design and engineering as well as in media and entertainment, where Maxon has steadily increased its business with its expertise in video graphics. Rendering is an increasingly important capability on this front as realtime workflows arrive on the near horizon and it's always been important in the design and engineering fields as a way to sell ideas.
At NAB, David McGavran noted that Maxon has had good renderers throughout its history. The company had teamed with AMD to incorporate AMD's ProRender ray tracing engine in Cinema 4D. ProRender was attractive because it is based on OpenCL for GPU support, meaning it can take advantage of any GPU for acceleration. But, at NAB, McGavran said that Maxon needs to have its own roadmap for new features in its products. "I didn't think something as critical as rendering should be licensed," he said.
Redshift, which has come out of the game industry, is also attractive because it's a very fast renderer based on hybrid rendering techniques. Put another way, it's based on biased ray tracing designed to get to the desire effect quickly. Unbiased renderers can claim to be physically accurate, but to make that claim, they render and render and render because perfection is hard to achieve. In the media and entertainment worlds, biased rendering makes more sense. Redshift is already being used as a plug-in renderer for Cinema 4D and it is also being used as an option with Autodesk's Max and Maya, Houdini, and Katana. At NAB, McGavran and Redshift CEO Nicolas Burtnyk said Redshift will continue to support the plug-in products. Also, there will be no changes in the current Redshift pricing.
Naturally, Redshift will be seamlessly integrated in Cinema 4D but the teams will also be looking for optimization opportunities as well. Before the acquisition, Redshift had been preparing a new release of its RT renderer which will further push the speed barrier. For instance, they will add RTX support to get a boost from Nvidia's rendering cores. Burtnyk says they've built their own ray tracing engine for Redshift instead of using Nvidia's Optix technology, so they're busy building in support for RTX for this next release. Redshift has also been building a plug-in for Blender. That work will continue.
As mentioned Redshift is already being widely used in the game development as a studio renderer by companies such as Double Helix, Blizzard. Burtnyk told us Redshift is one of the most popular renderers used in the game industry. It is also being used in VFX by Technicolor, Polygon Pictures, and Digital Domain and has credits that include Black Panther, Aquaman, Captain Marvel, Rampage, American Gods, Gotham, The Expanse, and more.
McGavran said that the other Nemetschek executives were enthusiastic about the acquisition because they saw the addition of Redshift as a boon for the company's entire product line of content creation and design and engineering tools. As one of the major CAD companies in the industry, the combined Nemetschek companies represent a good size of the CAD market and Nemetschek's board has become more integrated and focused on growth for the entire company. A strong Maxon is going to be a good driver for the company's ambitions.
What do we think?
The marriage between the 3D modeling and animation business for entertainment and the CAD market has been a difficult one, even for Autodesk, which has leading positions in both M&E and CAD. It has had trouble growing the use of its M&E products like Max and Maya into the engineering industry. Nemetschek has also had strong products in CAD and M&E, but its divisions are even more independent than Autodesk's. Now, Nemetschek is showing signs of better integrating the work between its divisions so they can realize inherent synergies. There has been no interoperability. So, most CAD work was thrown over the wall to people using M&E tools. Models have often been recreated for rendering. Autodesk gained ground by improving interoperability. Ironically though, it was companies like Dassault, Siemens, and Unreal who have done much to push the two markets together. Siemens acquired Lightworks which had built tools to make it easier to use CAD models in game engines. Dassault bought RTT and Bunkspeed, which was struggling to bring rendering and CAD together. And Unreal bought Datasmith, which developed a framework for transporting CAD models into game engines.
Ironically, it may turn out that the forced marriage of CAD tools and M&E visualization will be realized within game engines.
For the immediate future, the acquisition of Redshift gives Maxon a modern and fast renderer, which is a requirement for the M&E industry.