Latest update of Siemens NX includes machine learning and artificial intelligence.
Siemens' latest version of its flagship design software, NX, has been updated with machine learning and artificial intelligence. The company believes it is the first design tool to include AI and ML. If Siemens is right on this score, it's a feature that's well on its way to being included in many more design and engineering tools. The engineering and design tools that fall under the heading of CAx are applications that cry out for smarter systems—there can be repetitive steps in design and there are often many ways to accomplish a task. Siemens says its new tools help users work in the most efficient way based on the experiences of others doing similar tasks.
Siemens is using machine learning to analyze large amounts of user data and AI to predict next steps. Siemens's adaptive interface provides a graphic dialog to suggest the most common or logical next steps. The choices update as the user works. Siemens says the ability to adapt the user interface can help new users become more efficient and expert users work even faster. New features also let users save and share approaches to allow the creation of best practices, according to the company's preferred approach.
Also, parts already designed in NX (and some other products) can be brought in and reverse engineered to capture best practices.
The new system is also able to monitor the user as they work and look at successes and failures, to better understand how to offer the right commands and also learn more about the person's preferred way of working to provide a personalized environment.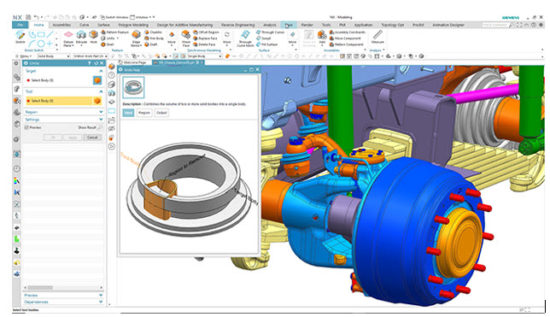 Finally, Siemens says their work in AI and ML offers them an approach to offer customers meaningful improvements that can evolve without having to be explicitly programmed. The company says, "the NX Command Prediction module is the first introduction of the machine learning-enabled NX adaptive user interface architecture to the market, and will be the basis for, and lead to, additional machine learning-driven UI solutions."
In the release, Siemens VP Bob Haubrock is quoted: "Although extensive research conducted in the field of human-computer interaction has resulted in an excellent static interface, we still lack the perfectly-tailored dynamic interface that can suit all users." He says this latest version of NX will enable the company to help customers improve their overall usage and also encourage users to adopt new approaches or new features. And, it all comes around. In the end, Siemens is able to build better tools.
In related development news, Siemens also rolled out continuous updates for NX in January 2019. So, like Windows and other widely used programs such as Adobe Creative Cloud, updates are introduced as they're ready and not as part of a larger package. Users will be notified and can choose not to allow automatic updates especially at times when they're involved in a project nearing completion or working with a lot of add-ons and need to be sure everything is still compatible
Siemens's AL and ML improvements are available for the NX CAD and CAM products released in January 2019, and clearly, the company is planning to do more in this direction and, as I said, so are the other companies in the field.
What do we think?
An important characteristic of the engineering and design community is the aging of the workforce. Ten years ago, this was a particularly grim situation because it was not at all clear some countries were training enough replacement workers. Enrollment and degrees for STEP were declining. The outlook has improved now that science and engineering enrollment has been on the rise since the 2010s.
However, there is a new dynamic on the horizon. The workforce is still aging,  the chances are increasing that the replacement workers will be women. Women of all colors represent the fastest growing population in college and graduate STEM programs.
In all cases, smart tools will make training better and more efficient workers easier.
What we found ourselves wondering is what has taken so long? There is a universal need for easier to use 3D tools. In the case of Siemens NX,  users to be connected to enable developers to gain insight into what their customers are doing to spot trouble spots and best practices. And, in order for improvements like the adaptive interface to be rolled out to users, they had to have and will continue to need continuous updates. Kind of interesting to think about how programs might change in response to the people using them instead of as a result of what developers think they need. For instance, do women have different ways of working? Sure they do. And how about younger workers versus older workers?
So maybe someday it might be easier to be sure software stays relevant for the people using it.